Norwegian Government Euthanizes Freya the Walrus, Known for Sneaking Onto Boats
Pour one out for Freya the walrus, as the beloved wild Norwegian animal was sadly euthanized by Norway's government this week.
People around the world are mourning the marine mammal, who experienced viral fame this summer, due to her affinity for laying out on — and accidentally sinking — boats. Keep reading to learn more about Freya and why this sweet "hvalross" was killed.
Article continues below advertisement
Freya the walrus went viral for climbing onto boats in Norway.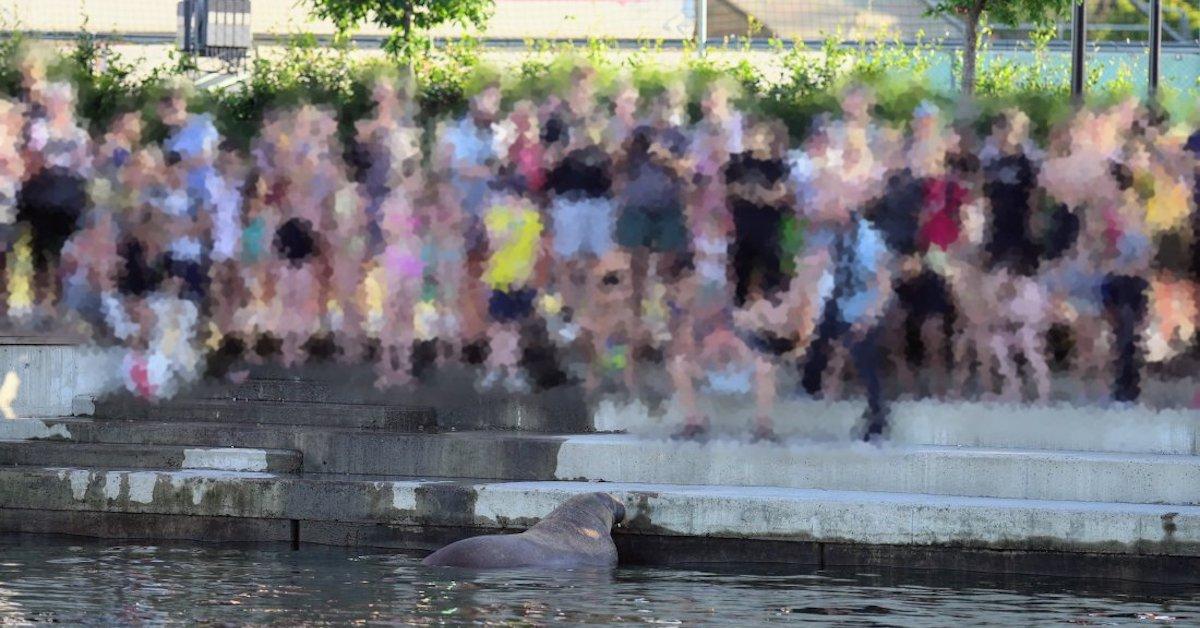 But it was last month when Freya started making international headlines. People were spotting her living her best life in Oslofjord, an inlet in southeastern Norway. And by "living her best life," we mean she was sneakily climbing onto small boats docked in the water, and, due to her 1,500-or-so-pound physique, sinking them, Futurism reported in July.
Boat owners were understandably unhappy about the damage Freya was causing.
Article continues below advertisement
At the time, NBC News reported that Norwegian government officials had a plan to erect a floating dock for Freya; once Freya climbed aboard, marine scientists would transport her to a new coastal home — presumably, far from small boats.
But sadly, that isn't what wound up happening.
Article continues below advertisement
Freya the walrus has been euthanized.
Early on Sunday, Aug. 14, the Norwegian government changed course, and euthanized Freya.
Director General of Fisheries, Frank Bakke-Jensen, stated in a press release that "The decision to euthanize the walrus was made based on an overall assessment of the continued threat to human safety."
The release added that The Norwegian Directorate of Fisheries conducted the euthanization "in a humane fashion."
Article continues below advertisement
So why didn't this happen?
In the news release, the Norwegian government explains that it "considered all possible solutions carefully," but concluded that it would not be possible to "ensure the animal's welfare," as the proposed plan to relocate Freya in partnership with the Norwegian Institute of Marine Research would be too complex.
"We have sympathies for the fact that the decision can cause reactions with the public, but I am firm that this was the right call," Bakke-Jensen stated. "We have great regard for animal welfare, but human life and safety must take precedence."
The government also placed some blame on the members of the public who ignored the government's advice to keep away from Freya, instead approaching the walrus to take photos and even throwing things at her.
Article continues below advertisement
Unsurprisingly, Freya's fans were heartbroken to hear that Freya was killed.
"What I have been warning against for months has happened: Freya was killed, in my opinion, too hasty a conclusion," Rune Aae wrote in a public Facebook post. According to CNN, Aae, a biology teacher at the University of South-Eastern Norway, managed a Google map of Freya observations.
Aae added that Freya was expected to leave the Oslofjord in the near future, as schools' summer vacation is almost over, meaning the fjord will soon be less crowded with people; additionally, in past years, she has left the fjord for other waters this time of year.
"Norway is the country that killed Freya after being around for over two years around the entire North Sea. What a shame!" Aae said. RIP to Freya, a truly iconic walrus who always followed her heart.