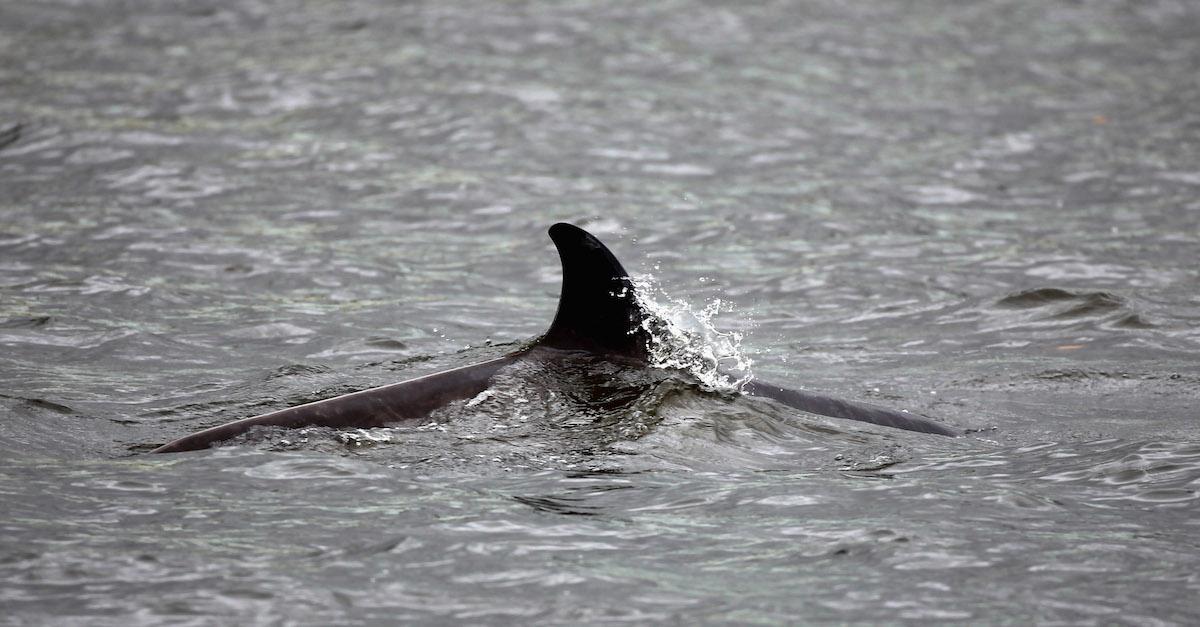 Dolphins Were Spotted in the Bronx River — And We Promise That's a Good Thing
Although it may sound concerning that dolphins were spotted in the Bronx River earlier this week, it's ultimately a good sign of cleanliness.
New York City isn't known for its wildlife — while a wide range of birds tend to flock to the Big Apple, beyond the common pigeon, the most frequently spotted species aside from humans tend to include rats, mice, and cockroaches. But earlier this week, wildlife enthusiasts were happy to see something much more endearing.
A group of dolphins were spotted swimming through the Bronx River, and needless to say, onlookers were beyond pleased.
Article continues below advertisement
It's been confirmed these specimens are happy and healthy — just enjoying a now much cleaner part of New York City's waterways.
"We've come a long way across multiple decades of environmental improvement, water quality cleaning, better environmental stewardship, better relations, all of which helps the overall environment and then leads to recovery of these systems," Wildlife Conservation Society scientist Howard Rosenbaum stated via Gothamist.
"I think it's just great that these things are happening and hopefully the overall environmental recovery for these urban waterways continues, and we continue to see marine wildlife – their habitats, their prey – flourish," he continued.
That said, we're all due for a little dolphin-watching break.
Article continues below advertisement
What to know about the latest NYC dolphin sightings:
On Thursday, Jan. 19, a group of dolphins was spotted near Starlight Park, in the Bronx River. And while it may sound concerning, it's actually reflective of the waterway's cleanliness.
"It's true," NYC Parks Department confirmed in a tweet. "...dolphins were spotted in the Bronx River this week! This is great news — it shows that the decades-long effort to restore the river as a healthy habitat is working. We believe these dolphins naturally found their way to the river in search of fish."
Article continues below advertisement
As a reminder, onlookers should not disturb the dolphins, as they have likely migrated this way to search for fish. Do not feed them, distract them, or try and scare them off — just admire their natural beauty, and let them go as they are.
"We encourage you to welcome these dolphins to the Boogie Down! Make sure that they're comfortable during their visit by giving them space and not disturbing them," the NYC Parks Department also tweeted following the release of their footage.
This isn't the first time dolphins have appeared in New York's waterways, since restoration efforts were put in place. According to PIX11, dolphins have been spotted in other NYC waterways, including the East River and in Flushing Bay. Earlier this week, some were spotted North of Greenpoint.
A few years ago, a dolphin died after swimming in the Gowanus Canal, per CityRoom, but that dolphin reportedly died as a result of other ailments — not from swimming into the former landfill site.
Article continues below advertisement
How has NYC cleaned up its waterways?
During the 18th and 19th centuries, the Hudson River was used by beachgoers and swimmers alike, according to The New York Times. However, that is no longer the case — years of pollutive boats, manufacturing practices, and disposal methods have led to the river been deemed unsafe to swim in. Efforts during the past few years, however, have worked to change that.
Riverkeeper is an environmental organization that works alongside waterfront communities, while supporting the work of smaller organizations like the Guardians of Flushing Bay, Gowanus Canal Conservancy, and The Newtown Creek Alliance. Even though they continue to strive for change, much has changed in recent years — hopefully that will mean more city-dwelling dolphins in our future.