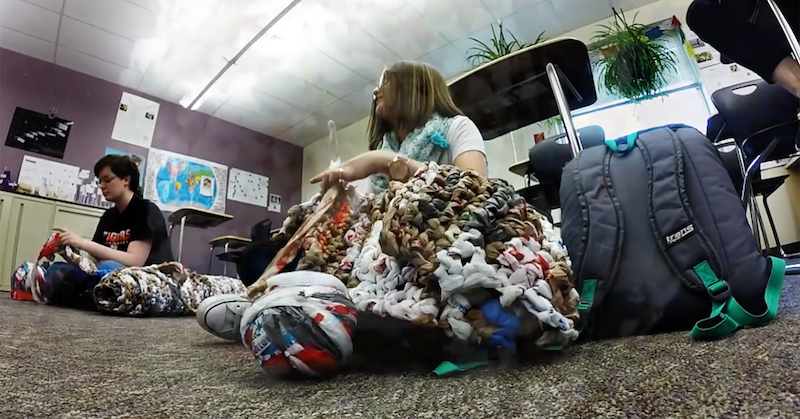 High School Students Upcycle Plastic Bags to Make Mats for the Homeless
Students at Lakewood High School have managed to solve two of our country's major problems — a dependency on single-use plastic and homelessness — with one creative solution. The high school in Colorado has started a "Plarn Club"; the group works by making homemade quilts and mats by substituting yarn with recycled plastic bags.
Article continues below advertisement
They've started using their talents and unique technique of weaving the recycled bags into sleeping mats, which will then be donated to the homeless in their community.
"You take recycled plastic grocery bags or just any plastic bags and you cut them into strips, and you tie those strips together and that makes this thing called plarn, plastic bag yarn," Shelby Tillema — former president of the Plarn Club — told her district's television station. She added of their decision to donate them to the homeless, "It makes the ground more comfortable, and they're water resistant and apparently they keep bugs away."
Article continues below advertisement
Homelessness is a serious issue in the country; according to the National Alliance to End Homelessness, in 2017, more than half a million people in the United States experienced homelessness — which was about a 1 percent increase from the year before. From 2016 to 2017, Colorado actually had the second largest increase in permanent supportive housing capacity of any state by introducing 2,052 beds last year.
Article continues below advertisement
Like all single-use plastic, plastic grocery bags are also a pervasive problem in our country. While some plastic bags can be recycled, and many grocery stores accept the return of plastic bags to be recycled, the best thing you can do for our country is opt for a paper bag when possible, or bring your own reusable bag when you go grocery shopping.
According to the Earth Policy Institute, a trillion single-use plastic bags are used every year — which comes to nearly 2 million used every minute. In the United States alone, consumers use 100 billion plastic bags every year. Because recycling these bags could be complicated, most of these bags end up in landfills — but the real problem arises when these bags leave the landfill. Due to plastic bags being so light-weight and abundant, they're often lifted from the landfill and end up disrupting animals' natural habitats, entering our waterways, polluting our trees, and so on.
Article continues below advertisement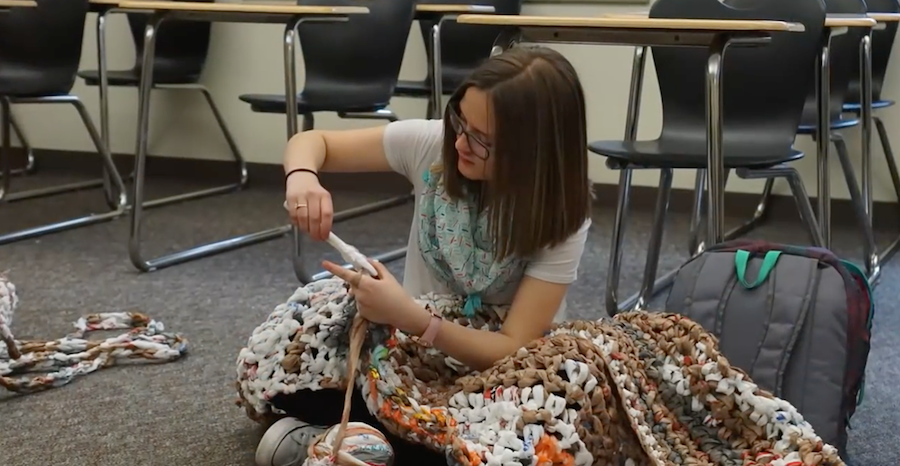 While the best course of action is to opt out of the single-use plastic, and bring your own reusable shopping tote, if you do end up with plastic bags and you're unable to recycle them, looking for creative upcycling solutions, like the Lakewood students, is always a good option — especially if it's going to a good cause!