60,000 Soldiers In China Will Plant 32,400 Acres Of Trees To Fight Air Pollution
Soldiers in China are fighting air pollution by planting miles of trees.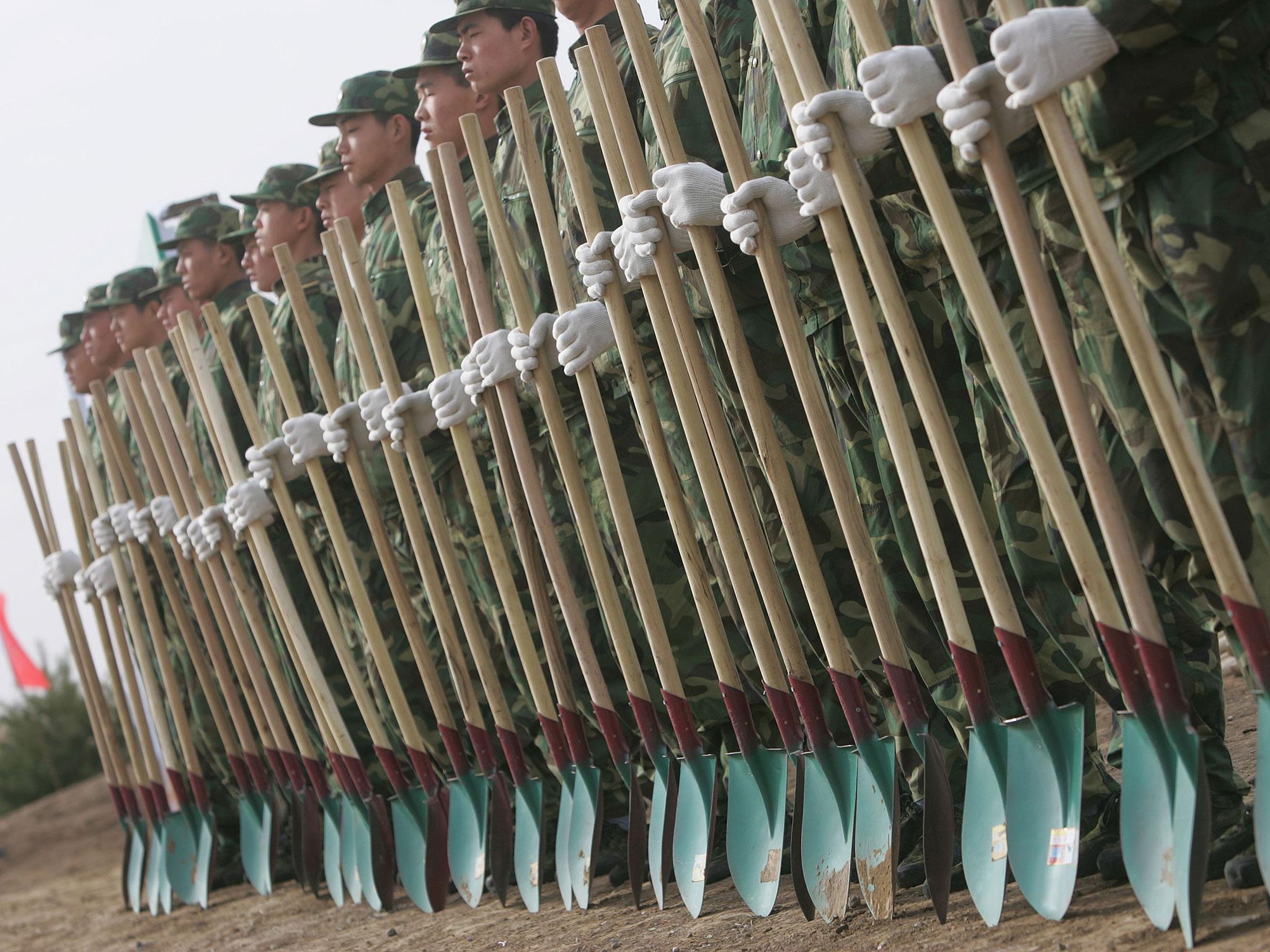 China's air pollution has made headlines over the years for the blanket of smog that overcomes its cities on a regular basis. Poor air quality has forced schools to close or cancel field trips for students, farmers to panic over the health of their crops, and parents to rethink sending their children outside to play.
Article continues below advertisement
With pollution now thought to be the cause of more than a million premature deaths a year, China continues to look for ways to combat air pollution. The latest measure includes reassigning 60,000 soldiers to plant 32,400 acres, an area roughly the size of Ireland, with trees.
A large regiment of the People's Liberation Army, as well as the nation's armed police force, have been tasked to increase the country's forest coverage. The goal is to increase China's forest coverage from 21 percent of its total landmass to 23 per cent by 2020, the China Daily newspaper reported.
Article continues below advertisement
China is the sixth most polluted country in the world, with a pollution index of 88.96. In 2015, more than 1.1 million people in China were estimated to have died from air pollution, making it the country with the most deaths resulting from toxic air. A recent study by Nanjing University's School of the Environment concluded tiny particles in the air could be responsible for as many as 30 percent of all deaths in the country, equaling that of smoking.
Last year, the Chinese government announced other ambitious initiatives to reverse its carbon footprint that would improve air quality, including plans to build 300 new eco-cities across the country, from the eastern seaboard to the fringes of Central Asia, from Inner Mongolia to jungle-filled south, with 80 percent of all prefectural-level cities now having at least one eco-city project in the works.
Article continues below advertisement
The government also broke ground on a futuristic 40,000-tree-filled Forest City that would be powerful enough to absorb around 10,000 tons of carbon dioxide from the air, along with 57 tons of pollutants every year. Conceived by architect Stefano Boeri, the Liuzhou Forest City will be home to 30,000 people once completed in the next few years.
Article continues below advertisement
The goal is to have over 50 percent of China's new urban developments be "eco," "green," and "low carbon," something that could have a drastic impact on the environment and the health of its citizens living in the area. They also announced future plans to ban the production and sale of fossil fuel-powered vehicles by 2040.
In the most recent initiative, the majority of soldiers are being sent to the Hebei province near Beijing—one of the biggest contributors to the country's smog problem. The Independent reports Zhang Jianlong, head of China's State Forestry Administration, said by 2035 the figure could reach as high as 26 percent.
"Companies, organisations and talent that specialise in greening work are all welcome to join in the country's massive greening campaign," Jianlong said. "Cooperation between government and social capital will be put on the priority list."