This Guy Rides A Floating Bicycle While Fishing For Plastic
Dhruv Boruah collects plastic along London's canals on a floating bike he built himself.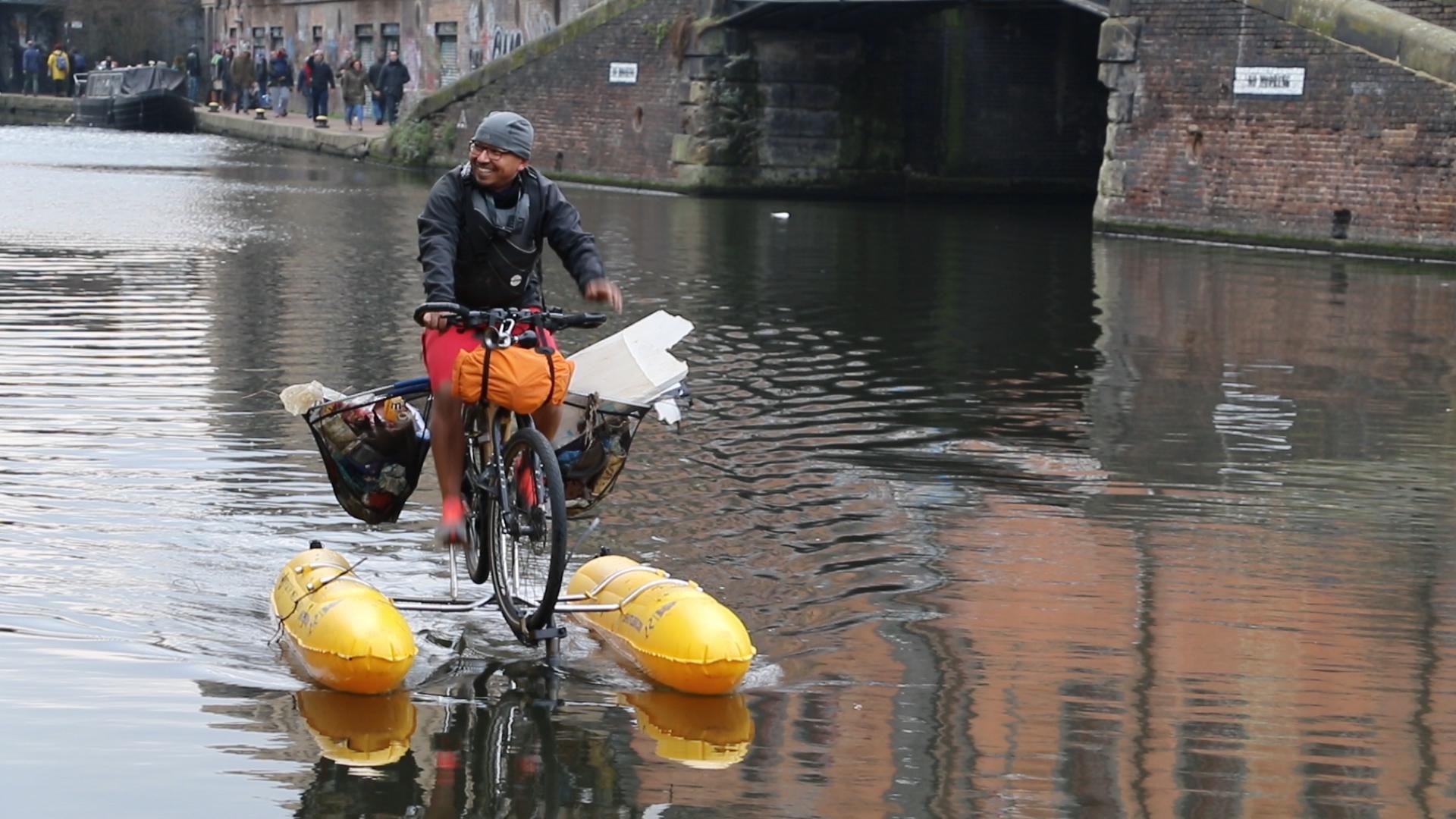 Some of us use our bikes to get in a good workout, make our commutes a little more eco-friendly, or ride with friends recreationally on the weekends. One man found an entirely different use for his bicycle: picking up plastic pollution while cycling on London's waterways. Yes, on the canal. Dhruv Boruah, an avid cyclist and environmentalist, learned how to rig his bike to float in the water as he collects trash.
Article continues below advertisement
After racing a yacht across the ocean from London to Rio de Janeiro, Boruah, learned that another team competing in the same race had come across two turtles tangled in plastic in the middle the Atlantic Ocean. Thinking about trash he'd seen in the water at home and how it could impact marine life, Boruah felt compelled to act. A former consultant, he quit his job to work solely on advocacy and cleanup.
When he returned home to London, he put together a bamboo bicycle, with yellow floats on either side, and added a rudder and a pedal-powered propeller to the front. By adding a fishing net hooked on either side, he can cycle on the city's rivers collecting plastic pollution from the water. "I can cycle to a river and start cycling on the water for a bit," Boruah told CNN. "You know, become like Jesus for a little bit."
Article continues below advertisement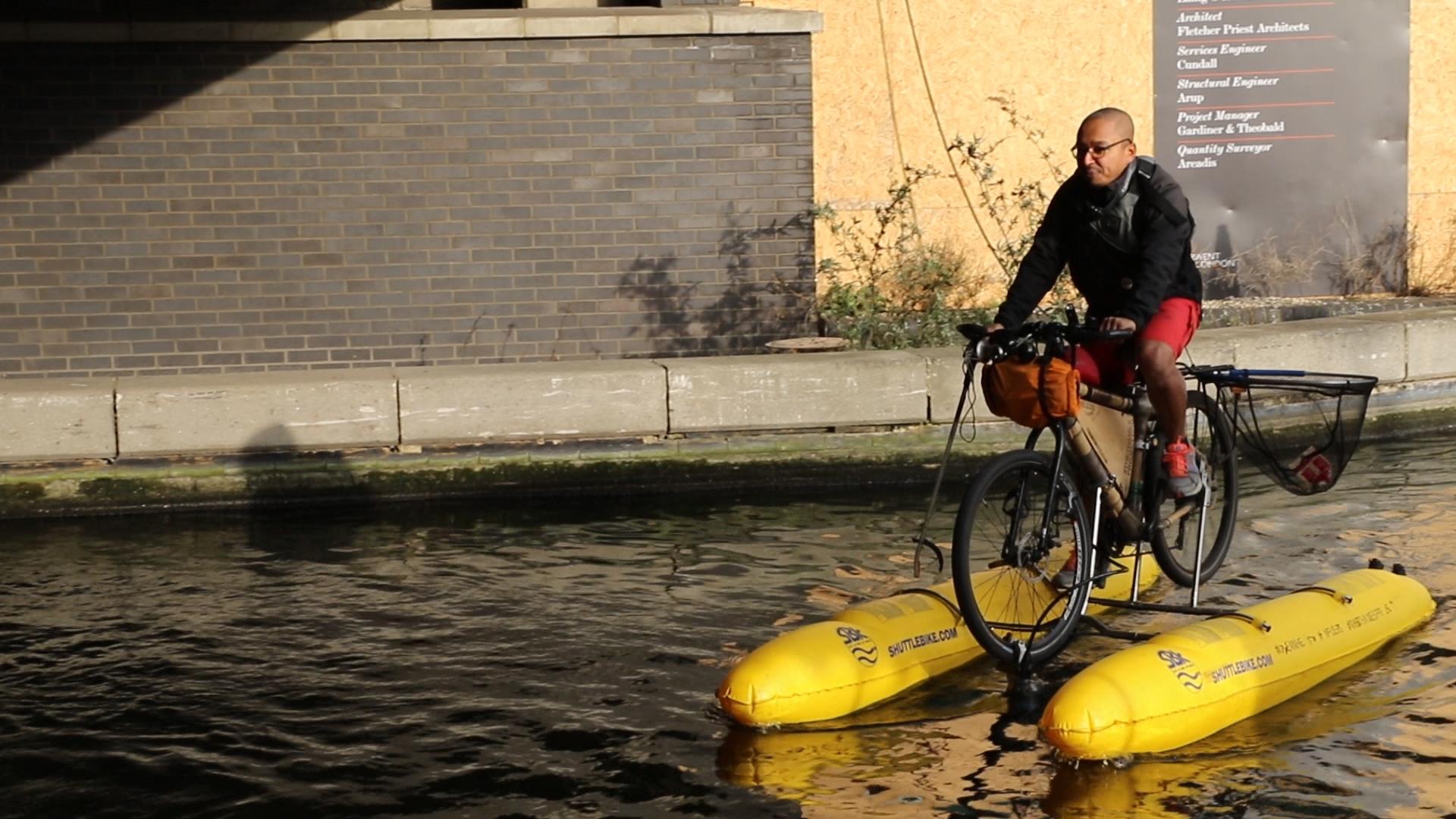 Dubbed 'The Thames Project,' Boruah began his mission a year ago and now travels to other rivers across the country. But the entrepreneur isn't trying to clean up the debris from the rivers and canals entirely by himself. The project aims to raise public awareness about plastic pollution and he hopes his eye-catching floating bicycle inspires others to take action against plastic waste.
Article continues below advertisement
Although Boruah and his team don't have the budget for an expensive lab, they use low-cost microscopes from Amazon to sample water, collect, geo-tag and count plastic litter every day, then share their findings on social media.
Article continues below advertisement
In his TED Talk, Boruah highlights many of the reasons why plastic pollution is an environmental issue that impacts all of us. "Plastic is now in the air we breathe, the water we drink, and the food we eat. The real danger are the microfibers and micoplastics that act as magnets and attract toxic pharmaceutical chemicals which they release inside marine life, possibly humans," he says.
Article continues below advertisement
Dhruv's journey has taken him 150 miles from Lechlade, Gloucestershire to Tower Bridge, near London for nine days. By using a combination of his handmade bamboo bike, canoes, kayaks and stand up paddle boards, he's collected everything from plastic bottles to tennis balls, beer cans, kitchen towels, and flip-flops, amongst other things.
"'Life is about being with Mother Nature, enjoying Mother Nature, challenging yourself from out of your comfort zone, and if you can do something good while doing it, why not?" Boruah said to CNN. "You have to care because it's about you, your health, and the health of your children. Why are we destroying this planet for them?"
More from Green Matters