Greenhouse In Antarctica Has Successful First Harvest
The German Aerospace Center DLR completed its first harvest in an Antarctica greenhouse.
With average temperatures in Antarctica hovering at well below zero, suffice to say raising crops there is a challenge. But that's exactly what makes the location an ideal test site for a project designed to one day help astronauts grow food on Mars or the Moon, and to compensate for food shortages in harsh climates. So far the trial is a success: Scientists there just completed their first harvest.
Article continues below advertisement
The German Aerospace Center DLR and gardener Paul Zabel have been running the project in a greenhouse at German Neumeyer-Station III without daylight or dirt, and plenty of challenges -- from equipment malfunctions to falling temperatures.
Article continues below advertisement
"After sowing the seeds in mid-February, I had to deal with some unexpected problems, such as minor system failures and the strongest storm in more than a year," Zabel told DW. "Fortunately, all these things could be fixed and overcome."
Once things were up and running, researchers were able to successfully harvest eight pounds of salad greens, 18 cucumbers and 70 radishes. Project leaders told the Associated Press that they hope by May to be harvesting around 8 pounds every week.
Article continues below advertisement
To make the crops thrive, scientists are using a closed-loop water cycle with melted, purified ice from the station. The water is added to a nutrient solution and sprayed on the plants every five to 10 minutes. Artificial lighting stands in for sunshine, with a custom LED system comprised of individually controlled lights that shine on the plans 16 hours a day. Carbon dioxide tanks keep the air levels just right for the plants. Zabel and his team of 10 scientists tend to the greenhouse for three to four hours each day.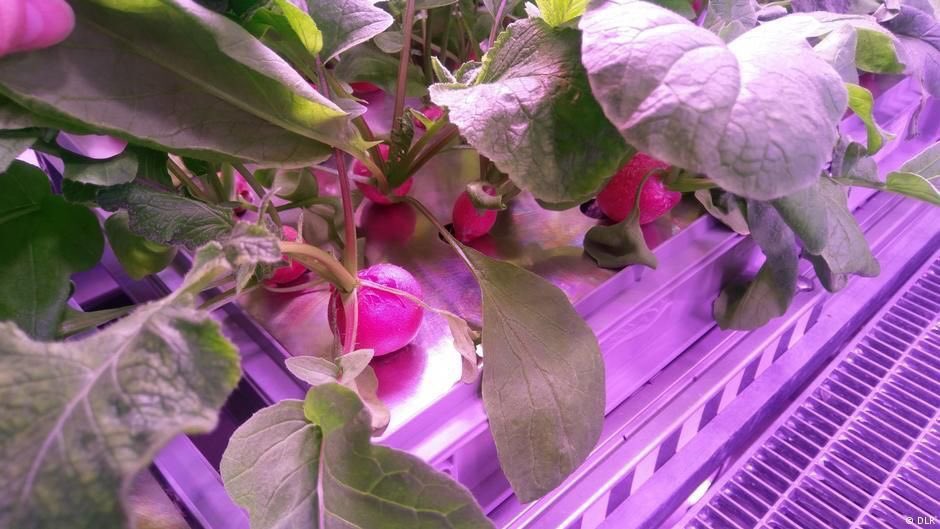 Project manager Daniel Schubert told DW that all the crops are growing successfully in the greenhouse, from the greens and radishes to the tomatoes and peppers: "We have learned a lot about self-sufficient plant breeding in the last few weeks," he said. "it has become clear that Antarctica is an ideal test field for our research."