Green 'Smart' Wall Humidifies And Purifies Air Indoors
Naava's solution is their "smart" green wall, which is made up of live plants that have the ability to monitor the quality of our air.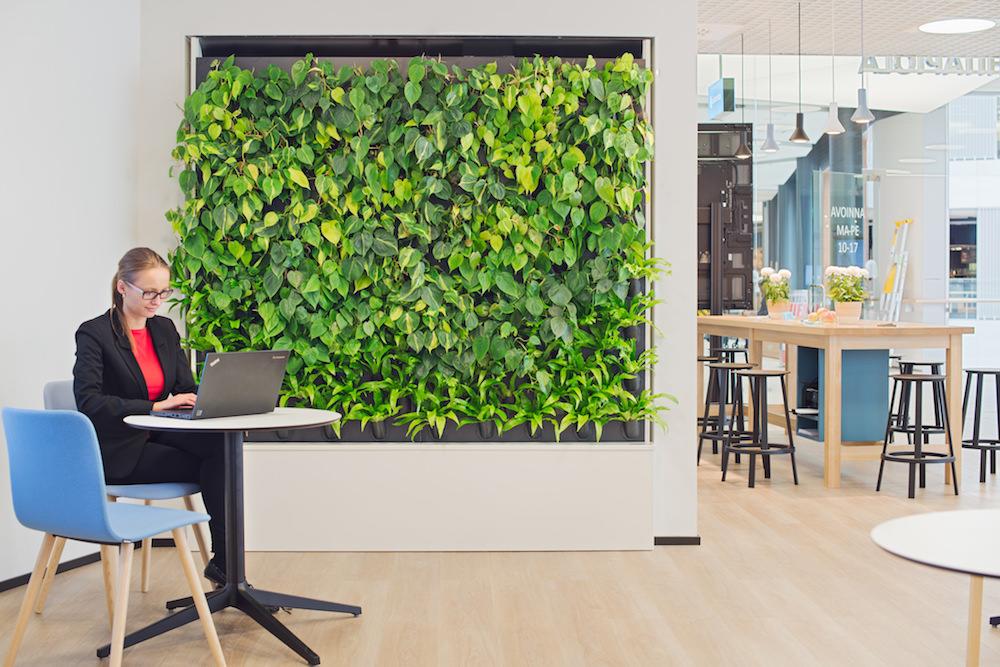 Whether you work from home or in an office, it's quickly becoming a norm that we don't spend nearly enough time in nature or around plants. Unfortunately, journeying into the great outdoors on a regular basis isn't an option for a lot of us. So how can we integrate nature back into our daily lives? Finnish startup, Naava, is here to help. Naava's solution is their "smart" green wall, which is made up of live plants that have the ability to monitor the quality of our air. Even better, these plants feature a foolproof way to take care of themselves while they are proven to clean the pollutants around us.
Article continues below advertisement
The health technology company created the smart green wall to improve our work environment. Many people that work in offices are limited to the four walls around them, or they're held inside an even more restrictive cubicle. While this can be spruced up with decorations and reminders of home, it's still a draining experience day after day.
One of the best additions to the office is bringing in plants as they can improve both health and productivity. However, these do add another task of maintaining them each and every day. After all, no one likes to invest in a new plant only to have it dry out and die due to poor sun or infrequent watering. In order to get the full health benefit of plants, we'd also need far more than a few pots on the desk or near the window.
Article continues below advertisement
This is where Naava's smart green wall comes into play. It has the ability to purify the air, operates as a humidifier, and is an actual living plant wall. All the technology is hidden inside of the plant itself. The wall is able to take care of the plants itself with an integrated water tank and its very own lamp.
Article continues below advertisement
For those that don't want it exclusive to just one wall, there's the option to put it on a Skate wheelbase. This adds the ability to combine smart green walls together or the other side can be used for multiple purposes. For example, the product can act as a divider or it can be used as a whiteboard or bulletin board.
"Our vision is that by 2025 a billion people will be able to choose to breathe Nordic forest air, everyday, everywhere, with Naava," the company says on their mission page. "We believe that healthy air should be a human right. We will bring nature's most precious gift inside."
Article continues below advertisement
With a price tag starting at $249 per month, which includes a full package of around-the-clock maintenance and plant/product guarantees, the green smart wall is ideal for businesses and residential property. It's an easy addition in break rooms, community areas, gyms, and even inside retail stores. To back up the company's claims, scientific studies proved that the plant wall reduced a significant amount of volatile organic compounds.
Naava's smart green wall has gained popularity in Europe with over 1,000 installations and it's pushing into the United States. The company opened up a production factory in New Jersey that was at full production capacity back in May. A month prior, they announced that Delos, a wellness real estate and tech company, had invested in Naava to help boost their profile in the United States.