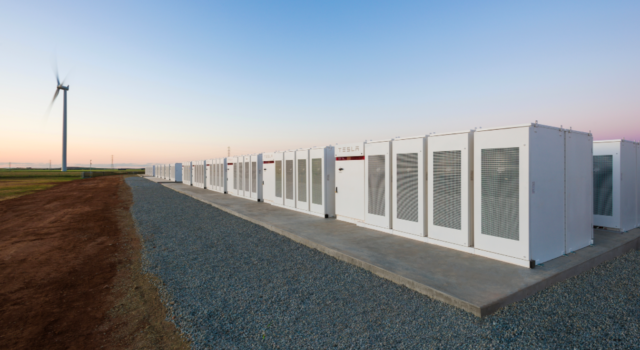 Tesla Is Already Halfway Done Building World's Biggest Battery
Tesla is on schedule to complete their battery storage facility at a 100-megawatt wind farm in South Australia. In fact, company CEO Elon Musk revealed at an event in Jamestown last Friday that the team was already halfway done with the project. This comes at the very beginning of the 100-day countdown.
Article continues below advertisement
In the summer, Tesla announced that they would be creating the world's biggest battery bank at the Hornsdale Wind Farm in South Australia. The facility will have a capacity of 100 megawatts and 129 megawatt-hours. At the time, Musk said that the project would be completed in 100 days or they would do it for free, meaning the company could lose around $50 million.
Tesla had a head start on the battery storage project as the Australian Energy Market Operator (AEMO) only approved the project last week. That means the countdown technically starts now, but Tesla is already halfway done with the project. Batteries have already been constructed at their gigafactory in Sparks, Nevada.
Article continues below advertisement
The delay in approval was due to contract negotiations for a $115 million US renewable energy fund for battery costs, and Tesla was able to win the bidding war. After Tesla won the bid, they teamed up with French company Neoen, who owns the 100-megawatt wind farm in the northern part of South Australia.
Article continues below advertisement
Originally, the project was expected to be completed by December 1st. Musk said at the event that it took two months to reach the halfway mark, so conceivably it could still be done by that date. The idea of the race started as a bet on Twitter in March between Musk and billionaire Mike Cannon-Brookes, one of the founders of software company Atlassian.
After massive storms knocked out a lot of South Australia's power infrastructure last year and it's been a struggle to rebuild. Renewable energy is blamed by some for the blackouts after the storm hit. Generators were shut down due to high winds, which is a safety precaution for all wind turbines. However, downed power lines were ultimately the reason for the widespread blackouts.
Article continues below advertisement
Battery storage for renewable energy sources like wind farms also provide more efficiency and reliability in itself. By creating such a huge battery facility, we'll be able to see if this solution is able to solve problems on a large scale. At the moment, the biggest completed battery storage facility is in California with a capacity of 30 megawatts and 120 megawatt-hours. It was created by AES Energy Storage.
You could say Tesla "cheated" a bit to complete the facility within 100 days. However, a little bet doesn't matter when it comes to something important like providing residents with reliable energy.