These Organic Cotton Sheets Are Made From Rainwater And Wind Power
Cotton bedding made with renewable energy? It's a reality with Blaynk, a bedding company that uses only organic cotton and uses only green energy and rainwater in their production process.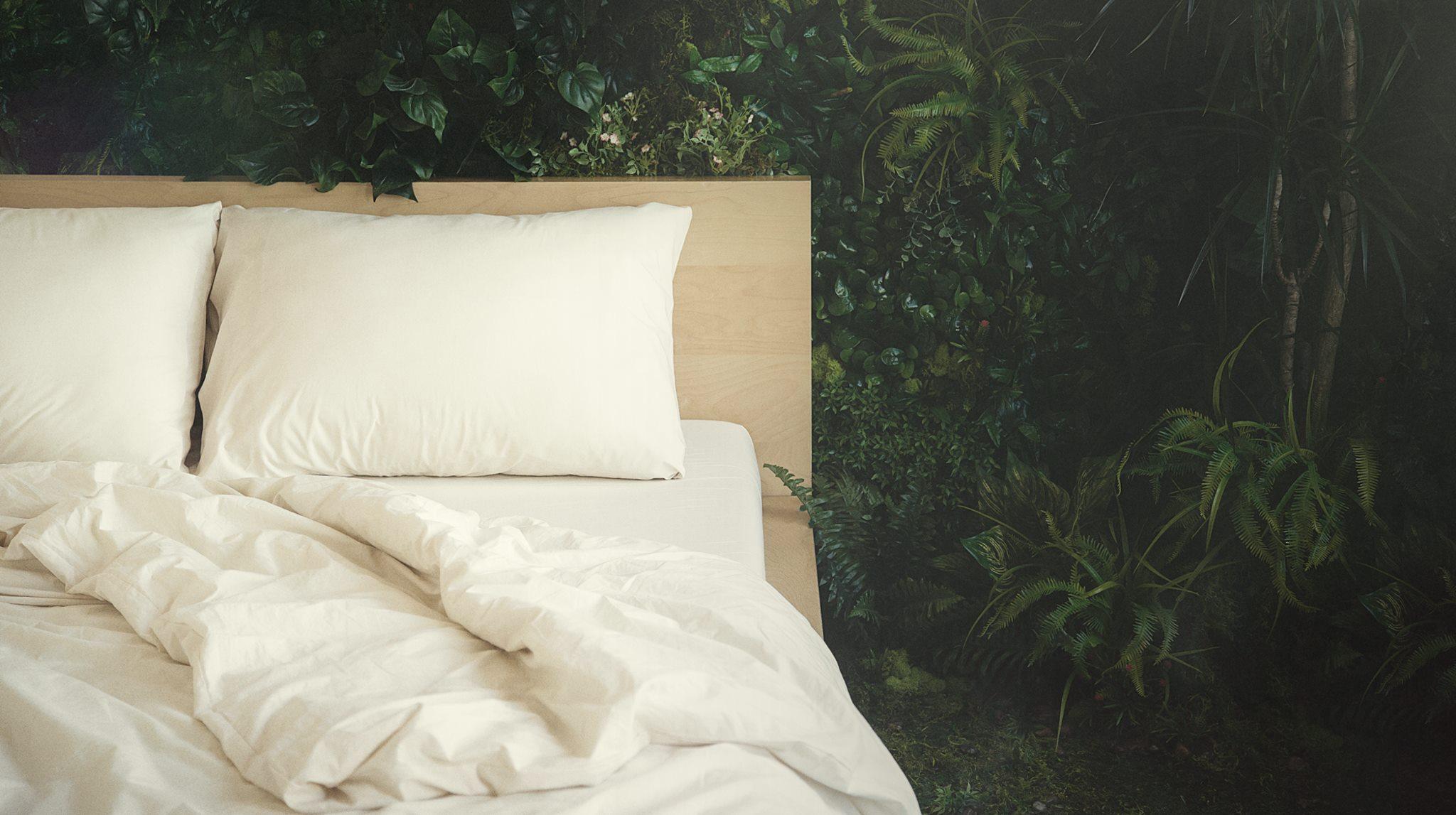 Our bedroom environment is one of the most important aspects in our life that we don't take much time to think about. We (should) sleep for one-third of our lifetime, and our sleep can have a serious impact on our health, both mental and physical. That's just one of the major reasons it's worthwhile to think about your sleep space, and how the products you use, from your mattress to your sheets, might interact with your health. Blaynk, a new bedding company, is not only pursuing a special organic bedsheet, but they're making them with renewable energy.
Article continues below advertisement
Blaynk is creating natural bedding with three ingredients: cotton, rainwater, and wind power. Not only do many cotton farmers in third-world countries suffer from poor conditions and a lot of debt, but there's loads of pesticides sprayed on the material that can be poisonous for these workers. For these reasons, many consumers are shifting away from cotton in pursuit of other, more eco-friendly materials.
Article continues below advertisement
Even people who aren't making the shift are paying more attention to where their cotton material comes from. Given that cotton is especially prevalent in textile products like T-shirts and underwear, it's pretty much everywhere. While there are mobile apps that can trace where cotton comes from, there's more to it than just treating farmland. Even if bedsheets are labeled as organic, for example, they can be doused with chemicals that give them their color, finish, and make them flame retardant.
According to the Huffington Post, the textile industry's manufacturing creates up to "20 percent of all industrial water pollution." Not only is it affecting our waters, but "10 percent of the world's global carbon emissions result from the apparel and textile industry." In the worst scenario, these chemicals can impact our health while also harming the environment surrounding us.
Article continues below advertisement
Blaynk is hoping to provide a better way for people to sleep at night. They're currently running a Kickstarter campaign to create the fully organic bedsheets. On their page, they claim that no chemicals or dyes are used in the entire process, from spinning organic cotton to the finishing touches. All electricity and water used comes from wind-generated energy and harvested rainwater.
Article continues below advertisement
Unlike cotton treated with chemicals or created in harsh conditions, Blaynk's organic cotton comes from Chetna Organic in India, which is certified by Fair Trade USA, among others. It uses 91 percent less water and 62 percent less energy than traditional cotton. For every 20 gallons used on traditional methods, just two gallons are needed for these new bedsheets. Another benefit for this high-quality cotton is the ability to get softer as they get washed.
Article continues below advertisement
Packaging was also under consideration, and everything will be bundled in cotton bags from extra fabric that can't be woven into the sheets. Any other boxes used for shipment will be created from recycled goods. As expected, everything is 100 percent recyclable after use.
With a deadline set for September 9th, Blaynk is halfway to their goal of $20,000. The early bird price for a full or queen size set -- which includes a fitted sheet, flat sheet, and two pillowcases -- will cost $149 and the king size is $50 more. Adding a duvet cover would be an additional $100. Deliveries are expected to ship out in December.