Escape's Upgraded Tiny Home Can Support Families And Guests Off The Grid
Escape's TravelerXL Limited is a tiny home that can support a less than tiny family in just 344 square feet. The camper can support off-grid living and sleeping for up to four adults and six kids.
Can you imagine a family of two parents and four kids all sleeping together in a trailer home? What about adding two grandparents and maybe two of the children's friends? That's a possibility in the upgraded Traveler XL Limited from Escape, which can surprisingly fit all of those people in beds at just 344 square feet.
Article continues below advertisement
It would be a snug fit, but it is possible thanks to a secondary loft bedroom that's on top of the master bedroom. Up to two twin beds could be thrown up there to fit four kids. Two adults would be comfortable below them in a queen-size bed. Four others could fit in an additional storage space on top of the bathroom and a pull-out couch. Those would be more snug, but nice temporary options.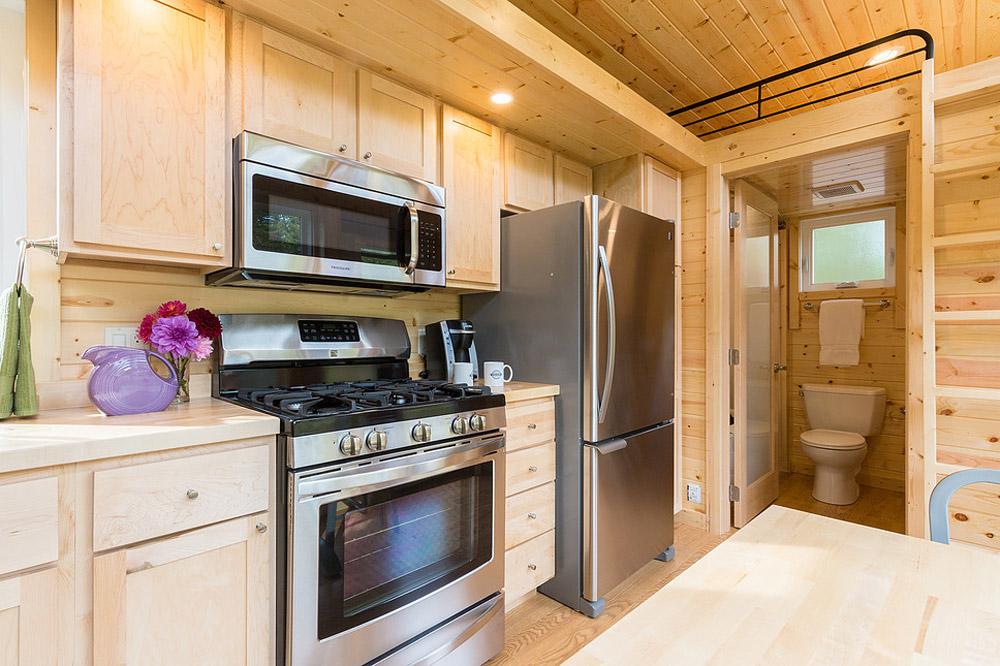 Article continues below advertisement
There's more to the new Traveler than just being able to sleep in it. It features all the needed utilities like a full-size kitchen and bathroom. There refrigerator can be upgraded to include an ice maker and a stainless steel finish. For those that don't need an extravagant kitchen, it can be downsized to add more storage.
Bathrooms in the Traveler XL Limited have many upgrades from the original edition. Cupboards above the sink have more space after listening to customer feedback. There's also the option of going with a three-foot or five-foot shower and tub. For those that desire just a standing-room shower, they can add even more storage in the bathroom. An option to add a combo washer/dryer is also available.
Article continues below advertisement
Living rooms are spacey with the ability to hide a television with a combo Blu-ray player, and there's also a decent-sized dining room table. A ceiling fan keeps air flow moving and can reach every square foot of space. The master bedroom features USB ports that makes it easy to charge cell phones and tablets on nightstands at both sides of the queen-sized bed.
Article continues below advertisement
There's many other options that can be added or tweaked in the Traveler, such as various storage compartments. It also can help people get as far away from the grid as possible. Additional water tanks can be added along with RV hookups and composting toilets.
Article continues below advertisement
For energy, there's an ability to add up to a one-kilowatt array of solar panels and 400 amp-hours of battery storage. Granted, that's not a ton of energy to fuel up the place. It does help that the LED lighting throughout the tiny home cuts down on energy, and the addition of a composting toilet would also be beneficial. None of this would be very optimal for those looking to live in these trailers full-time.
The tiny home comes at an expected premium price. It's a little higher than a traditional RV with a retail cost of $78,500. That's not including all the additional options, such as the ceiling fan, washer, and TVs. In better news, it can be delivered and there are financing options available that can cut the cost to $500 per month after a down payment. Escape provides a comfortable mobile home with the capabilities of going off the grid.