Electric Vehicle Sales See Major Increase Over Past 12 Months
Thanks to more affordable models like the Tesla Model 3, electric vehicle sales have skyrocketed in the last year wit a 40 percent increase over 12 months.
How fast is the electric vehicle market growing in the United States? Turns out not everybody is just waiting for Tesla's new Model 3. The industry continues to skyrocket around the world, and the United States has seen a booming 2017 so far. It's seen nearly a 40 percent jump over the last 12 months compared to the year before. Assuming this rate continues, we could see a much higher share of EVs in the automobile market than originally anticipated.
Article continues below advertisement
According to Inside EVs, June saw around 17,182 fully electric and hybrid vehicles sold in the month. Most of that is led by the big four manufacturers -- Tesla, Chevrolet, Toyota, and Nissan. All of them saw their vehicles move in four-figure territory for the second consecutive month. That's over 2,300 more units than the year before, a 16 percent gain.
December 2016 remains an outlier as the highest month on record, hitting close to 25,000 sales. This was due to Tesla pushing back their deliveries and rebates expiring. Late summer and into fall last year were some of the highest-selling months for EVs last year, but we should still see each month in 2017 beat those previous totals out.
Article continues below advertisement
The second half of this year should triumph the current 89,285-unit total from the first six months. In itself, the first half of this year is 38 percent higher than 2016. Tesla's Model 3 could be moving up to 20,000 units by December and the new 2018 Nissan Leaf will be available in the final calendar month.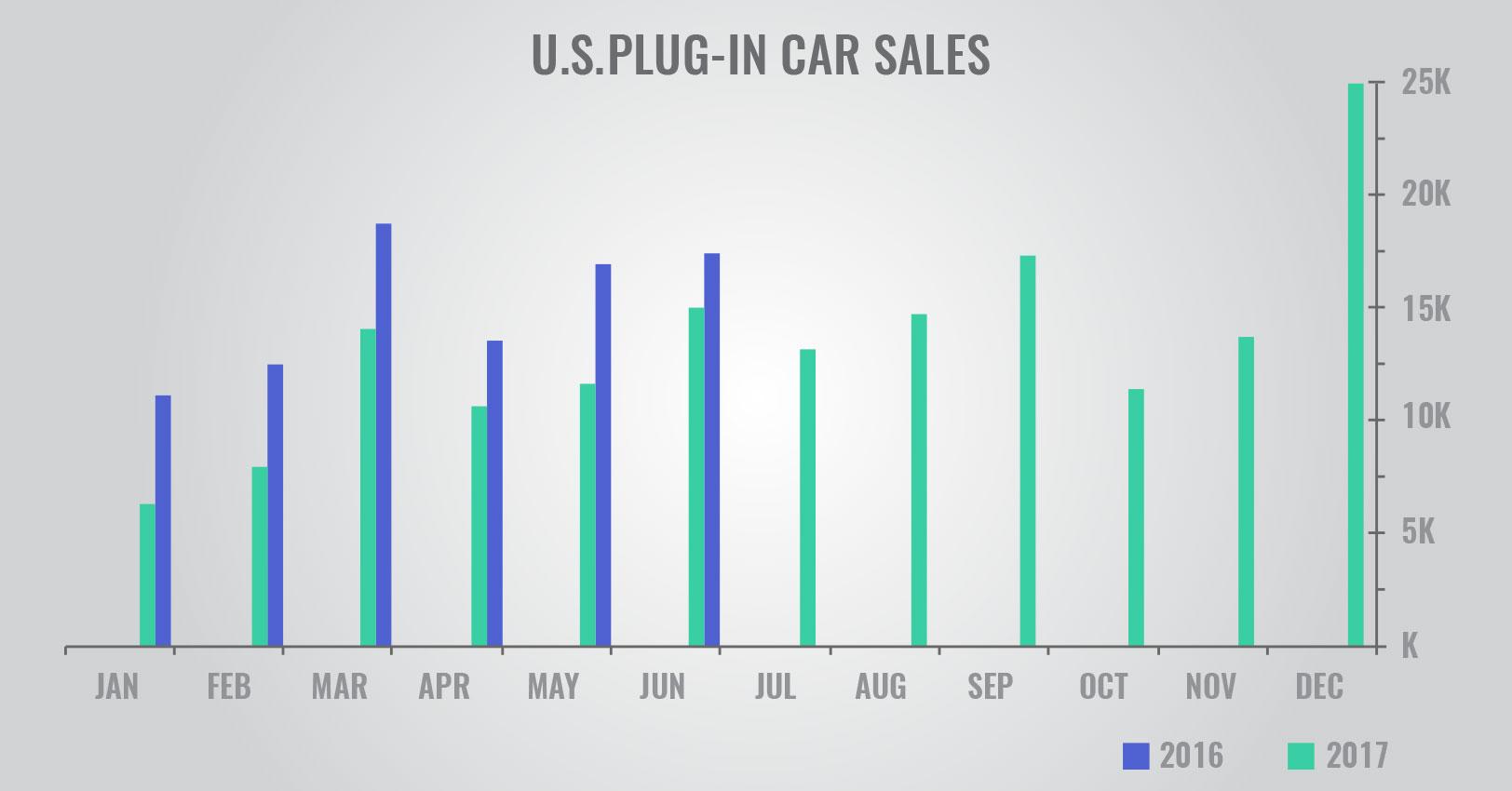 Article continues below advertisement
Putting it all in perspective, these great numbers are still relatively small. As Gina Coplon-Newfield and Mary Lunetta detail at Sierra Club, "EVs still make up only about one percent of total US auto sales." It's been a struggle to catch on further with most people unaware that they can get tax breaks, rebates, or even getting more information about them. Dealerships will offer a low amount of them and they'll often be lumped in with other internal combustion engine models on the car lot.
As the public becomes more informed of EVs, there's a chance old estimations of how many will be sold in the coming years will be put to the wayside. By 2025, some believe that the United States would finally top the double-digit mark with 10 percent of EVs would account for the total car sales. The Union of Concerned Scientists could see that percentage double, but that would require optimal conditions.
Article continues below advertisement
For example, the 40 percent increase over the past 12 months would need to happen again. This could be achieved if manufacturers continue releasing a variety of models -- especially mass-market options like the Model 3 -- and the charging infrastructure improves. A huge drawback for many, especially on fully electric vehicles, is limited range.
However, sales indicate that not everyone is scared of diving into them with Tesla's Model S being the best-selling EV of 2017 so far. There's also extreme interest in the Model 3 with well over 400,000 reservations on the books and the vehicle not being available for newcomers until at least mid-2018.