The National Transportation Safety Board has released crash data from the fatal Tesla Autopilot accident in May 2016. Along with the US National Highway Traffic Safety Administration, the two organizations have conducted separate investigations into the incident. The newly released data conflicts with some of the reporting done on the scene and confirms what the NHTSA concluded with earlier this year.
Joshua Brown, the driver of a semi-autonomous 2015 Tesla Model S 70D, was killed when he hit and went under a semi-trailer while it was making a left turn onto US Highway 27A near Williston, Florida. According to the driver that was pulling the semi-trailer, he believed that Brown was watching a Harry Potter movie at the time of impact and wasn't watching the road.
conflicts that assessment as they found no Harry Potter video files on his devices. They were able to find music files on a Chromebit, which is a portable ChromeOS device that plugs into a monitor. There was a chance that the driver of the other vehicle was hearing that at the time of the crash. It's worth noting that he also had a slight amount of marijuana in his system and was charged with a right-of-way traffic violation.
However, while Brown may not have been distracted with watching a movie, he was negligent in the warnings Tesla's Autopilot software gave him. The report cleared any potential malfunctions from the car's assistance, adding that it warned him for 37 minutes. that "the system gave the driver seven visual warnings and six audio warnings to take control of the vehicle," and he "had his hands on the wheel of his car for a total of 25 seconds."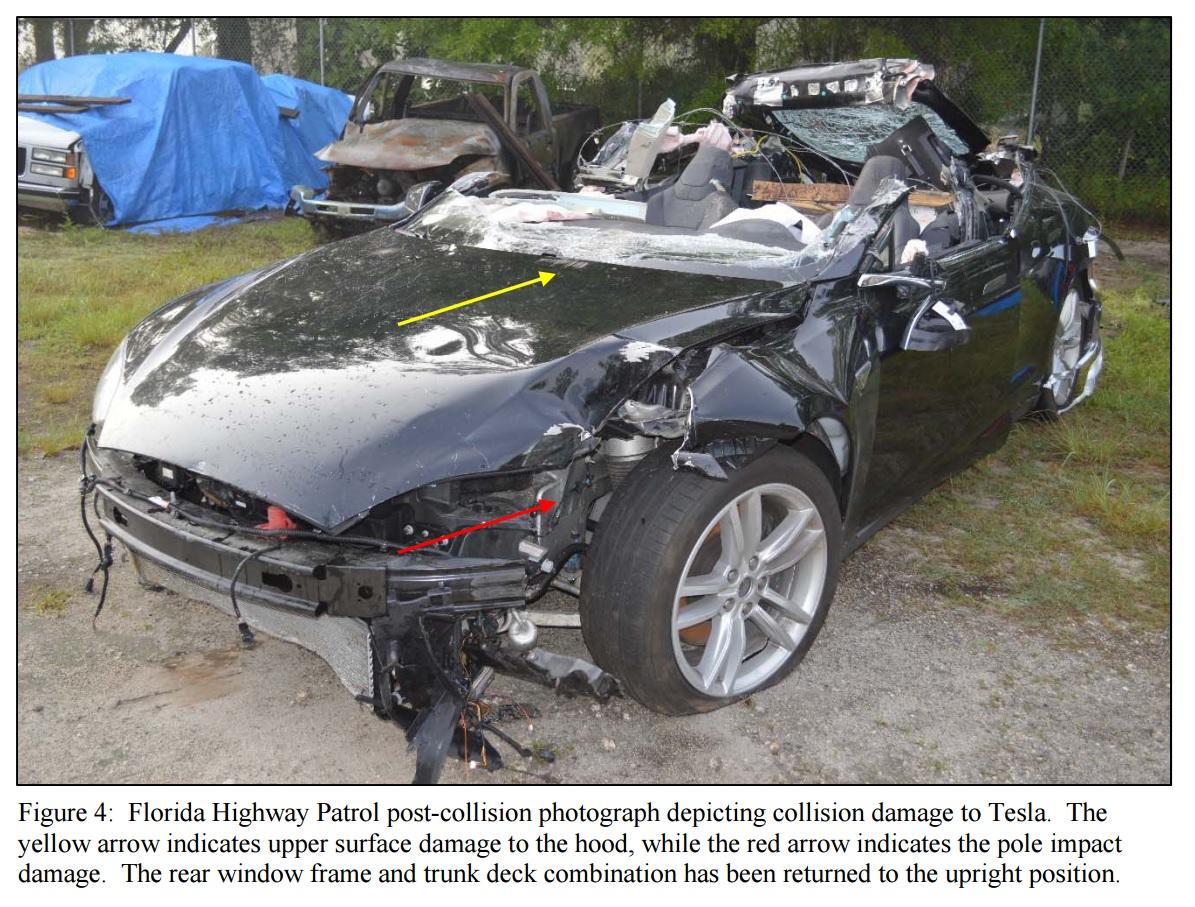 The report further indicates that Brown was able to see the truck for seven seconds prior to impact and there was "no braking,steering or other actions to avoid the collision." Normally, the Model S would apply brakes itself to avoid the crash, but a revealed that its system wasn't able to register detection of the trailer it passed under. While expressing remorse to the family of their tragic loss, they reminded consumers that the Autopilot feature "still requires the driver to remain alert."
After the accident happened, Tesla still went to work on improving their Autopilot software. The biggest change was implementing a feature that if a driver neglects warnings to use the steering wheel, it will automatically pull over and stop. Brown's family has hired a lawyer, but they have not taken any legal action against the car manufacturer.
The NHTSA concluded their investigation back in January, citing that the Autopilot software was , but it has reduced 40 percent of crashes involving Tesla vehicles. Crash data from the NTSB does not indicate what their conclusions are. They will have a later report that analyses the cause and creates recommendations to avoid accidents like this in the future.