Ecovillages in the U.S., if You're Looking To Move to a Sustainable Neighborhood
What is an ecovillage? If you're looking to live in a community with sustainable housing, it could be something to consider — here are some in the U.S.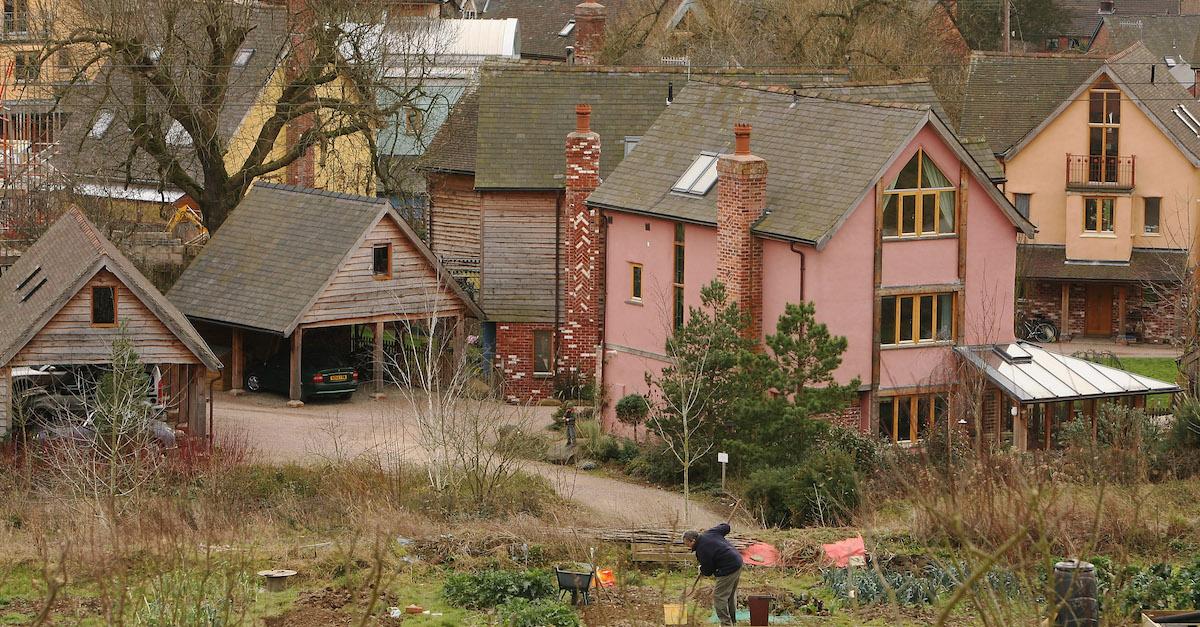 For some, community living doesn't come to an end after college — there are so many ways you can live alongside like-minded people as an independent, mature adult. Something that many sustainability-minded folks flock to are ecovillages, or sustainable housing communities, that focus on reducing their output, and maintaining a low environmental impact.
Article continues below advertisement
Practices, conditions, and ways of life tend to vary, based on which ecovillage you choose. However, all of them tend to have a similar focus on living sustainably, and in unison with the surrounding natural lands.
In addition to fostering an eco-friendly way of life, according to Treehugger, ecovillages often boast sustainable architecture and land development, too. Oftentimes, the communities share a garden, community resources, and money, to purchase things for the "village."
Even though the ecovillage, as a concept, is based on the communes of the '60s and '70s, most of them are quite modern, and several have popped up around the world over the last few decades.
But if you're looking to stay somewhat local, there are so many you can move to right here, in the U.S.
The Catskill Project (New York)
Located in the quaint Catskills town of Livingston Manor is The Catskill Project, a series of modern homes that are energy-efficient and sustainably built. According to Hudson Valley Magazine, the concept has been in the works since 2011, and only just recently opened to residents. Not only will it provide a gorgeous place to live, but also a neighborhood of eco-friendly folks looking to make a difference, and lower their impact.
Article continues below advertisement
Meadowsong EcoVillage (Oregon)
Those looking to live in the PNW should consider Meadowsong EcoVillage, a Dexter, Ore.-based community of durable, sustainable homes. The community's residents are tightly knit, and are intent on educating the masses, making way for productive communication, and helping each other, with a highly communal way of life.
Article continues below advertisement
Ask Avalon Organic Gardens & EcoVillage (Arizona)
Avalon Organic Gardens & EcoVillage is widely recognized as one of the biggest and oldest ecovillages. Located in Southern Arizona's Santa Cruz River Valley, it's highly focused on organic farming, vocational work, education, spirituality, and fostering memorable cultural experiences for its residents.
Article continues below advertisement
Roots EcoVillage (Texas)
Located on the south side of Austin, Roots EcoVillage was created during the Occupy movement for those looking to live sustainably and equally. Along with promoting a low-impact lifestyle, the community's members heavily value communication and non-hierarchical relationships, stressing the importance of a consensus process-style of governing.
Article continues below advertisement
Earthaven Ecovillage (North Carolina)
Not far from gorgeous Ashville is Earthaven Ecovillage. It's located in a mountainous setting on unceded lands of the Catawba and Tsalagi (Cherokee) people, so one of the group's main missions is to work and coexist alongside those groups. Members of the community value sustainability, and racial and gender equality. One of the primary focuses is sustainable agriculture, as the village is laden with gardens, farms, orchards, and other sustainable food businesses.
Article continues below advertisement
Dancing Rabbit (Missouri)
While sustainability doesn't necessarily come to mind when you think of living in Missouri, Dancing Rabbit has existed in the Northeast part of the state for more than 20 years now. From organic permaculture to sustainable architecture, renewable energy, and self governance, it has everything an ecovillage anywhere else has to offer. They allow visitors to come for two weeks, to determine if it's right for them — we suggest partaking if it's something you're interested in.
Article continues below advertisement
Belfast Cohousing & Ecovillage (Maine)
Those looking to live in New England should consider Belfast Cohousing & Ecovillage. Located in southwest Maine, the tiny neighborhood prides itself on being "socially progressive, politically liberal, and environmentally aware," with community spaces, communal homes, shared farms, and more.