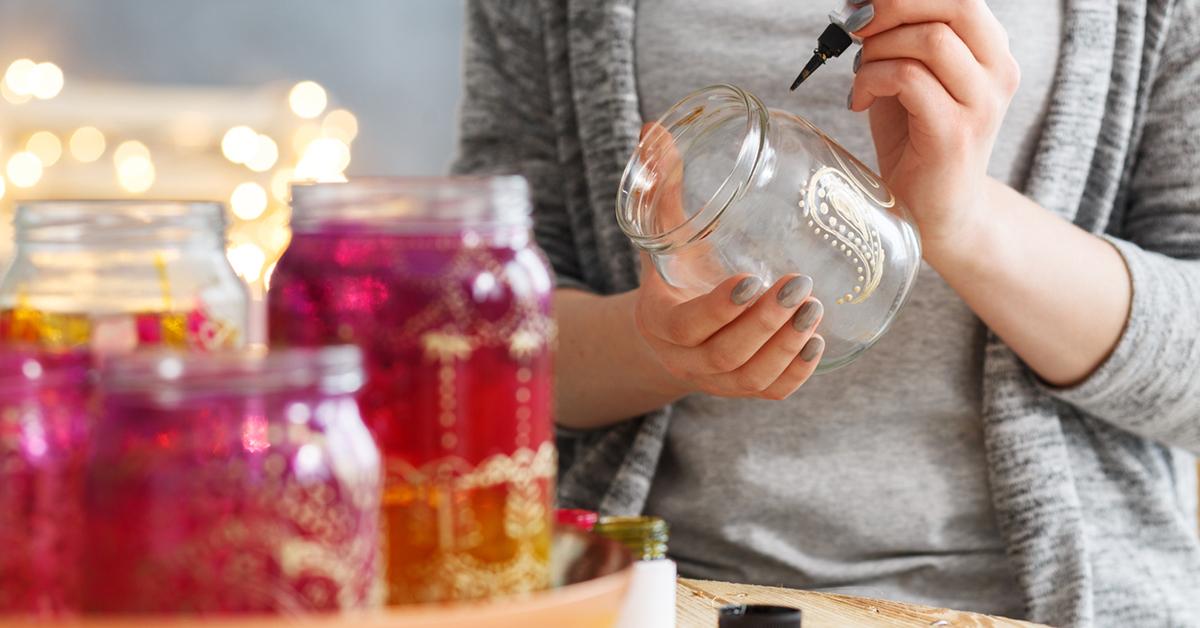 5 Creative Ways to Sustainably Reuse Jars
By Stephanie Osmanski

Jan. 30 2019, Updated 4:21 p.m. ET
Glass jars are a zero-waster's goldmine. Since glass is 100 percent recyclable and has the ability to be endlessly recycled without losing its quality, they are perfect for storing just about anything.
Article continues below advertisement
Zero-wasters use glass jars to store food and liquid in the refrigerator, the pantry, and so much more. But you don't fall victim to online zero-waste perfection; there's no need to shell out more money for Weck jars or only accept masons into your glass jar collection. So many different kinds of foods (and liquids) come in glass containers. Once you're finished with that jar, it's super easy and definitely more sustainable to clean out the container, remove the label, and reuse it.
Keep reading to find out what kinds of glass jars to buy and creative ways to reuse them!
First, look for foods that come in sustainable, reusable glass jars
Article continues below advertisement
Reusing jars of all kinds is a more sustainable option than always buying them new. But first, you need to know which foods come in glass containers, so you know what to look for in the grocery store. After all, the first step to sustainably reusing glass jars is to more sustainably shop.
Salsa and other kinds of dip often come in glass containers, as do some pickled veggies (pickles, beets, banana peppers, beans, etc.), jams, preserves and jellies, apple sauce, apple butter, Maraschino cherries, honey, vinegar, olive oil, some condiments, spices, and sauces.
Article continues below advertisement
1. Shopping in bulk
Reusable shopping bags aren't all you need to make your next trip to the grocery store sustainable. Glass jars are a game-changer when it comes to shopping in bulk. Many markets have a bulk section, which usually contains items like nuts, dried fruit, seeds, flour, grains, and even some candy that can all be bought in bigger quantities than the packaged stuff. In order to shop in bulk with a glass jar, you simply weigh the jar on its own, record its tare weight in Sharpie on the jar itself, then add the bulk food, and weigh it again. The cashier will subtract the tare weight from the end weight to determine how much the food weighs, therefore determining the bulk price.
Some stores also offer the option of buying liquids in bulk. Glass jars are perfect for liquids, too, but they don't have to be limited to mason jars. After finishing a glass bottle of olive oil, vinegar, or some other liquid mentioned above, you can remove the label and bring it back to the store to stock up on bulk liquids. Some liquids sold in bulk include oils, vinegar, or sometimes even juice.
Article continues below advertisement
2. Food storage
Glass jars are a go-to for nearly every zero-waster's food storage. They can be used in the refrigerator to store loose produce or in the pantry or cupboard to house bulk, non-perishable items. A few things glass jars can be used to store include any kind of seeds, flours, rice, quinoa, chocolate chips, carob chips, cacao, xanthan gum, dried fruits, and basically anything else bought in bulk without single-use plastic packaging.
3. To-go coffee
Forget the disposable to-go cups and ditch the BPA-ridden plastic water bottle. Glass as a to-go coffee mug is a creative, sustainable option because it comes with a built-in, spill-free lid (if it's a mason jar), and it will keep your coffee cool. Not to mention, if you shell out for a 10 pack of mason jars on Amazon once, you'll have enough jars to keep repurposing. So the jar you use one day as a coffee cup can be repurposed the next for food storage or something else.
Article continues below advertisement
4. DIY candles
Sometimes we end up with glass jars that are weirdly shaped. Salsa jars, pickled veggie jars, or any other jar that seems oddly-shaped or too small for other uses can very easily be turned into a do-it-yourself candle. All you have to do is hand-pour beeswax into the jar and add a cotton wick. Not only are beeswax candles made at home non-toxic and environmentally-friendly, but they also make great zero-waste gifts to dole out to your friends or family.
5. DIY beauty products
A big part of being zero-waste is often buying ingredients in bulk and learning to make certain things yourself. Beauty products and other cosmetics usually fall into this DIY category. In the long run, it's much more sustainable to make things like toothpaste or toothpowder, deodorant, lotions, cleanser, or body scrubs at home. Glass jars will not only keep beauty products sealed and air-tight, adding to the shelf-life of your made-at-home-products, but the jars eliminate the single-use plastic that cosmetics often come in.