Product Test: What's The Best Steel Water Bottle?
Stainless steel water bottles are functional and trendy.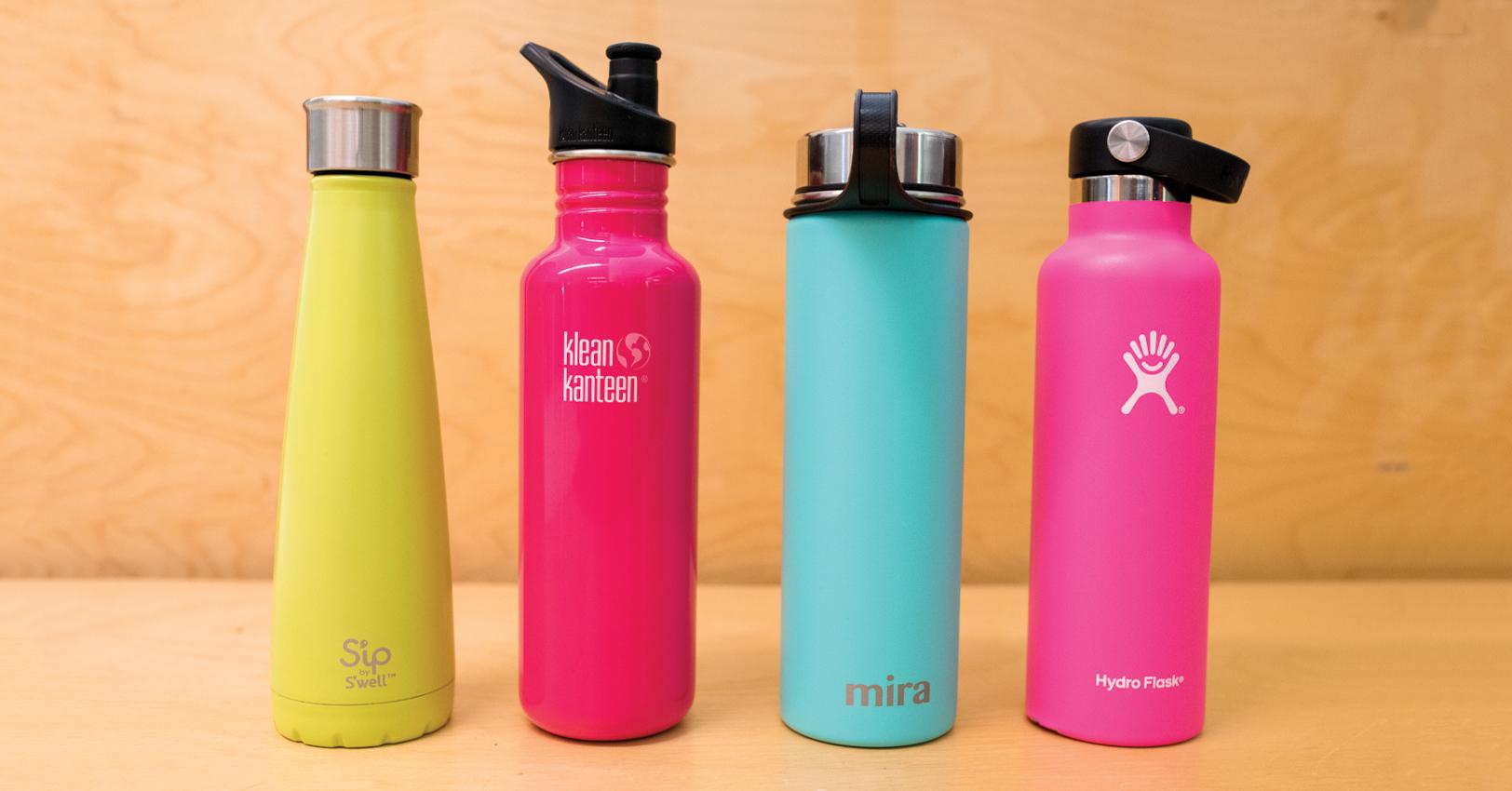 Buying a steel water bottle is one of the quickest and cheapest ways to make your home more sustainable. Once you have one, you'll wonder why you ever bothered with plastic water bottles. Steel bottles are more durable and reusable, they keep liquid colder, and they don't leech any BPA or funky taste into your water. But with multiple, popular brands now on the market, which one should you get?
Article continues below advertisement
To answer this question, I tested four widely available options. The styles varied a bit, as did the size and price points. But I tried to stick to "classic" examples from each brand, to give you a good idea of their offerings. Here's what I thought of the bottles, and a suggested optimal environment for each one: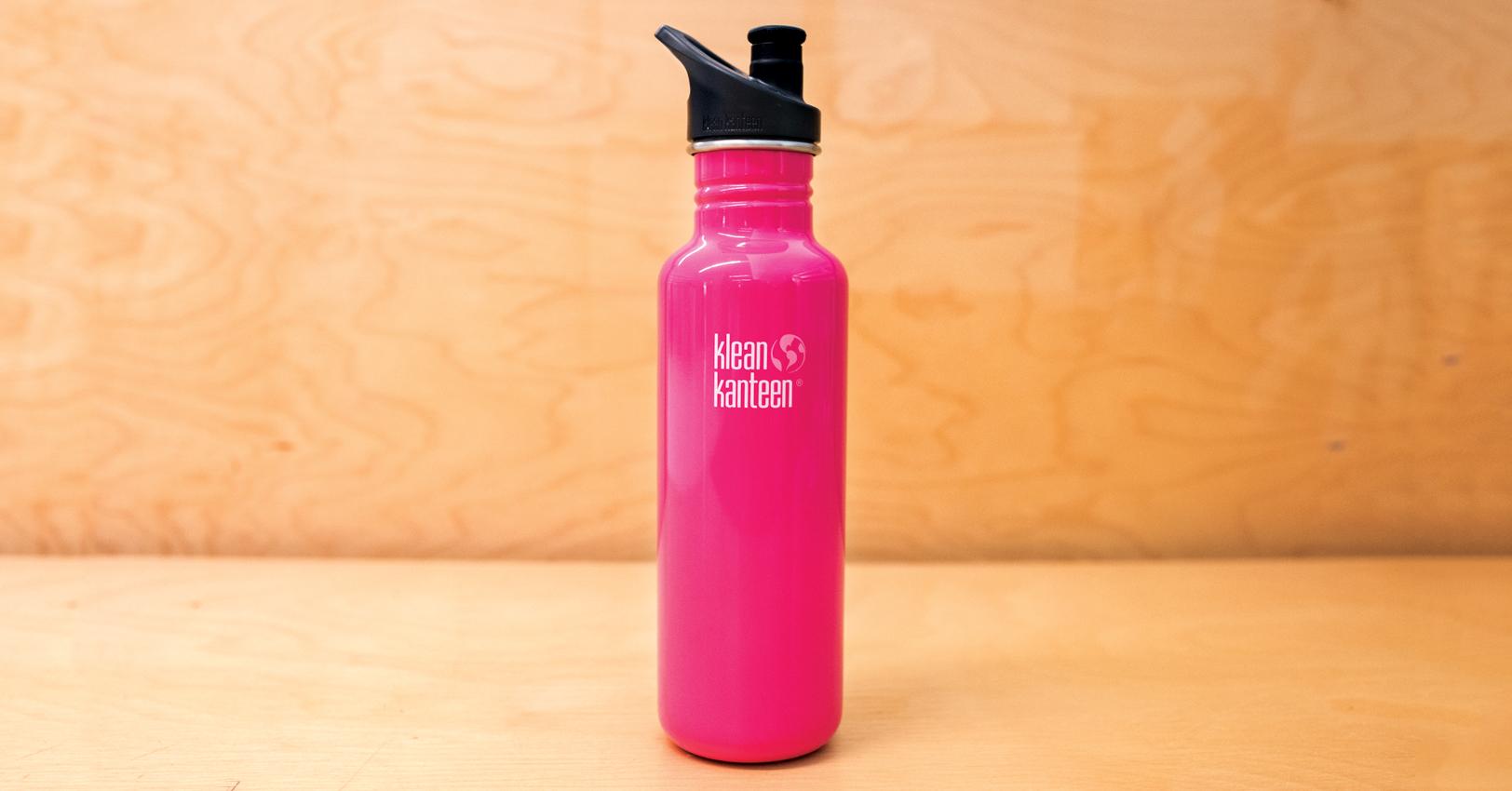 Article continues below advertisement
I bought this bottle for myself several months back after reading glowing reviews online. I wanted something I could easily guzzle at the gym, so I opted for the sports cap. I also wanted something loud, so I got it in "dragonfruit" pink.
Article continues below advertisement
This is Klean Kanteen's original bottle, designed with a lightweight single wall of insulation. It claims to be "4X more durable, chip-resistant, and safe for people and planet." What I like most about this bottle is its utility. It's super light and easy to use whether you're running on a treadmill or just loafing on the couch. I'd read some customers complaining about leaks, but that hasn't really been a problem for me. That said, it does sweat a ton, making it a less than ideal companion for the books or receipts in my bag.
I also buy the company's "4X more durable" guarantee, because of an early accident. I brought this bottle to a march in January and at one point, my boyfriend dropped it, bashing it on the streets of New York. When I picked it up, I noticed two small dents, but they were tiny. You really had to squint to see the paint chips at all.
Article continues below advertisement
Overall, I like this bottle best for working out. Because it sweats a bunch, I'm sometimes nervous about carrying it in my purse, but I appreciate it for lengthy walks and struggling through gym sessions.
Article continues below advertisement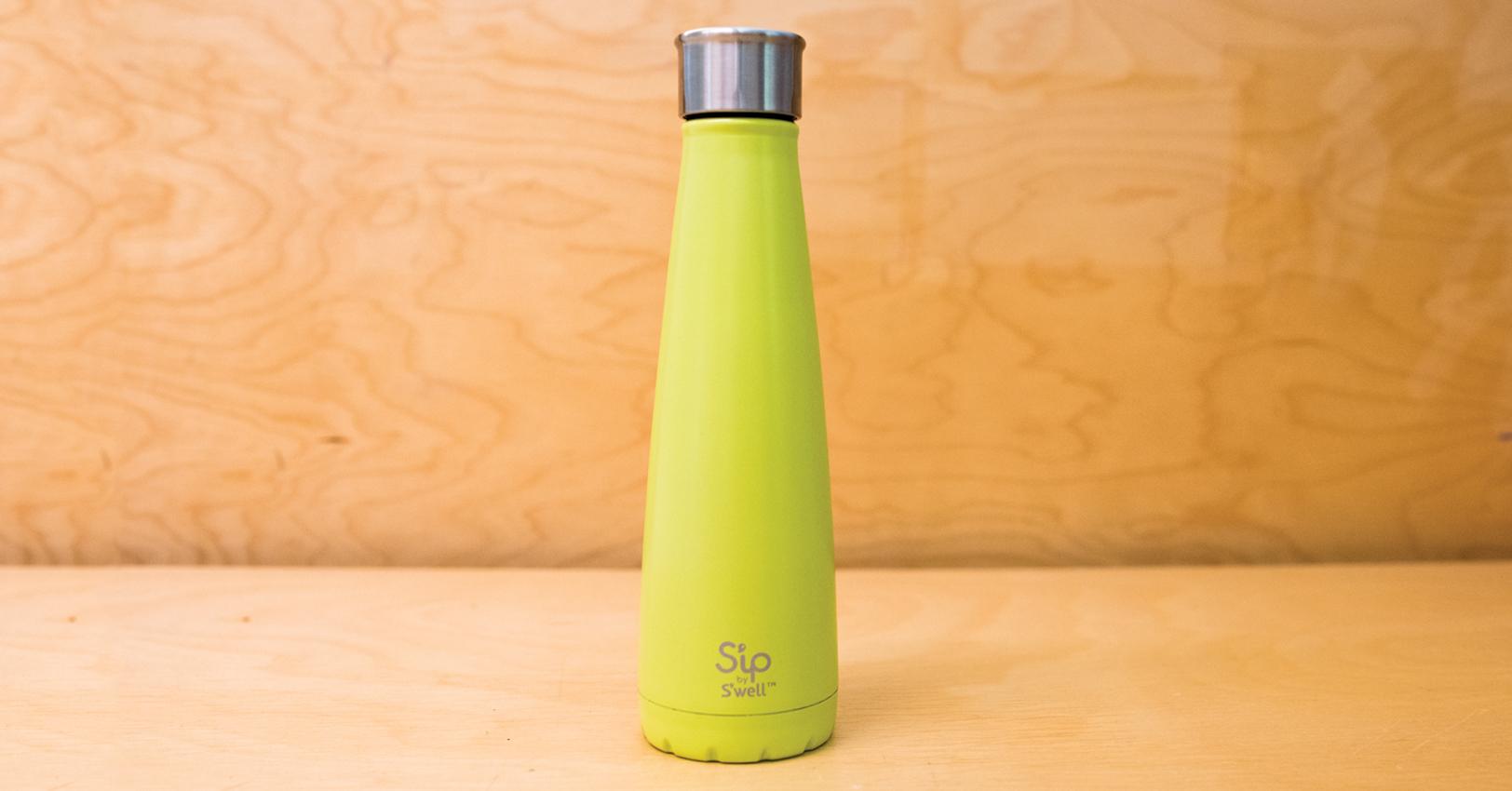 Article continues below advertisement
I got this bright green bottle at a company event, and have kept it at my desk ever since. I'd kinda coveted the S'well bottle for some time, because they're hands down the most stylish and dare I say, cutest, steel bottles in town. I mean, you can get them covered in cityscapes. Or pizza. Because it's so aesthetically pleasing, I think this bottle is best suited for my current use: an everyday desk bottle. I'm not nervous about throwing this in my purse — it really doesn't sweat much — but it's nice to look at, and functions almost as a decoration.
Still, a lot of people purchase steel bottles for outdoorsy activities, so I thought I should at least conduct an informal test of durability, in case someone wanted to take this into a rougher terrain than their cubicle. A replication of the (accidental) dent test I'd already performed on my Klean Kanteen seemed perfect. I ran outside my apartment, staking out an empty street parking spot and hovering over it from the sidewalk. Once my arm was at a straight 90 degree angle, I dropped the bottle. I could spy small dots where the paint had chipped, but there wasn't even a dent on thing. It was honestly way more durability than I expected. But since it's a smaller bottle, I might pass on taking it to arduous hikes, where hydration is key.
Article continues below advertisement
Best for: Home or the office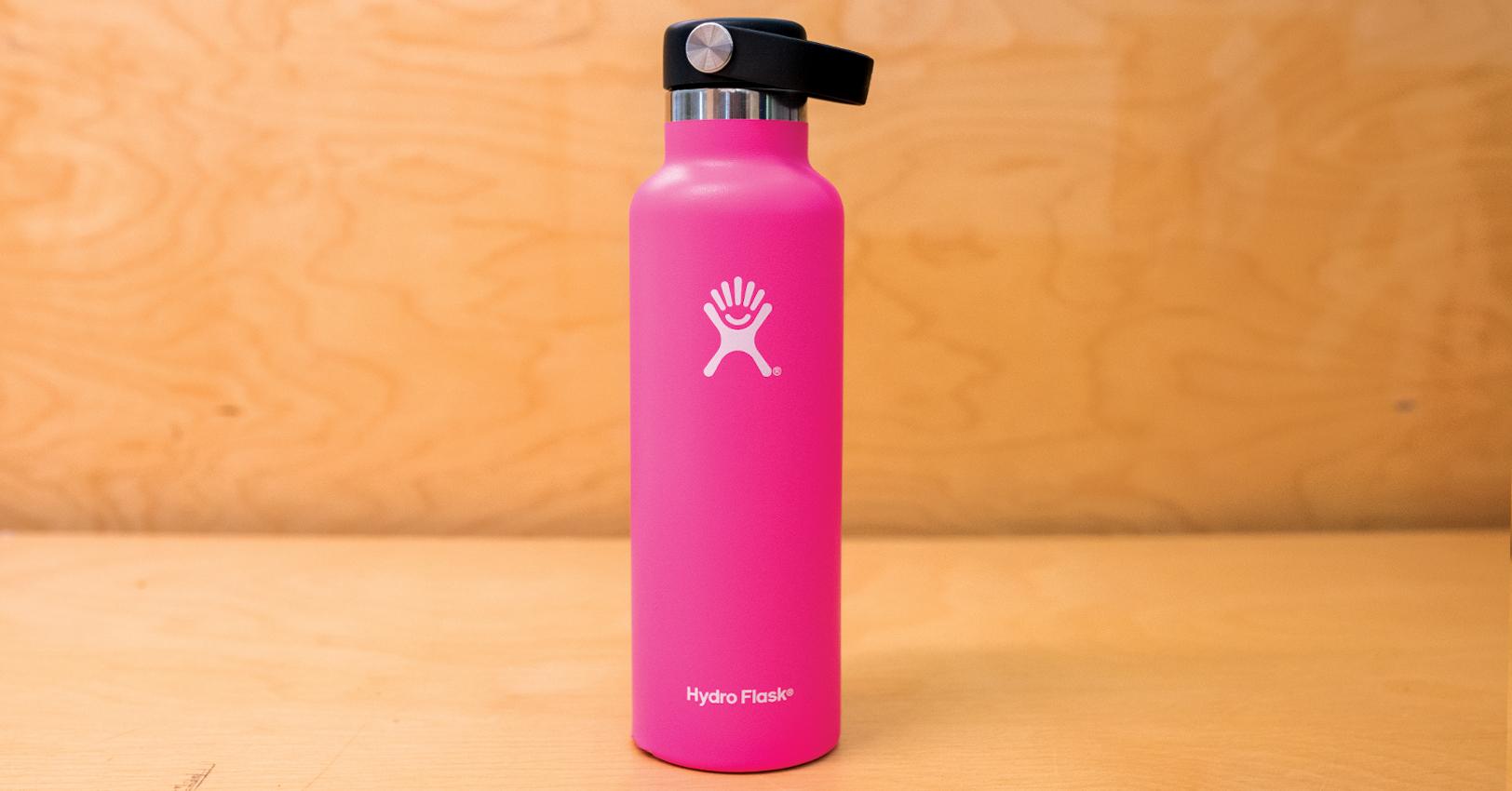 Article continues below advertisement
Based on a few Google searches, it seemed like Hydroflask should be included in this test. I'd certainly heard the name before, and it had plenty of fans online singing its praises. So I reached out to the company for a product sample and received the "standard mouth" model with a standard flex cap. It arrived in a pink shade only slightly paler than my Klean Kanteen.
Article continues below advertisement
In terms of insulation, I think the Hydroflask slightly edged out its peers. One morning, I filled all four bottles with tap water, stuck them in the freezer for half an hour, then placed them all on my desk. I sipped each one once immediately, then checked in as the day wore on. Quickly remembering my Klean Kanteen was the only bottle of the group with a single wall of insulation (and no 24 hour promise of cold drinks), I eliminated it and focused on the remaining three. The Hydroflask stayed just a bit cooler than its peers. But while it won that round, it didn't fare as well in my street stomping test.
Once again, I raised my arm straight up and dropped the bottle to the blacktop. The denting wasn't bad, but bottom of this bottle chipped much more severely than the competition. So while I might hesitate to take it hiking, where it could rub up against rocks, it seems perfect for a day in the sun.
Article continues below advertisement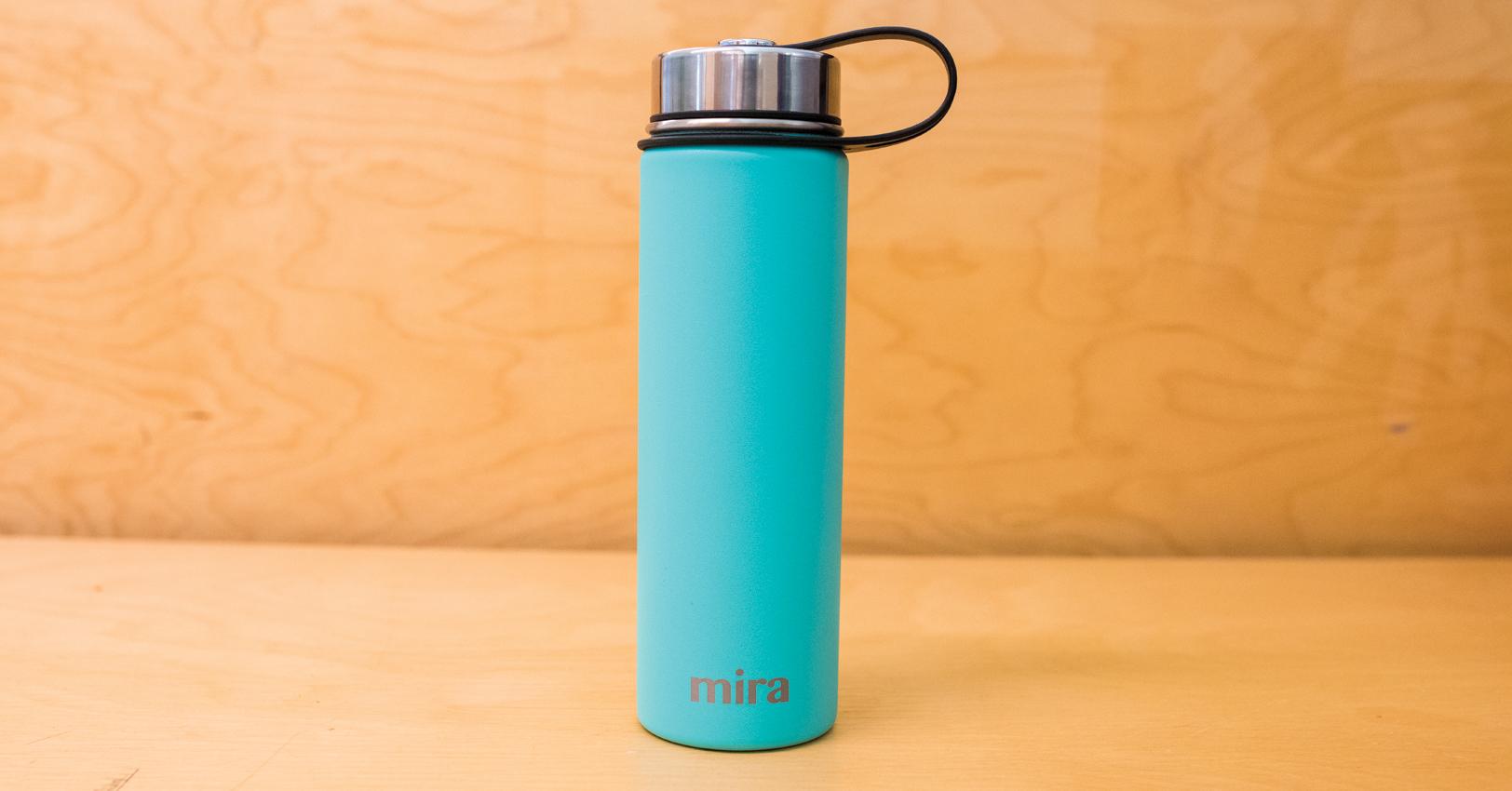 Article continues below advertisement
MIRA was another brand that kept coming up in my searches for "best stainless steel water bottle." So I reached out to their press people for a sample, and quickly received multiple bottles and caps in the mail. I stuck to the Sierra Two Caps, which seemed like a good baseline. It features a double wall of insulation and promises no leaks or rust. It also claims your drink will stay cold for 24 hours.
Article continues below advertisement
The MIRA seemed to stay about as cool as the S'well bottle, and it handled my drop with minimal chipping. A solid, if not standout, selection from the group. This seems like the bottle best suited for strenuous outdoor activities. It's big, it'll take a beating, and the double insulation will prevent your water from roasting on a sunny day. The wide mouth also strikes me as ideal for passing around a campsite, particularly if your friend missed the memo and brought a plastic bottle instead. This should set them straight.
Best for: Hiking and camping
If I had to pick an overall favorite of the bunch, I'd go with the S'well. It's pretty, it doesn't sweat much, and it stood up to my silly drop test admirably. But if the slight size of the Sip model is holding you back, check out their original bottles or "Roamers" for roomier options.