How To Have An All-Natural Yard With Less Work
All-natural yards are easier to maintain than you'd think.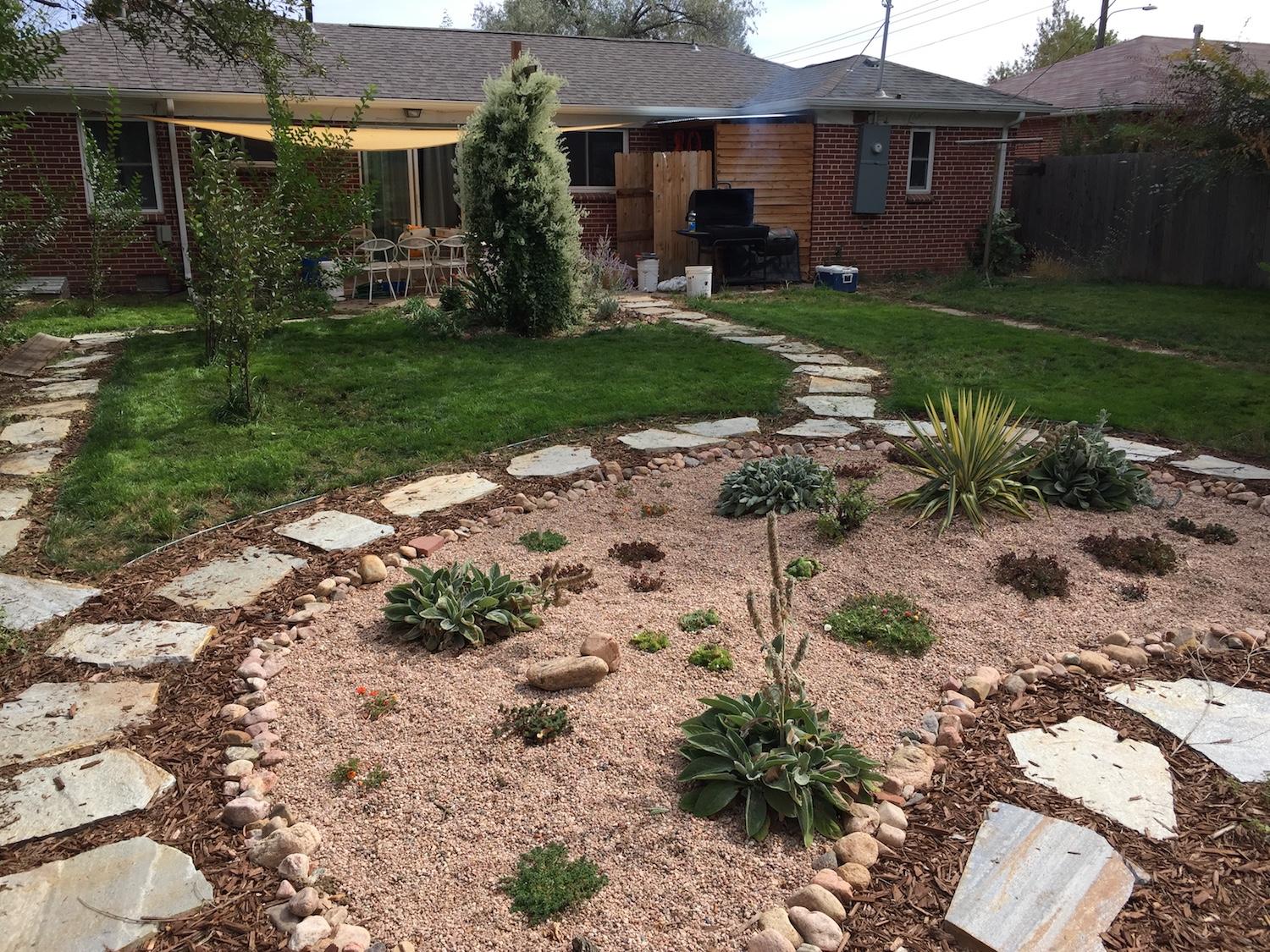 When my husband and I relocated from Florida to Colorado, the change in climate was a welcomed joy.
But when it came to our new home, that arid weather didn't exactly agree with the lawn. Instead of thick, lush grass, our yard was a tangled mess of monster weeds and dead grass. As frugal, first-time home buyers, we didn't want to run our sprinklers all of the time — and clearly, the grass we had wasn't built for such an arid climate in the first place.
Article continues below advertisement
Which is how we ended up hearing about xeriscaping, a method of landscaping designed for drought-afflicted areas like the dry air of the Colorado town we'd settled in. Xeriscaping incorporates native plants that are already accustomed to your local climate and smaller lawns (giant water hogs). My husband and I were shocked at how simple the process of turning our property over to xeriscaping was — and how much money we saved.
Here's what we've learned about how anyone can create an all-natural yard with less work.
Article continues below advertisement
Choose a native grass for your yard. 
Many xeriscape websites will praise Colorado's native Buffalo Grass as a water-smart choice for arid climates. With a little more research I found that yes, Buffalo Grass is water-smart, but that it is also the last type of grass to turn green in the spring and the first to turn brown in the fall. And just like that, it was out of the running.
Article continues below advertisement
We decided to go with something called "No Mow" grass because of its hardiness. This grass is loyal to its name, growing incredibly (even frustratingly) slow. We have yet to water or mow our yard this year, and our house was the first on the block with green grass.
Article continues below advertisement
Seven pounds of seed, including tax and shipping, cost us $49. We have not had to touch the grass (besides some dandelions and residual crabgrass) in our front yard since last year. It is such a welcome change to last year's abandoned lot aesthetic.
Break up your grassy areas with native plants and mulch. 
Breaking up your lawn with native plants and mulch cuts down even further on watering — and if planned well, can give you an English garden feel. We've probably covered a third of our yard at this point with no-water areas of mulch or gravel.
Article continues below advertisement
If you want to go this route, just remember to clump similar plants together for that "wandering" feel. And be sure to use the free plans available at most local extension offices as resources. There are even will sell you smaller perennial plants for a decent price that can function as excellent pollinators in your city.
Article continues below advertisement
Buy your mulch in bulk. 
We can purchase a half yard of mulch from a local garden center for $55 after tax. You can also get a large amount from your local home improvement store for a comparable (even lesser) price. Either way, buying all your mulch at once will push you to get the job done quickly and will look great for a few seasons. A warning: Do not purchase the super shredded mulch, no matter how nice and soft it feels. That will turn to dirt in one season and you have weeds in your mulch even with a weed mat.
Grow your own plants. 
We chose to purchase seeds of some ornamental grasses and low-water plants for our zone. You can purchase quarter-pound bags of seeds from online stores like American Meadows. With such a large amount of seeds, you can really experiment on different areas and see what works for your soil and light. To be clear, by "experiment," I mean throw some seeds down and check back in a month.
Article continues below advertisement
I've found that California poppies love the top corner of our yard and we do not water them at all. So far I have grown about 18 patches of "little bluestem" and "bunny tail" grasses to various groupings. I also have buckets of gloriosa daisies and sulphur cosmos. At first, only choosing low-water plants felt stifling, but with a little research, I ended up with endless ideas and inspiration.
Article continues below advertisement
Growing plants from seed is surprisingly easy and you can even purchase plastic containers to start seeds that demand minimal effort.
Two words: olla pots
I have found that areas with great drainage but no access to water can benefit from olla pots, which are unglazed ceramic pots that keep plants moist even in dry climates. You just bury the pot near the plants (leaving the neck exposed), fill it with water, and let nature do its thing. Slow-percolating water can keep plants hydrated for up to a week or longer! I made my own olla pots with some terracotta and Gorilla Glue I had on hand.
Article continues below advertisement
I refill maybe once a week if it is super dry (not at all if we have any rainfall) and it keeps the soil moist. The theory is that plant roots grow towards the pots and take what they need. The pots also refill themselves when it rains. Terracotta pots are around $1 each so it's a very low-risk investment. I have found that if your plants have a shallow roots system, there is no need to bury the ollas very deep.
Article continues below advertisement
Start your compost! 
Compost is truly black gold — and it comes in incredibly handy when you're mulching large areas and don't want to purchase any soil. We carry our compost out every few days with the recycling, and turn it once a month.
Article continues below advertisement
It's surprisingly satisfying to see the bottom of your compost pile turn black as it becomes usable soil. We ended up using old fence posts to build our compost bin, but there are many tutorials online for building a container from chicken wire and old pallets. Ours is far away from the house, and doesn't smell since everything dries out pretty quickly in Colorado.
Practice makes perfect.
Don't expect every seed to take off, or every experiment to work. Any good gardener or landscaper will tell you that no matter how much experience you get, there will always be plenty more to learn. Try to enjoy the journey — and the savings! — along the way.