Denounce #Fitspo Culture and Check Out These Inclusive LGBTQ+ Fitness Instagram Influencers (Exclusive)
LGBTQ+ Instagram influencers and fitness experts Jaime Filer, Beth Bishop, and Sophie Butler are actively making the wellness space more inclusive, positive, and palatable, not to mention queer.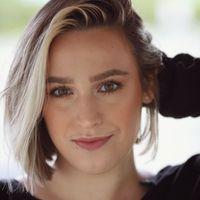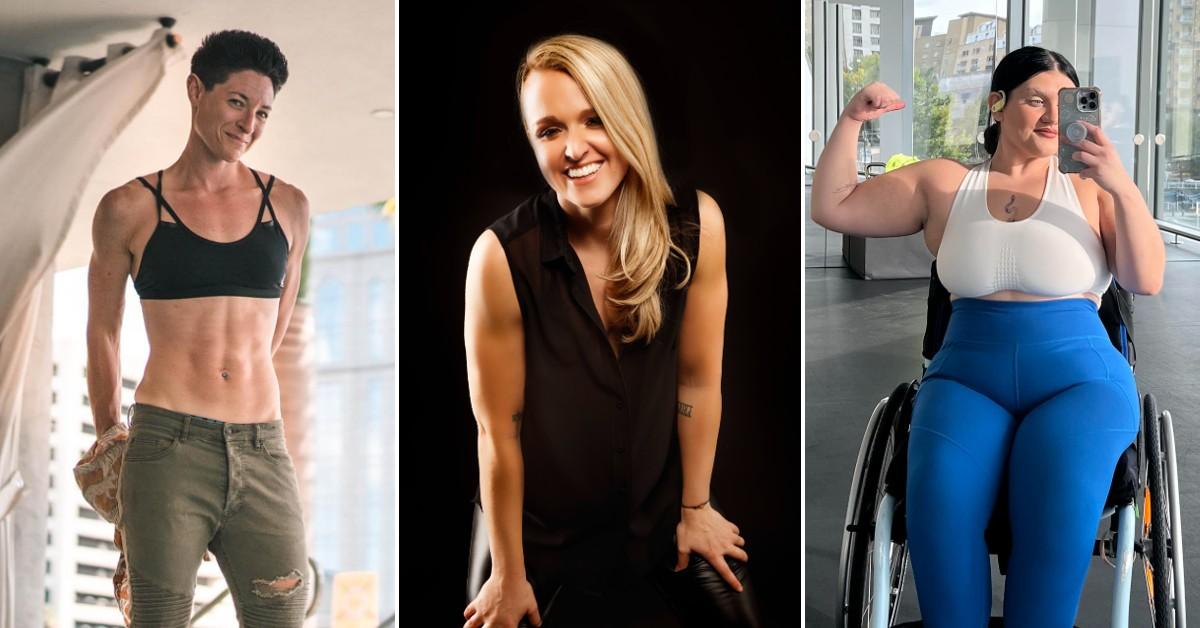 Mindlessly scrolling on the toxic positivity hellscapes of TikTok and Instagram can conjure up insecure thoughts like "Should I be waking up at 5:00 a.m. to hit the gym?" and "Do I have hip dips?" Despite some positive changes to the zeitgeist, unrealistic #dayinmylife TikTok videos, discreet filters, and unavoidable, ever-changing diet culture ads (we'll never forget Flat Tummy Tea-gate) make fitness and overall wellness complex arenas to navigate.
Article continues below advertisement
Though the mere presence of conventionally-impeccable pop culture figures can deter steady progress and challenge self-confidence, the World Wide Web is a diverse resource brimming with inspirational, resilient, and real fitness influencers. You just have to find them. Luckily, we did the heavy lifting for you, pun intended.
There's not one way to be healthy, there's not one way to be, and the LGBTQ+ community knows this deeply. With Pride Month in mind, we spoke with three incredible queer Instagram icons — Jaime Filer, Beth Bishop, and Sophie Butler — who are working to make fitness and wellness culture more inclusive, accessible, and honest. Via email, they got candid about the impact of their queer identities and how personal health journeys can empower LGBTQ+ individuals.
Keep reading for our exclusive Q&As with the fierce fitness buffs!
These interviews have been lightly edited and condensed for length and clarity.
Article continues below advertisement
Jaime Filer (she/her)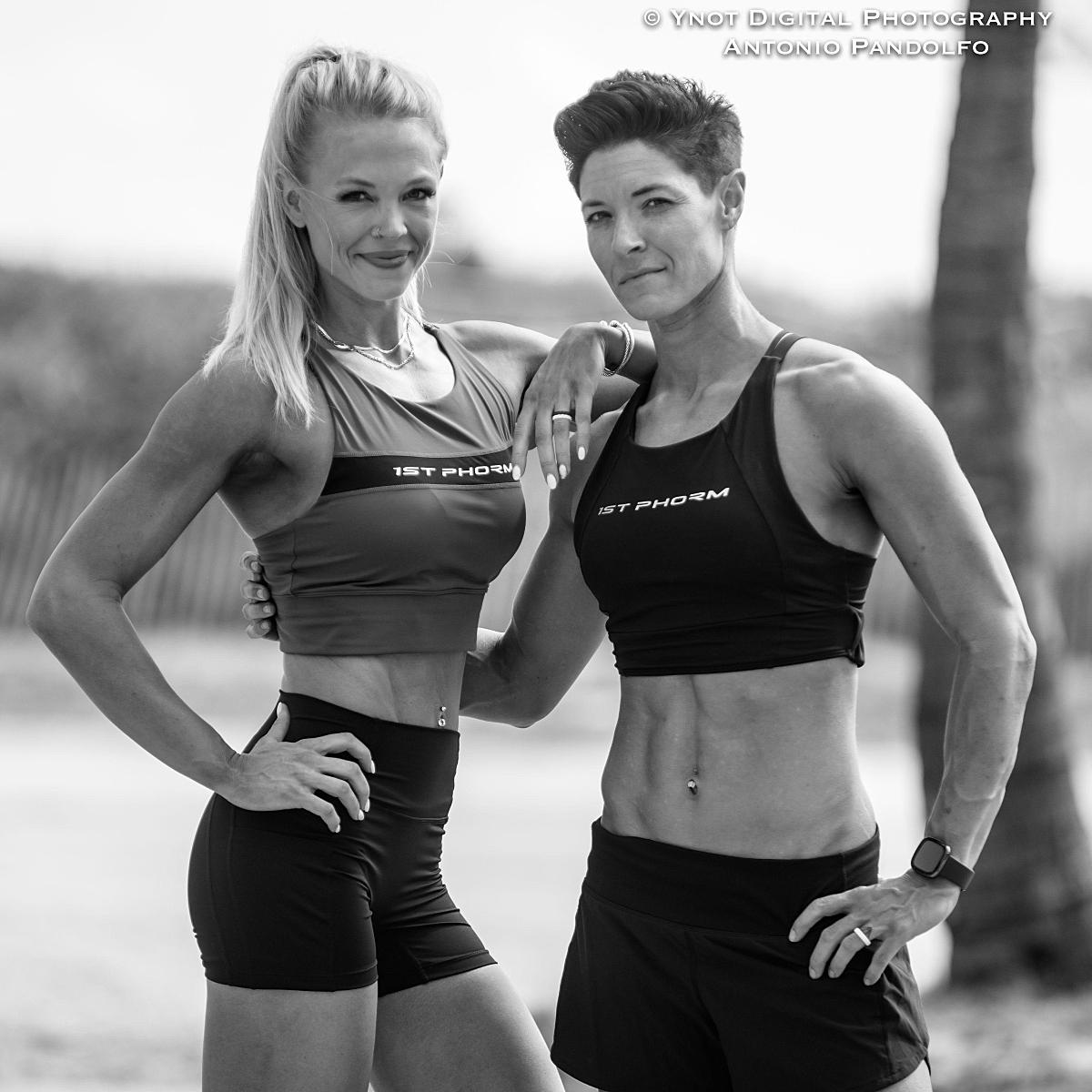 Struggling with self-confidence and battling poor mental health? Enter mental/physical health coach Jaime Filer.
With a mission to "[help] anxious LGBTQ+ women decrease overwhelm and boost confidence through fitness," the certified trainer uses her Instagram platform to inspire, frequently sharing personal tidbits from her own life — like her all-consuming experiences with anxiety, anorexia, and addiction — to dismantle perfectionism and impracticality in fitness culture.
Alongside her equally badass wife, Katie Filer — a speech language pathologist and assistant health coach — Filer is building a trusting community of healthy go-getters.
Curious about a customized online training plan complete with mindfulness exercises and intimate check-ins? Check out Jaime Filer's site.
Article continues below advertisement
Below is our Q&A with Jaime Filer.
GREEN MATTERS: How has your queer identity shaped who you are?
JAIME FILER: It's everything. It's how I identify. It's how I set myself apart. It's how I empathize and sympathize with my community. It is the bedrock of my whole coaching platform — to let the queer community know there's a coach out there who understands them, because she is them.
Article continues below advertisement
GM: How do you believe fitness and overall wellness can empower the LGBTQ+ community?
JF: Without a healthy body, it's hard to have a healthy mind, and vice versa. Our community is surrounded by so much toxicity and vitriol, online and in person. If we don't empower and strengthen ourselves, then it's going to be hard to stand up for ourselves.
Article continues below advertisement
GM: Why is it important to recognize and nurture the connection between mental health and physical fitness?
JF: The body isn't separate from the heart and mind. Your stomach, for example, is essentially a second brain. The food you eat has a DIRECT correlation to how you feel. Movement is essential in easing and healing anxiety. Remove yourself from certain environments, ground yourself in nature, get steps in to release endorphins, play a team sport to release oxytocin.
Article continues below advertisement
GM: What does Pride mean to you?
JF: Pride means wearing your heart on your sleeve. Showing the rest of the world that you're going to love who you love, and there's nothing they can say or do to tell you otherwise. It means connecting authentically with those who are doing the same, and thanking them for feeling safe enough to be themselves in front of you.
Beth Bishop (she/her)
Certified trainer Beth Bishop — aka the CEO of the Phoenix Effect gym in LA and Head Trainer of the NeuroFit app — will tell you all about nervous system fitness. But first, let us tell you about her.
Prioritizing both mind and body (she loves somatic exercises), Bishop emboldens her followers and gym rats alike to release anxiety via mindfulness, meditation, and breathwork — all of which can help regulate the nervous system.
Article continues below advertisement
Proudly vocal about her complex self-love journey, Bishop learned to "observe [her] emotions with curiosity and compassion, rather than judgment and fear," through the diversity of nervous system fitness. But don't mistake emotional release for weakness (a tired misconception), because Bishop is a force to be reckoned with.
Whether she's speaking out against the needless, outdated enforcing of the gender binary in weight rooms or pushing people to be the CEO of their own lives, Beth Bishop is a fiery gem in the modern fitness sphere.
Article continues below advertisement
Below is our Q&A with Beth Bishop.
GREEN MATTERS: How has your queer identity shaped who you are?
BETH BISHOP: Embracing my uniqueness has allowed me to approach my role as a leader with creativity, understanding, and a flair for challenging the norm. My queer identity has encouraged me to venture off the beaten path and explore innovative ideas.
My ability to empathize drives me to develop innovative solutions that cater to the needs of every individual, ensuring that our gym is a supportive and empowering space for all.
My queer identity has taught me the invaluable lesson of resilience in the face of adversity. Failure is simply an opportunity to learn and grow.
Article continues below advertisement
GM: How do you believe nervous system fitness and overall wellness can empower the LGBTQ+ community?
BB: As the Head Trainer of NeuroFit, this wellness practice is extra impactful for the community, as it plays a crucial role in enhancing self-awareness, safety, and emotional resilience, reducing stress and promoting mental well-being, strengthening relationships and support networks, facilitating personal growth and self-acceptance, and ultimately, empowering advocacy and activism to pave the way toward a more compassionate and balanced society for all.
LGBTQ+ people have to navigate unique challenges, such as discrimination, stigma, and social isolation. Emotional resilience is crucial in building the strength to overcome adversity, stay grounded, and advocate for ourselves and our communities.
When you constantly feel like your community is under attack and rights and your safety are threatened, a five-minute balancing exercise can give you solace and reprieve. With suicide rates high, especially in our trans and nonbinary communities, regulation can be a matter of life and death.
Article continues below advertisement
GM: You've said that "emotions are your superpower." Can you elaborate on that?
BB: As we become more attentive to our feelings and emotional cues, we can better recognize when our nervous system is dysregulated, skillfully navigate life's inevitable challenges, and steer ourselves toward a more fulfilling and balanced existence.
By tapping into our emotions, we can cultivate compassion, kindness, and love – the keys to unlocking a more connected and harmonious world.
Article continues below advertisement
GM: What daily exercises do you recommend for people looking to cultivate self-love during Pride Month?
BB: Whenever you're feeling a negative emotion, go to the NeuroFit app, select what state you're in and select how you'd rather be feeling. Then it will give you a simple exercise to do.
I like to do sacred rage when I'm feeling frustrated or extra heated. I raise a slam ball or a pillow up over my head and throw it down while screaming over and over for 3 minutes.
Article continues below advertisement
When I'm feeling overwhelmed, I like to do eye press breathing. I lay in my bed on my back and put my palms on my eyes. I take long deep breaths and focus on the air going in and out through my nose.
GM: What does Pride mean to you?
BB: Pride means loving and accepting myself unconditionally, living and expressing myself authentically, and recognizing that the safest place to be is always myself, even when it's hard.
Sophie Butler (she/her)
Sophie Butler describes herself as a "queer, disabled Londoner obsessed with music, fashion, pop culture, and lifting heavy things." We describe her as the physical embodiment of tenacity.
After falling in love with weight lifting in 2015, Butler deemed the gym her "safe place," per Women's Health. The irony here is deeply tragic, as a freak gym accident permanently disabled her on July 5, 2017.
An incident with a Smith machine resulted in a spinal cord injury that left Butler paralyzed from the waist down, changing her life forever.
Article continues below advertisement
Akin to influential athletes like Bethany Hamilton and Aron Ralston, Butler didn't let tragedy consume her. Instead, she wheeled herself back into the gym, ready to build muscle, confidence, and community.
The disability activist and public speaker's Instagram platform serves as a testament to the endless possibilities for adaptive athletes and manual wheelchair users, as Butler refuses to let anything hold her back.
Article continues below advertisement
Whether she's pumping iron, traveling abroad, attending Beyoncé's Renaissance World Tour (in a disco ball cowboy hat, mind you), or simply getting dressed, Sophie Butler highlights the daily hurdles and stigmas she faces and speaks about the importance of accessibility in public spaces.
Being the first wheelchair user to cover Cosmopolitan in the U.K., this outspoken Brit is a tenacious role model, a breath of fresh air, and our new style icon. If you catch us bleaching our brows, mind your business.
Below is our Q&A with Sophie Butler.
GREEN MATTERS: How has your queer identity shaped who you are?
SOPHIE BUTLER: My queer identity has shaped every aspect of my life. It's often used as an insult that "your only personality trait is that you're gay," but I'm so grateful for and proud of how it has woven into my soul. My queerness has allowed me to form such deep connections with my interests (e.g. music and fashion), and even in the bonds I've made. Queerness is beautiful, it's creative, and it's brave.
Article continues below advertisement
GM: How do you believe fitness and overall wellness can empower the LGBTQ+ community?
SB: I think for many LGBTQ+ people — for me at least — fitness was a very scary thing growing up, especially in secondary school. It was very heteronormative and gendered, and the fear of being clocked as queer in the changing rooms was enough to make me disengage. It's only now as an adult that I can explore the fitness space without those worries taking precedence.
Swimming, hiking, spin class, CrossFit, dance class — there are so many ways for queer people to finally prioritize wellness.
Article continues below advertisement
GM: How do you believe the average gym can be more inclusive and accessible?
SB: The overwhelming majority of gyms are built for able-bodied people. The average gym can be more accessible just by getting those in the space to actually stop and walk through the gym with the perceptions of others in mind. It might be doing a floor walk with a wheelchair user, seeing how they maneuver around, and asking them how they use the equipment. It's about creating a safe space for those who are unsure about trying new things.
Article continues below advertisement
GM: What exercises do you recommend for cultivating self-love during Pride Month?
SB: Weight lifting makes me feel strong, boxing is a great mental release, and I love swimming because it's a great way for me to exercise outside of my wheelchair. We might not love the movement in the moment, but if you leave feeling glad that you did it and grateful for how you were able to move, that's a great way to start cultivating a healthy relationship with exercise.
GM: What does Pride mean to you?
SB: I like to think of Pride as a reminder that we are a community that has to fight for the current freedoms we have. Not long ago, life for the LGBTQ+ community looked very different, and we cannot forget what older generations experienced to bring us to where we are now.
It's also a reminder to not lose focus and to be vigilant, as there are still many LGBTQ+ people fighting for their rights.