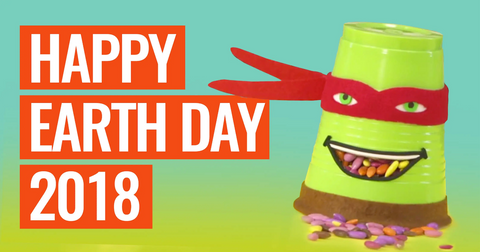 Create Your Own Candy Dispenser with Nickelodeon's Knight Squad
By Green Matters

Updated
Calling all kids! Your friends from Knight Squad need your help to keep our planet clean and beautiful. This Earth Day, Green Matters and Nickelodeon are teaming up to help reduce plastic waste. It's really easy to use a reusable water bottle instead of plastic cups you throw out, or to bring your own tote bag to the market instead of getting plastic bags.
Here is a fun project to transform three used plastic cups and some craft supplies into an amazing Teenage Mutant Ninja Turtles candy dispenser!
To get started, collect the materials below and don't forget to ask an adult for help.
THREE USED PLASTIC CUPS
A RULER
A MARKER
FELT SHEETS
FOAM SHEETS
A PUSH PIN
CARDSTOCK
A GLUE GUN
SCISSORS
And don't forget, just because it's not Earth Day every day doesn't mean we shouldn't always be mindful of how we can protect our planet.  If everyone gives a little, we will all get a lot.