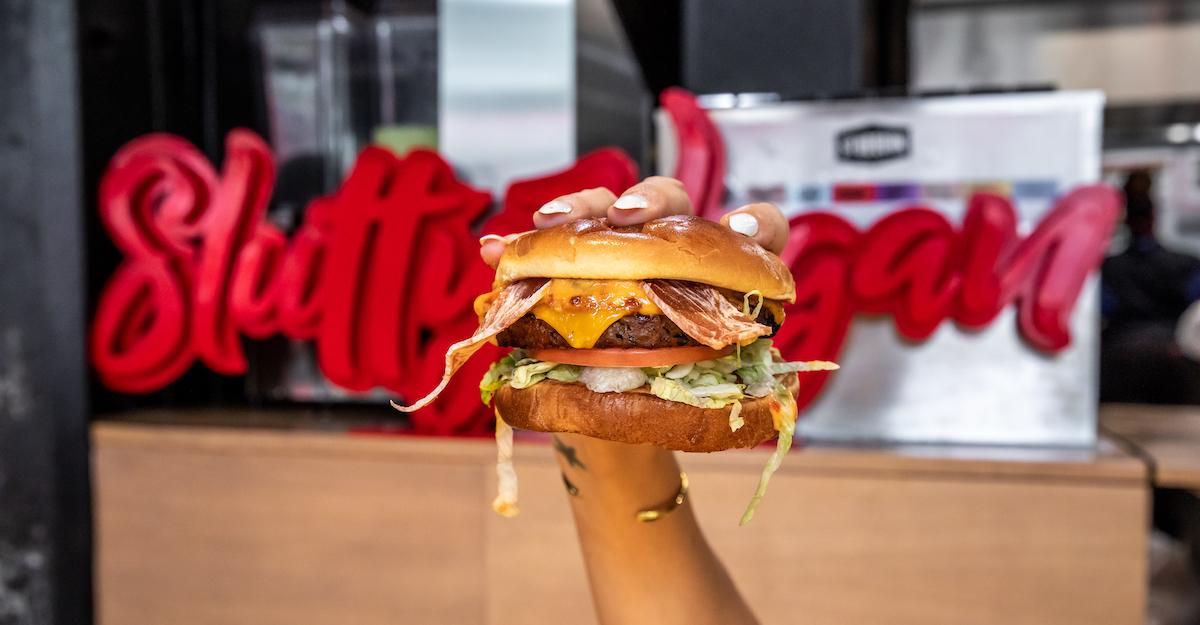 Slutty Vegan Is Finally Open in Brooklyn — Here's What I Thought of the Cult Vegan Burger
If you live near Fulton Street in Brooklyn, you may want to invest in some noise-canceling headphones… or just prepare to start partying and eating bomb vegan food five days a week.
That's because Slutty Vegan Brooklyn has officially opened, marking the world-famous vegan burger joint's first location in New York and seventh location overall.
Article continues below advertisement
The restaurant hit the ground running with a block party grand opening, where hungry customers waited for hours in line to enjoy menu items from the Ménage À Trois to the Sloppy Toppy, took in some impromptu live entertainment from Doug E. Fresh, and simply had a good time.
I was lucky enough to attend the new spot's soft opening this weekend, which owner Pinky Cole made sure was a night to remember — keep reading for details on Slutty Vegan's exciting New York City debut.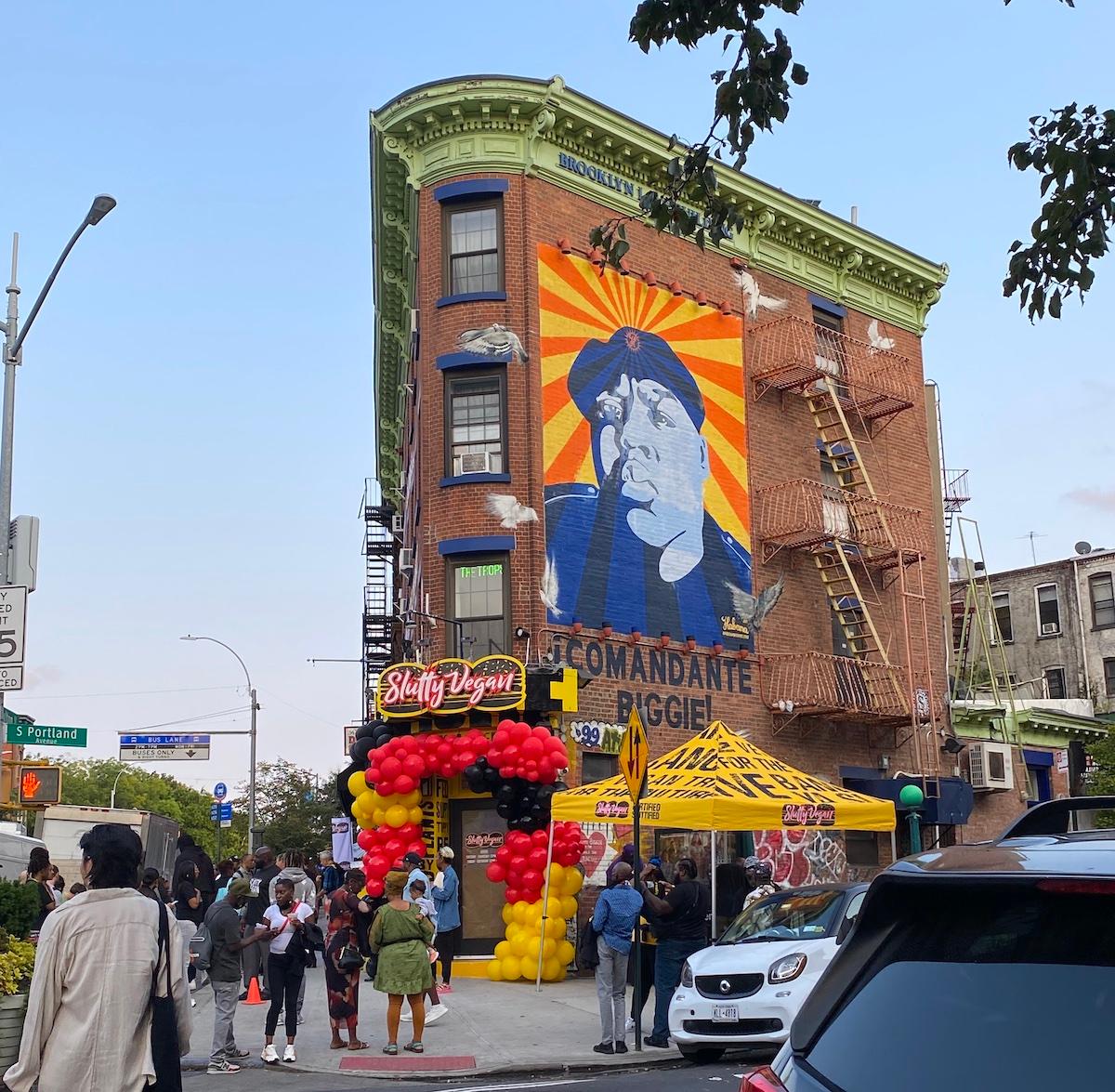 Article continues below advertisement
Slutty Vegan is officially open in Brooklyn, New York.
On Saturday, Sept. 17, the night before Slutty Vegan Brooklyn opened its doors to the public, the restaurant held a soft opening party. A DJ from Atlanta, where Slutty Vegan was founded, maintained a party atmosphere all night by playing music from a DJ booth on the sidewalk, located in between Slutty Vegan's doors and the C train entrance, and right underneath the Biggie Smalls mural.
Attendees stood on the sidewalk in front of the restaurant, happily eating their Fussy Hussy burgers and Slutty Fries, since Slutty Vegan Brooklyn is a carryout spot without any seating. That said, us New Yorkers were so excited to finally have our own version of the cult vegan spot, whose regular customers include Snoop Dogg, Tyler Perry, and Queen Latifah, that I'm positive no one minded.
Article continues below advertisement
When it was my turn to go inside and place my order, I was greeted by staff members loudly ringing bells hanging from the ceiling, cheering, and proudly screaming "Welcome, slut!" in my face. I've heard that this is the energy in Slutty Vegan's other restaurants every day, so Brooklynites should prepare themselves for enthusiasm that is delightfully off the scales whenever they stop by.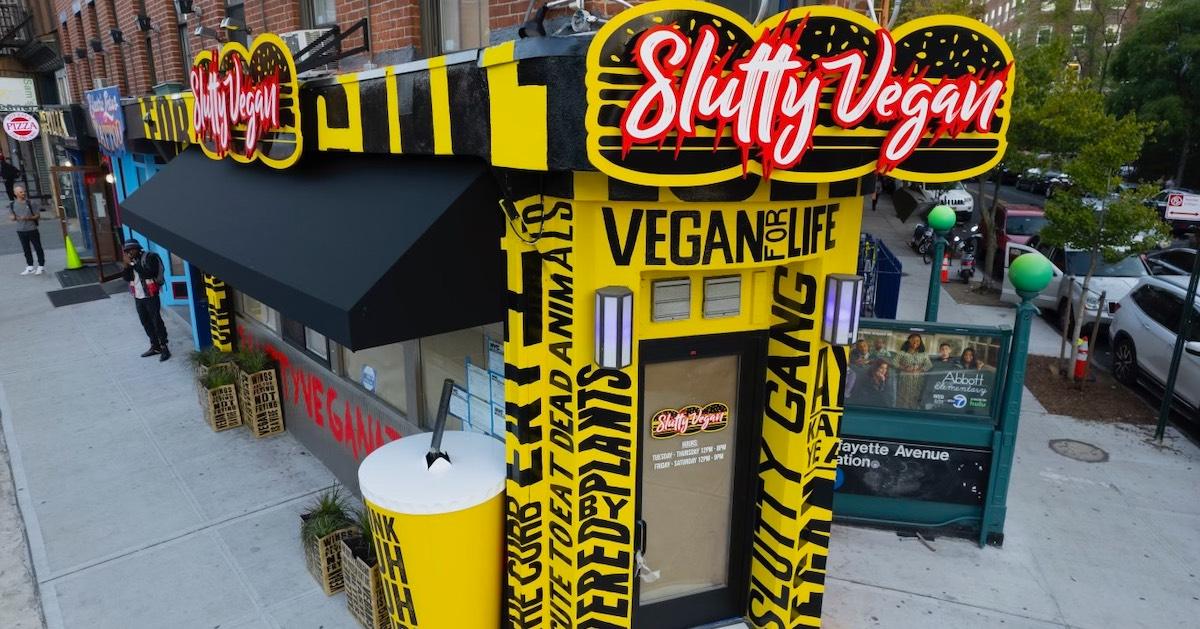 Article continues below advertisement
In the small yet colorful space, customers could purchase various Slutty Vegan merch, including Slut Dust, the restaurant's own all-purpose seasoning blend. Owner Pinky Cole, who beamed throughout the event, confirmed to Green Matters that the Slut Dust is what makes her crinkle cut french fries so unique and delicious — and I have to say, I may have enjoyed the fries even more than the burger.
That said, the burger was certainly worth the hype, too. The only one being served at the soft opening was the Fussy Hussy, which features a plant-based patty, pickles, vegan cheese, caramelized onions, lettuce, tomato, Slut Sauce, and a Hawaiian bun.
Despite the years I have waited to try a Slutty Vegan burger, I did hesitate to take my first bite, as I am famously (and embarrassingly) afraid of pickles. But I wasn't about to let that stop me from having the full Slutty Vegan experience, so I went for it... and thank goodness i did.
The combination of everything on the burger — my favorite components being the creamy Slut Sauce and the fresh Hawaiian bun — was 10 out of 10 tasty, even with the pickles. Shoutout to Cole for creating amazing food, putting on a fantastic night, and for inspiring me to conquer one of my food fears.
Article continues below advertisement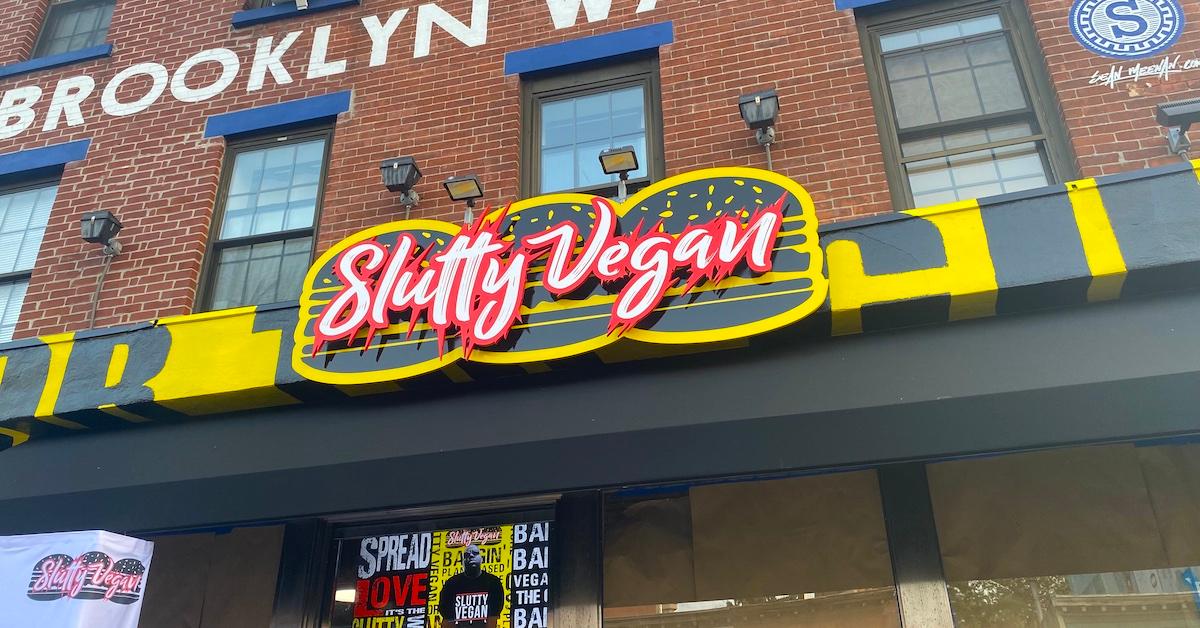 Slutty Vegan's owner, Pinky Cole, is thrilled to finally open a location in Brooklyn, New York.
"This is like a dream come true," Cole said in a statement shared with Green Matters. "I remember working in New York City following my dream, and now almost a decade later, my dream is following me. I am beyond excited to finally sluttify Brooklyn, New York!"
On Sunday, Sept. 18, Slutty Vegan Brooklyn officially opened its doors to the public. People waited on a multiple block-long line for hours to place their orders during the grand opening — but it's safe to say that no one was bored during the wait, as Slutty Vegan celebrated its grand opening with a block party, taking over the street surrounding the restaurant.
Article continues below advertisement
There were dancers on stilts and a DJ spinning tunes — and famous rapper and beatboxer Doug E. Fresh even stopped by, grabbing the mic to rap for the crowd, even performing a song about Slutty Vegan. "I want y'all to know, I wasn't planning to be here. I just came," Fresh told the crowd. "You know why? 'Cause I support Black business. There is no money being made here. Only thing that's happening is love."
The love could certainly be felt at Slutty Vegan Brooklyn, and there's no doubt that it will quickly become a neighborhood favorite in Fort Greene.
Article continues below advertisement
Where is Slutty Vegan Brooklyn? Head to 690 Fulton Street.
Slutty Vegan is located at 690 Fulton Street, Brooklyn on the corner of S. Portland Avenue. It's open Tuesdays through Thursdays from 12 p.m. to 8 p.m., Fridays and Saturdays from 12 p.m. to 9 p.m., and closed on Sundays and Mondays.