Del Taco Is Partnering With Beyond Meat On New Vegan Menu Options
The Mexican fast-food chain is testing two new vegan and vegetarian tacos with Beyond Meat protein.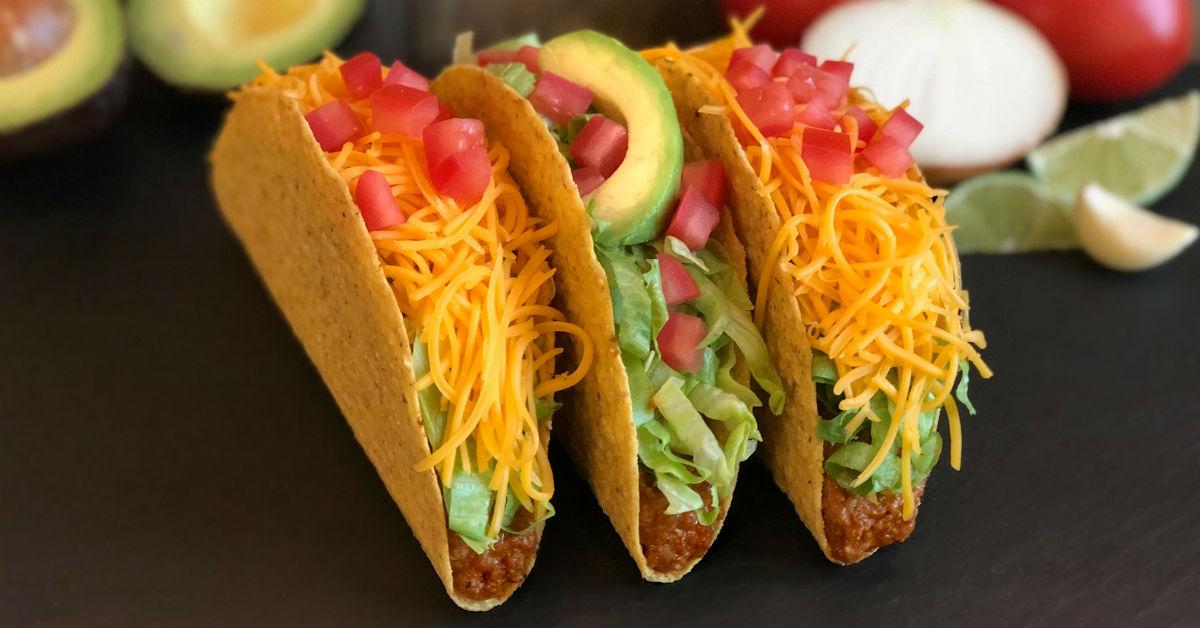 Vegans rejoice: a popular meat substitute is coming to fast food drive-thrus. Del Taco recently announced a collaboration with Beyond Meat on two new plant-based tacos, which are currently being tested at two California locations.
Article continues below advertisement
The partnership marks the first time a Mexican fast-food restaurant has offered a plant-based meat option. Del Taco is also Beyond Meat's first U.S. drive-thru partner.
"At Beyond Meat we believe we are in the business of helping you Eat What You Love while enjoying the health, environmental, and animal welfare benefits of plant-based foods," Ethan Brown, the CEO of Beyond Meat, said in a press release.
Article continues below advertisement
"Our partnership with Del Taco reflects this belief in action. For my kids and their friends, Del Taco is a routine stop after games or practice. I'm thrilled that they can now, along with all Del Taco customers, enjoy delicious Beyond Tacos and other entrees built with our delicious, sustainable, plant-based meat. I'm grateful to Del Taco leadership and team for their willingness to innovate with speed and vision."
Article continues below advertisement
The new menu items include a vegetarian Beyond Taco and a vegan Avocado Beyond Taco. Both options will swap ground beef for Beyond Meat's plant-based protein, which includes ingredients like yellow peas, coconut oil, ancho chili, onion, garlic, lime juice, oregano, and cumin.
Customers will also have the option to order Beyond Meat in any of the regular Del Taco menu items, giving vegan eaters the chance to chow down on a plant-based burrito.
Article continues below advertisement
But for the time being, the Beyond Meat offerings are only available at two Del Taco locations — one in Santa Monica, and another in Culver City. In the meantime, Del Taco is encouraging fans outside the L.A. area to sign up for email alerts to learn when the plant-based tacos will hit their hometown.
"Del Taco is always looking for ways to further delivery quality food, served fast, that our guests love," John Cappasola, CEO and president of Del Taco, told Forbes in an emailed statement.
Article continues below advertisement
"We take a guest-driven approach to innovation, ensuring products exceed their expectations. We're excited to test the Beyond Taco and Beyond Avocado Taco and hear consumer feedback."
Beyond Meat launched in 2009 with a mission to "create the future of protein" — namely, proteins derived from plants, not animals. The company now sells a burger patty available in grocery stores like Whole Foods and Safeway, and made to order at fast-casual chains like TGI Fridays and Bareburger. The Beyond Meat product line also includes a range of sausages and chicken strips.
Article continues below advertisement
Beyond Meat claims its plant-based proteins have enormous environmental benefits. In a peer-reviewed study from the University of Michigan, researchers found that the Beyond Burger requires 99 percent less water, 93 percent less land, and 46 percent less energy to produce than a 1/4 pound beef burger. It also generates 90 percent fewer greenhouse gas emissions in the process.
Although it's unclear now if the Beyond Taco will go national, the growing popularity of meatless fast-food menus makes it very likely. It's certainly working out for White Castle.