A Man Drives Down the Highway With a Watusi Bull Riding Shotgun — Details Here
On Aug. 30, 2023, Nebraska police received a call about a man with his bull riding shotgun on the 275. Here's what to know!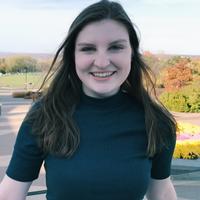 Some animals, like dogs, have a blast riding in cars. Other animals don't enjoy the loud rumble of engines as much. But have you ever seen a Watusi bull riding in a car along the highway? On Aug. 30, 2023, Nebraska residents on the 275 saw an unusual pair: a man driving his bull down the road!
Article continues below advertisement
Here's what you need to know about this unusual situation: why the man was transporting his bull this way and what happened when Norfolk police arrived.
Article continues below advertisement
On Aug. 30, 2023, a man driving in Nebraska had his bull riding shotgun.
On Aug. 30, 2023, Norfolk police responded to calls about a man driving his "cow," a Watusi bull, Eastbound on 275 in Nebraska.
Police Captain Chad Reiman told News Channel North-East Nebraska, "The officers received a call referencing a car driving into town that had a cow in it. They thought that it was going to be a calf, something small or something that would actually fit inside the vehicle."
The passenger was not a calf but a Watusi bull, also known as an Ankole-Watusi bull, a type of African cattle that typically grows between 1000 and 1600 pounds. Sometimes referred to as the "cattle of kings," these bovines have been around for 6,000 years. According to Oklahoma State University, they are primarily found in Uganda, Rwanda, and Burundi.
Ankole-Watusi cattle became popular in Europe and North America in the early 19th and 20th centuries after they were imported as novelties for zoos and game parks.
Article continues below advertisement
Police pulled over the driver for a "routine traffic stop" and "addressed some traffic violations that were occurring with that particular situation" Capt. Reiman said. The drive of the vehicle was identified as Lee Meyer, and the bull's name is Howdy Doody.
Article continues below advertisement
Thankfully, it was all's well that ended well for these unusual travelers. "The officer wrote him some warnings," Capt. Reiman said. "There were some citable issues with that situation. The officer chose to write him a warning and ask him to take the animal back home and leave the city." Despite the strange circumstances and Howdy Doody's enormous horns, no one was hurt.
In news footage of the event, it appeared that Meyer's car was specially modified to seat the bull. Currently, there is no explanation as to where Howdy Doody was traveling or why.