Social Media Star and Former "Micro Pig" Esther the Wonder Pig Has Died
Social media icon Esther the Wonder Pig has died at age 11. The pig rose to fame on social media after her guardians thought she was a "micro pig."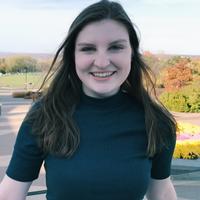 The Gist:
Esther the Wonder Pig was a popular pig on social media from Ontario, Canada.
Esther's pet parents thought she would be a micro pig but were surprised when she kept growing and documented her journey.
On Oct. 18, 2023, Esther's guardians announced that she had died at age 11.
Article continues below advertisement
In 2012, Steve Jenkins was asked by a friend if he had any interest in adopting a "micro pig" with his partner, Derek Walter, as per Be Chewy. At the time, Jenkins didn't hesitate, but he got more than they bargained for. After taking little Esther to the vet, the two discovered she was a commercial pig and would grow to 600 pounds!
Tragically for fans following Esther's journey on social media, she died at the age of 11 on Oct. 18. Here's what to know about the situation.
Article continues below advertisement
Esther the Wonder Pig has died at age 11.
On Oct. 18, 2023, Esther's pet parents posted a heartfelt note to her fan community on Instagram and Facebook announcing news of her death. "There's no easy way to say this, but the day we all wished would never come has arrived. Esther has passed away. She was calm and peaceful, and fell asleep with her dad Steve by her side," the statement began.
"Even though Esther is no longer physically with us, her memory and legacy will live forever. Esther is immortal, and we will continue to show the world that all animals deserve to be loved just like she was," the statement concluded.
Although Esther's cause of death was not listed in the announcement, Esther's pet parents added that they would give the public more details after processing her death.
Article continues below advertisement
In 2017, veterinarians discovered Esther had breast cancer, and she quickly underwent surgery to remove several lumps, Global News reports. Months after her breast cancer surgery, vets discovered Esther had a stomach ulcer, which was severely painful and limited her mobility. After beginning mediation to treat the ulcer, Esther's pet parents even raised funds to purchase an equine scanner to check on her wellbeing.
Article continues below advertisement
Fans and community members worldwide mourn Esther's loss. A spokesperson for PETA offered a statement of condolences for Esther, saying,"Esther's story of being adopted and moving her dads to go vegan and open a farmed-animal sanctuary inspired countless people to see pigs as individuals. The world is a far kinder place because she was in it, and she'll always be PETA's "Best Animal Influencer" for winning everyone over with her personality, charm, and loving bond with her family—and for showing that she, like all pigs, was a living, feeling being, not bacon."
Did Esther the Wonder Pig's dads split?
Since Esther was first brought home in 2012, she has been lovingly cared for by her two dads, Steve Jenkins and Derek Walter. In 2014, the couple even created Happily Ever Esther Farm Sanctuary, where they began rescuing and rehabilitating abused or neglected animals of all sizes.
Article continues below advertisement
However, some fans have noticed that since 2014, Walter's presence on Esther's Instagram and other social media pages has become less frequent, prompting many to wonder if the pair had split.
According to the Esther the Wonder Pig website, Walter and Jenkins did officially split in 2022, but they had been together since 2001. They had been co-parenting Esther until her death.
How long do pigs typically live?
According to the Houston SPCA, adopted pigs can live up to 15 years! Like other adopted creatures, pigs require time, attention, and very specific diets to remain happy and healthy, so before you rush out to adopt an Esther of your own, make sure you can dedicate a decade or more to an adorable pink friend.
This article, originally published on Oct. 19, 2023, has been updated.