Provocative Art Installation Uses 300,000 Plastic Bottles Left Behind By Tourists
Thousands of single use plastic bottles are purchased and consumed every second around the world.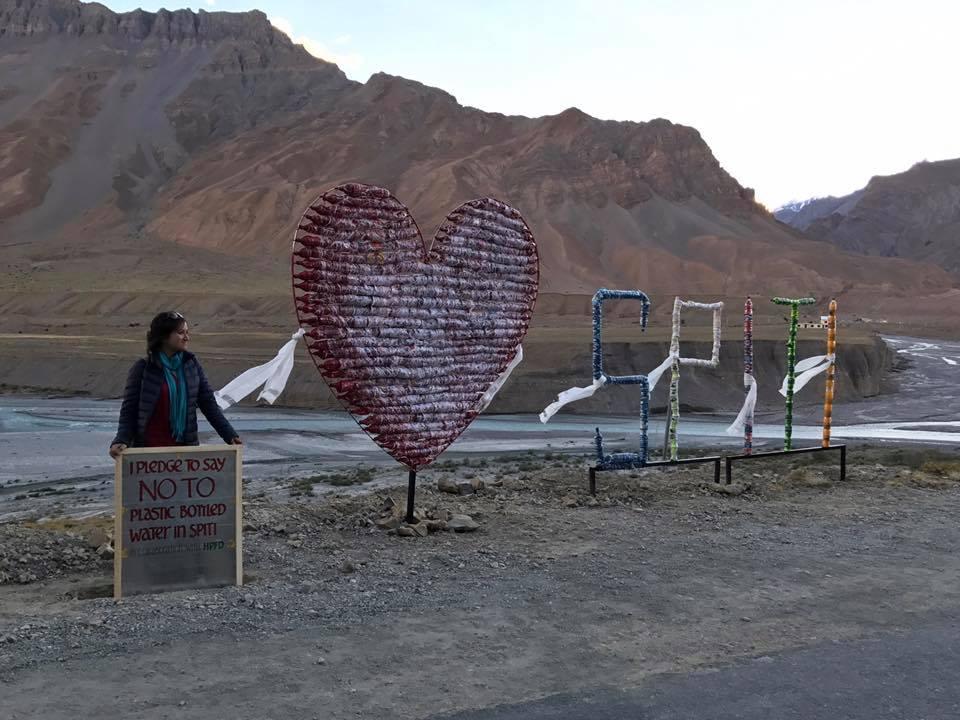 Thousands of single use plastic bottles are purchased and consumed every second around the world. The waste it creates puts a significant strain on the environment. A stunning art installation of plastic waste is drawing a lot of attention to the 300,000 plastic bottles discarded by tourists each season in the Himalayan mountains. The installation is located in the Lahaul-Spiti district of Himachal Pradesh in India.
Article continues below advertisement
Lahaul and Spiti have seen an increase in tourism and traffic over the years, and that's mostly during the months between June and October when the forecast is free of snowy conditions. People come to take in the beautiful scenery and to explore the Buddhist monasteries. Most notably, the Tabo Monastery sits at an altitude of over 10,000 feet and reached 1,000 years old back in 1996. However, a boost in traffic created a large waste problem. Basically, with more tourists, came more plastic waste. This problem only served to hurt the beautiful area people were coming to explore. Luckily, people are acting fast to raise awareness and create some much needed change.
A group of travel bloggers spent three weeks in Spiti raising awareness of the plastic that's discarded from people that tour the Himalayan mountains. In that time, they constructed a monument of sorts that spells out "Spiti" in big, bold letters with a large heart next to it. According to travel writer Neelima Vallangi, this is made up of 300,000 plastic bottles that were found in the area. It's also very close to a large landfill by the river.
Article continues below advertisement
Shivya Nath was part of the team that created the life-size project in Spiti and hopes that it will spark others to be more conservative when it comes to plastic usage. In a Facebook post, Nath gave the benefits of how to obtain better water in the Himalayas than the bottled version.
Article continues below advertisement
Healing Himalayas is a specific organization that focuses on removing garbage from the foothills of their mountains as tourism continues to grow. They create campaigns and projects to help with the cleanup process and to also raise awareness about how much trash is littered in the area. Not only have they helped travelers, but the people living in the area.
Article continues below advertisement
The organization's pilot project was cleaning the Mansari village back in May. Their goals were to install garbage bins, collect waste that was disposed of "dumping yards," and informing the villagers of how to properly dispose of their garbage. College students helped in the cleanup process, leading to one ton of plastic and over 600 pounds of glass being removed in the area while restoring yards that held heaps of trash.
Article continues below advertisement
While it's hard to pass up the convenience that plastic bottles have given us, there are plenty of alternatives when traveling to Spiti or elsewhere. For example, you can simply carry around a reusable bottle and retrieve water at local restaurants and cafes when there aren't fountains available. Even the Himalayan springs can provide a source of water with the right equipment to filter or boil it before consumption.
Fewer than half of our total plastic bottle consumption is recycled. Recycling aside, the best way to fight the problem of plastic waste is to limit the use of plastic to begin with, or better yet, avoid it altogether. By doing this, we can preserve our beautiful landmarks and prevent more unnecessary landfills.