What The UK's First Zero-Waste Restaurant Does To Thrive
Chef Douglas McMaster's Silo is the first zero-waste restaurant in the UK. Here's how they do it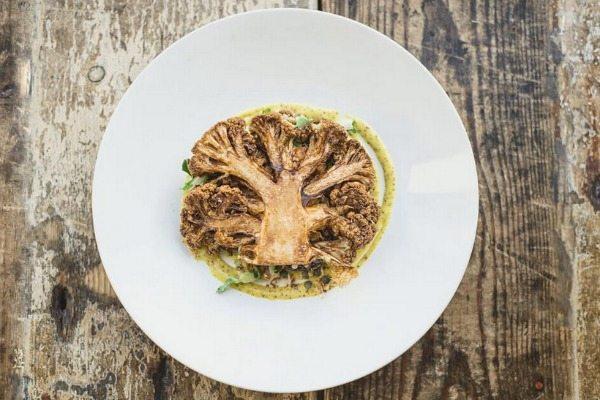 The food industry is sadly notorious for the waste it produces. Chef Douglas McMaster decided to show others that the food industry can be ethical and productive when he opened Silo in Brighton three years ago. McMaster has spent time working under Joost Bakker, a zero-waste leader, and had previously spearheaded a pop up zero-waste restaurant in Australia called Wasted.
Since then McMaster has won the BBC Young Chef of the year award and molded Silo on the philosophy that, "waste is a failure of the imagination." The location itself is built in an old warehouse and can seat up to 50 people at one time. As the UK's first zero-waste restaurant, Silo continues to prove that a zero-waste restaurant model can not only survive, but thrive.
Article continues below advertisement
So how exactly does this "zero-waste" restaurant work? McMaster uses a pre-industrial era approach to cooking, where the restaurant only uses food in it's whole form straight from local farmers. This ensures that all food hasn't travel hundreds of miles after being processed and packaged. The restaurant then takes the whole foods and creates fresh meals by processing everything right in their kitchen.
This hands on approach means Silo creates a lot of things on site such as milling its own flower, rolling its own oats, churning its own butter, and growing its own mushrooms. McMaster believes, "We don't dictate nature, nature dictates us." With this in mind, the restaurant always bases their menu on seasonal foods. By approaching the food system with a pre-industrial approach, the goal is also to adopt a "cleaner" diet by utilizing modern and ancient techniques.
Article continues below advertisement
In the process, the restaurant creates zero material waste. Whatever isn't consumed by customs is put into an aerobic digester (lovingly dubbed Bertha) which generates up to 60k of compost in one day. When farmers drop off deliveries, the restaurant holds on to the vessels and later returns them to the farmers along with compost. This way, the farmers can use the vessels again in the future and benefit from using natural fertilizer the restaurant produces. It's a truly closed loop process. McMaster hopes this can show other businesses that small ecological farms are able to feed the world.
Apart from the restaurant, Silo also boasts a bakery, brewery, and coffee house. Located in the basement, the brewery stirs up fermented drinks by using foraged or intercepted plants. From kombucha to beer, Silo offers about 10 different drinks that have been fermented. Other eco-friendly components include the restaurant's design, which features up-cycled material, such as floor tiles for tables and filing bassinet frames for work benches. Even the plates are made from recycled plastic bags.
Article continues below advertisement
If this seems up your alley, Silo offers to host events from business meetings to wedding receptions, and is sure to be a unique experience for just about anyone. Just want to stay in your PJs? Silo also delivers. Through this restaurant, you can help show people how they can lower their carbon footprint and promote awareness of waste issues.