These Unique Bags Are Made From Upcycled Billboards
Billboards are getting a second-life thanks to these new innovative bags.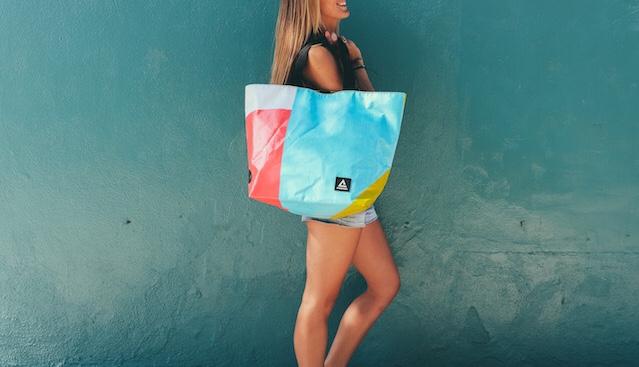 In the United States, there are about 300,000 billboards which produce thousands of pounds of vinyl waste every year. While this sturdy material is ideal for holding up through intense outdoor conditions, like the blistering sun in the summer and blizzards in the winter, it doesn't break down easily once it's taken down and tossed into landfills.
Article continues below advertisement
One Los Angeles based company called Rareform has decided to divert the unnecessary waste and extend the life of discarded billboards by turning used vinyl into bags. Before starting the company about five years ago, brothers Alec and Aric Avedissian had first gotten the idea to turn used billboard vinyl into new products when they were traveling in South America and saw people using the durable material for roofing. They realized these items had more useful qualities than just a medium for advertising.
Article continues below advertisement
So hows are Rareform's colorful pieces created? The company sources the billboards from partners like Lamar Advertising and Clear Channel who are also interested in repurposing the material. Once a billboard has served its original purpose and is taken down, it goes to Rareform's warehouse to be given a second life.
At the warehouse, each billboard, which is generally about 12' x 48' feet, is cut into special designs. The pieces are then sewn together and ready to be purchased. Apart from being eco-friendly and vegan, this billboard material is also long-lasting, waterproof and lightweight.
Article continues below advertisement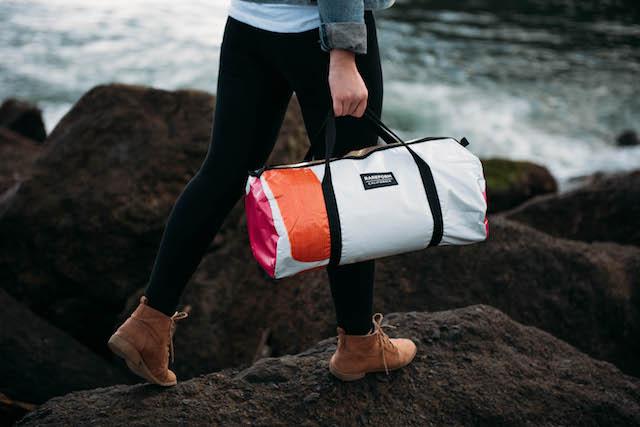 In addition to feeling great about buying a sustainable item, you'll also never worry about someone stealing your look since each bag is completely unique. Each vinyl has varying degrees of wear and tear on top of different styles and colors, so no two pieces can be exactly alike.
Article continues below advertisement
Actually, the company's name stemmed from the original goal to create a unique or rare product that has taken on a new form. Since each bag is totally unique, they're also easy to ID at the airport and makes for a great conversation starter.
Article continues below advertisement
Rareform's marketing manager, Kara Morin, explained to Green Matters in an email interview how customers can select their unique items since much of the sales are through the company's website, saying, "Each of our products is 100% one-of-a-kind. We photograph each one individually for our website, so the one you see is the exact one you will receive. We maintain the artistic integrity of each billboard because we believe each of our products is also a piece of art."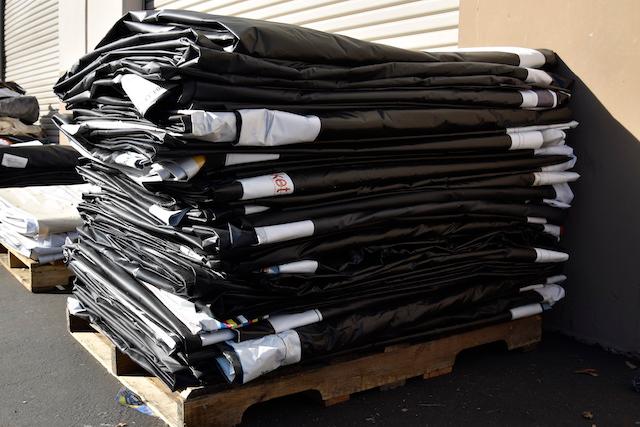 Article continues below advertisement
Kara also told Green Matters that while the audience was initially young male surfers drawn to the bright surf bags, the company has expanded over time to cover more general lifestyle pieces. Today the brand is in about 250 retailers worldwide in countries such as Japan, Europe, Korea, and Israel.
Besides rubbing shoulders with famous investors on Shark Tank and getting a deal with Mr. Wonderful, the young company has already worked with singers Jason Mraz and Jack Johnson and partnered with World Surf League. Rareform is also making a significant environmental impact by repurposing 20,000 pounds of used billboard vinyl every month. While their best sellers include the Weekender Duffle and Anderson Wallet, the team has plenty of new upcoming products you can check out here.