Solar Power Plants In The Carolinas Stand Up To Hurricane Florence
Solar energy providers in North and South Carolina reported minimal damage and outages after Hurricane Florence, even as their coal counterparts struggled.
Nearly two weeks ago, Hurricane Florence hit North and South Carolina with 83-foot waves and 120mph winds. At the peak of the storm's devastation, more than 740,000 residents were without power. The number has since lowered to less than 5,000 — and solar energy was a big part of that recovery.
Article continues below advertisement
According to CBS, solar installations in North Carolina were back in operational mode just one day after Hurricane Florence. Duke Energy, a Charlotte-based solar utility, found that about half of its customers lost power at some point, but discovered no damage to its 40 solar sites. Likewise, Yes Solar Solutions, another North Carolina power provider, reported problems from just six out of 800 customers. Although solar sources make up a small fraction of North Carolina's energy, some are now pointing to this resiliency as cause to expand the renewable power mix.
Their case is bolstered by the damage sustained at fossil fuel power sites. The picture was not so rosy for these fuel sources, which took heavy hits from the rising waters. CBS points to a dam breach at a retired coal-fired power plant outside Wilmington that dumped coal ash into an adjacent flowing river and other instances of coal ash pits flooding with leftover stormwater.
Article continues below advertisement
"Solar is resilient — there are a ton of cases where, as long as the roof stays attached, the solar array stays attached as well," Chris Burgess, projects director at the Rocky Mountain Institute, told CBS. "That's the real takeaway."
The results echo what hurricane victims in Texas and Puerto Rico have discovered in the wake of natural disaster. In the wake of Hurricane Maria, solar panels helped farms in Puerto Rico survive, and solar-powered balloons connected residents to cell service. After Hurricane Harvey, wind farms in Texas weathered the storm and returned to work days later with minimal damage.
Article continues below advertisement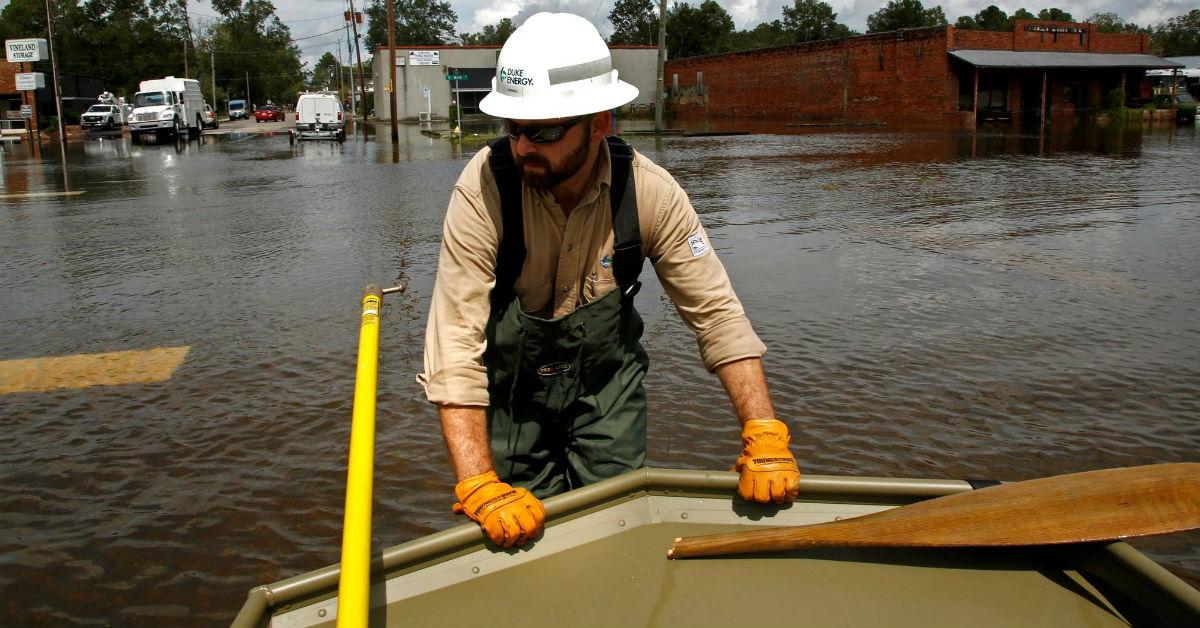 But solar and wind are hardly major players on the Carolina power grids. As Quartz reveals, the Carolinas utilize some renewable energy, but there's a much greater emphasis on dirty power sources. South Carolina's biggest provider is nuclear, which constitutes 56 percent of the state's energy, followed by coal (20 percent), natural gas (17 percent), "other renewables" (4 percent), and hydroelectric (3 percent).
Article continues below advertisement
North Carolina also leans the heaviest on nuclear (33 percent), but it's trailed pretty closely by natural gas (30 percent). Coal is next, representing 20 percent of the state's energy. But North Carolina has a slight edge in terms of renewable power, thanks to a mix of 4 percent hydroelectric and 9 percent "other renewables."
Bloomberg characterized the storm as the first real "test" of the Carolinas' solar investments, which have grown into a "boom" since 2014. North Carolina in particular has embraced solar energy, spearheading power initiatives that have given it the second largest solar capacity in America. (It's beaten only by California.)
Based on reports, the solar farms appear to have passed that test, making the case yet again for renewable energy in communities prone to flooding and hurricanes, like the coastal states of North and South Carolina.