This Robotic Umbrella Provides Shade While Also Producing Electricity
Shadecraft has developed every beachgoers dream with a robotic umbrella that moves with the sun and operates on solar power so you don't need to charge it before you go. And that's just the beginning of its tech capabilities.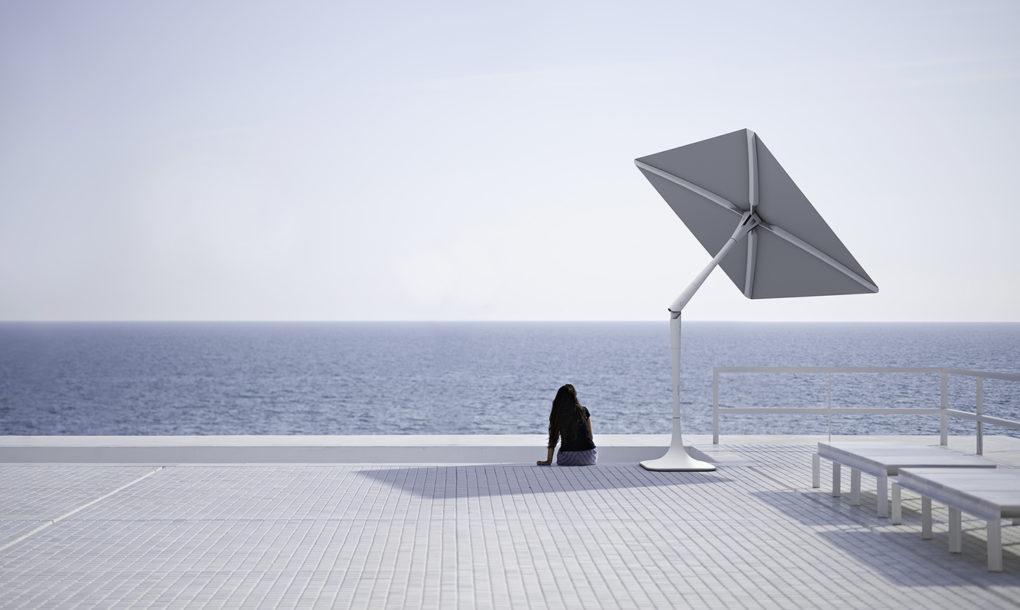 A company called Shadecraft has developed the dream of every beach goer who fears burning to a crisp on the sand—the Sunflower umbrella, the first autonomous robotic shade that senses and moves with the sun.
According to Inhabitat, the umbrella is solar powered, which means you don't have to remember to charge it before heading out to the surf and sand. It can also be used as a charge for your phone and other amenities, as the umbrella stores excess electricity in batteries that can last up to 72 hours.

The 122 by 84 by 84 inch umbrella can tilt 45 degrees and rotate the full 360 degrees on one of its three electric motors. If this were all it could do, that would be enough, but all new gadgetry of course comes with an app, and the Sunflower's app has some pretty amazing capabilities.
Article continues below advertisement
Both wifi and Bluetooth enabled, the umbrella can connect to your home and your phone, which means you can control it from afar. Sensors in the umbrella track air quality, the temperature, and the wind. It can sense when things are getting too wild, and closes up to protect itself. Cameras embedded in the technology can be used as part of a home security system, and are capable of filming a 360 panoramic view, which is also great for epic beach selfies.
If you have the luxury of stationing your Sunflower somewhere permanently, you can check the data from your phone to see what the weather's like where it's standing. you can also play music from the speaker system, controlling what plays from your phone, though the Sunflower has a microphone to eventually incorporate voice command.
Bloomberg reports that the Sunflower doesn't currently have a model for the casual buyer. They're currently being marketed to richer homeowners, and then to hotels that can afford and maintain multiple Sunflowers, but if a cheaper version were available, an outdoor assistant that powers itself from the sun would be welcome to many. Right now, just one will set you back $2,700, and they won't begin shipping until early 2018. Start saving now, so you won't have to spend next summer digging holes to move your umbrella by hand.