India's First Solar Powered TVs Provide Entertainment To Families Without Electricity
In India, low income families are receiving solar powered TVs to provide entertainment.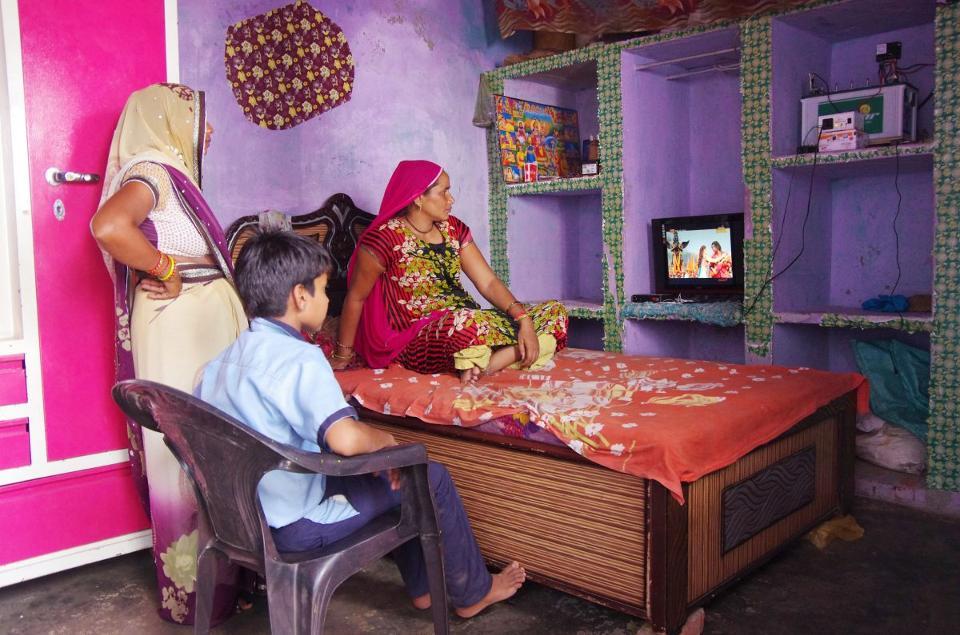 Out of all the world's countries, India has the highest population without electricity. Although 94 percent of those living in Indian cities have electricity, the same is true for just 67 percent of the country's rural population. That's made India a hotspot for solar projects, with the world's biggest solar farm installed in Kamuthi, in Tamil Nadu, last November.
The push to expand solar throughout India is a godsend for a nation experiencing a growing obsession with television soaps, Bollywood, and American culture. Now those obsessions can get their fix, with India's first-ever, solar satellite television, Forbes reports.
Article continues below advertisement
The pay-as-you-go "Magic TV" package was designed by Simpa Networks and is combined with a home-lighting system. Customers must pre-pay for the energy service a month in advance, providing them with electricity until the credits expire. The package includes a 20-inch LED screen with more than 100 free-to-air satellite TV channels, a battery, solar charge controller, and three LED lights.
Everything is run off an 80-watt solar panel that is installed and mounted by Simpa representatives on the customer's roof. Customers can then remotely control and monitor the panels themselves through "SmartPanel technology."
Piyush Mathur, Simpa Networks CEO, said at the Magic TV launch that the product and company strategy are "completely aligned" with the country's governmental priority to pursue 24/7 power that is accessible to all Indians. "We see a tremendous opportunity in rural areas where demand for energy is growing even faster than supply," he said. "Rooftop solar has a role to play in both off-grid and on-grid areas."
Article continues below advertisement
Magic TV costs $390 for installation, proving more expensive than the target audience can generally afford. In response, Simpa is offering financing up to 36 months. Once the installation fee has been paid off, the customer owns the equipment—and the energy.
Article continues below advertisement
Simpa Network, based in Uttar Pradesh, was founded in 2010 on one central tenet: to bring cheap power to households and businesses throughout India, regardless of the power grid. Structured similarly to pre-paid cell phones, the company allows for a pay-as-you go power service. Simpa has additionally pioneered the use of SmartPanel technology, allowing for the remote monitoring that is central to the Magic TV.
The company has installed more than 30,000 systems to date in more than 1,000 villages and eight districts of western Uttar Pradesh. With 1.74 billion people on the continent, India may be the world's biggest potential market for solar-powered televisions, most especially for those in underserved, rural markets with no credit history and living in energy poverty.
In the last three years, India quadrupled its solar capacity to 12 gigawatts. For reference, one gigawatt can power 725,000 homes. That number is expected to double this year as India adds 10 more gigawatts and 20 more beyond that in the works.