My 80-Pound Dog Thinks She's a Lap Dog — Here's Why She Sits on Us
Why does my dog sit on me? Even though my dog is 80 pounds, she is constantly parking herself in our laps — we're delving into why that might be.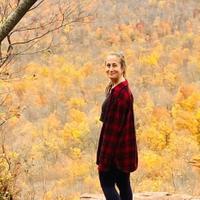 My dog Cricket is a pit bull/Rottweiler mix — she's sweet as can be, but she's a big girl, to say the least. Weighing in at 80 pounds, she's a sturdy queen with a watermelon-sized head.
And though she's — well — thick AF, to be frank, she's totally convinced she's a lap dog. Though my partner and I intentionally purchased a large L-shaped couch prior to her adoption, Cricket often opts to sit in our laps instead of sinking into the couch's comfortable cushions. So, why does my dog sit on me?
Article continues below advertisement
Although it could just be based on the breed, as Rottweilers are notoriously oversized lap dogs, there could be many other reasons Cricket parks her giant behind on our laps on the daily — some of the possible reasons are affectionate, others are more protective, and some are even dominance.
We're doing a deep dive into why Cricket is convinced her TV watching spot has to be in our laps, as opposed to literally anywhere else on our couch.
Article continues below advertisement
Your dog might sit in your lap to show affection.
When you became a pet parent, you likely went into it expecting cuddles — according to Outward Hound, sitting in your lap might be their way of snuggling with you and feeling close to you. It's a way that some dogs bond, or keep the peace, within their understanding of "pack mentality."
It could also be your pup's way of initiating playtime, especially if you're parked on the ground or on the floor. They might think you're inviting them to play.
Sitting on you could also make them feel safe, since they look at you as their protector. You're their "safe spot."
Similarly, but on a sadder note, they could have separation anxiety. If you're dog is constantly clamoring to be at your hip, all the time, this might be a sign that they want nothing more than for you to stay put, and that there's nothing worse in their eyes than when you leave.
Article continues below advertisement
It could be protective.
Dogs are some of the most sensitive animals to human emotion — and because they're so loyal, they often take it upon themselves to comfort their human parents.
Oftentimes, dogs will crawl into their parents' laps if they sense the necessity for snuggles, comfort, or love. According to Pet Keen, this is a commonly learned behavior amongst therapy dogs, but even dogs that aren't trained therapy dogs often do this.
Article continues below advertisement
Cricket most often crawls into our laps when we watch suspenseful shows like Stranger Things or Ozark, which often elicits gasps or tension. So in our case, this is most likely the reason why Cricket lap sits!
Article continues below advertisement
Your pup may be asserting their dominance.
In some cases, it may be a bad behavior you want to train them out of — some dogs sit on you to assert their dominance. According to Hills Pet, this can be especially common if you recently added a new pup to the family, as they may want to show they're the "top dog."
In this case, they might growl or bark at other dogs in the room. If this is the case, and things start to escalate in terms of aggression, it could be good to talk to a vet or professional dog trainer.
Similarly, some dogs lap sit to spread their scent, to effectively claim you as their personal belonging. If this happens after another dog visits, or after they've been outside, it may be a sign your pup needs a little extra attention.