People Are Questionably Determining Their Cats' Ethnicities Based on Their Paws
Many people on social media bought into a viral trend of checking their cats' paws to "determine their race." Here's what to know.
You can spend hours on TikTok watching cute cat videos (been there). As you descend the rabbit (or cat) hole, you are sure to come across videos of people checking their kitty's toe beans to determine their "race."
Article continues below advertisement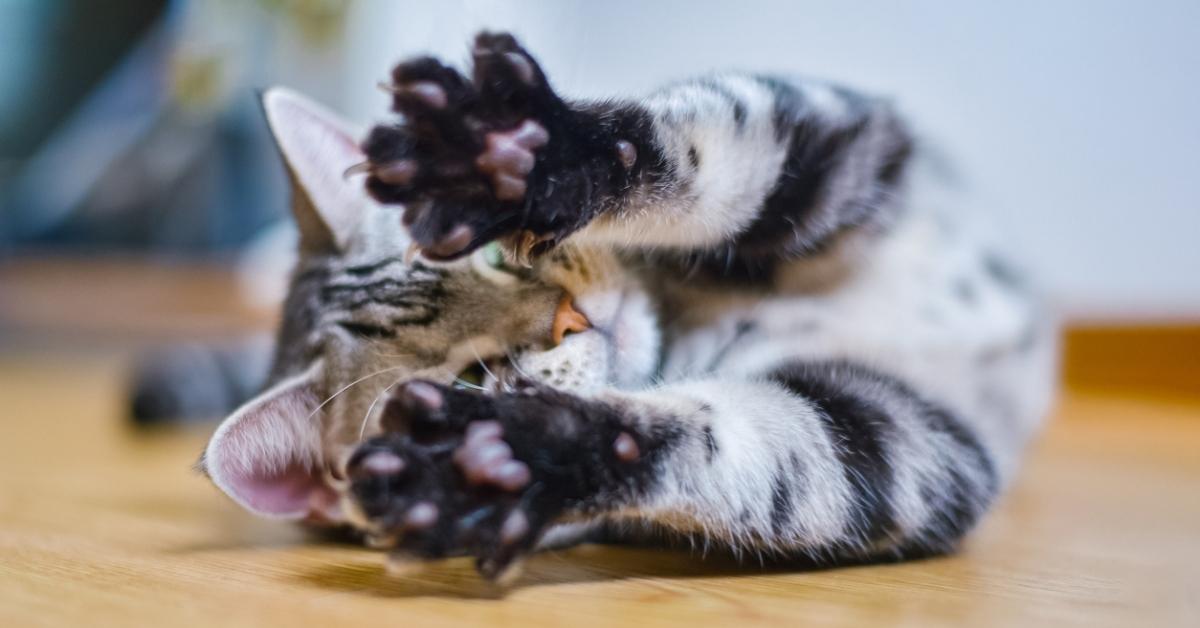 Article continues below advertisement
People on TikTok are checking their cats' paws to determine their race.
In TikTok videos like the one posted by @mochapuente, cat owners turn their pet's feet over to check the color of their little toe beans. The claim is if the beans are pink, the cat is caucasian; if they are black, the cat is black; and if they are pink and black, the cat is biracial.
In @mochapuente's video, her grey and white tabby was sound asleep when she checked on his toes. "Clearly, I know this is not a man of African-American descent. He has white fur and blue eyes," she said. But when she lifts the sleepy kitty's paw, it reveals four pink toes and a black foot pad. "This man is biracial," she said excitedly.
Article continues below advertisement
TikTok creator Adazia (@adazia) also checked the beans of her two cats, even though she was skeptical about the claims. "Like it doesn't really matter. They're cats, they don't really have a race. You guys are a bunch of weird…," she said in a video. She then checked the paws of her orange tabby cat, which has pink toes. "Simba is a caucasian." Next, she checked the toe beans of her grey and white cat, Milo. The cat had some black on his paws.
Article continues below advertisement
Commenters on the two videos highlighted what they found when they looked at their cat's paws. "You should of seen the happiness on my fathers faced when I showed him our nearly 20yro cat who we named Morgan Freeman does infact have black beans!" someone commented on Adazia's video. "My cat has light brown so I think she's Asian," said another. "I could tell my cat was white by the way she meows."
Article continues below advertisement
Do cats really have a race?
No, cats don't have a race. Race is a social construct, meaning it is a manmade concept accepted by society to explain an object or event, per VeryWell.
Additionally, Dr. Alejandro Caos, a veterinarian with The Vets, previously told Green Matters via email that dogs cannot be racist in the same way humans do, a message that could be similarly applied to cats.
"Dogs primarily interact based on their own instincts, past experiences, and individual interactions with other dogs and humans," says Caos. "They do not have the capacity for racial bias or discrimination as they lack the cognitive processes necessary for such complex social constructs."
Cats come in many different fur colors like white, black, grey, orange, grey and white, black and white, and even tortoiseshell and calico. The color of a cat's toes is related to their fur and the amount of melanin, or pigment, in their skin, per Rover.com. It's a case of genetics, not race.