The Easiest Homemade Snacks That Won't Break The Bank
These easy homemade snacks are quick to whip up and healthy for the whole family.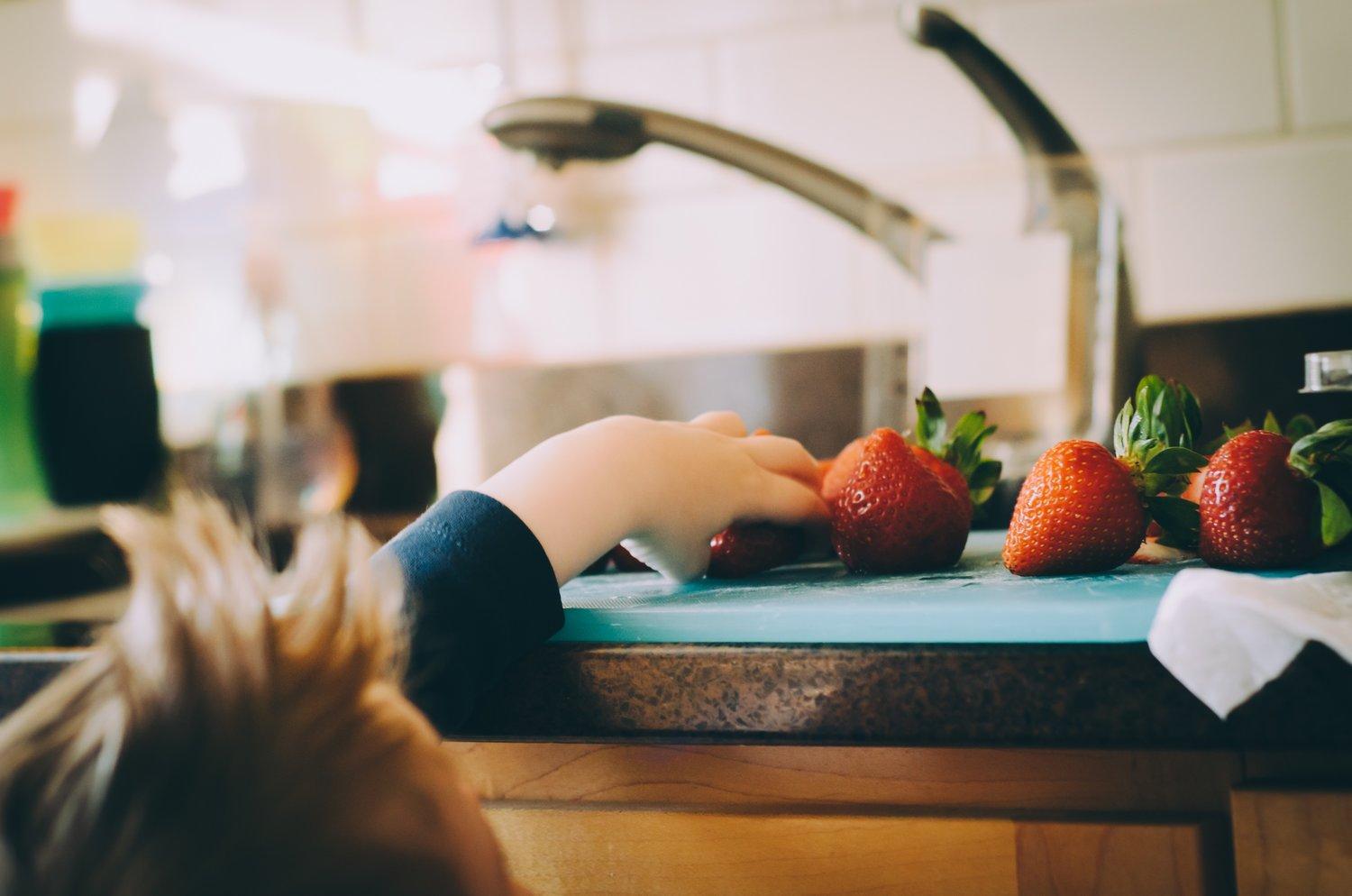 We all want our kids to eat natural, healthy, and nutritious food. Unfortunately for many of us, buying all organic, all the time isn't financially possible. However, we can do the best we can with what we have, and preparing food at home can definitely get you a better value when it comes to meals and snacks. Once you have the appropriate ingredients on hand, it can also make providing easy snacks for your kids and families a breeze.
Article continues below advertisement
The good news is that our favorite brands aren't the only one who can make nutritious snacks. You can make them, too, right in your own kitchen. There are a ton of good-for--them snacks you can make for your kids, using ingredients you trust, and save a few bucks in the process. A Google search for "homemade organic snacks" will give you literally millions of hits, so before you dive in and get overwhelmed, it's useful to check out some base recipes for snacks that are easily customized to your family's preferences.
Cheese crackers
If there was ever a perfect snack, it's the humble cheese cracker. Whether it's shaped like an animal or a square, thousands of handfuls of these are gobbled down by children every single day. If the alarming orange color or high sodium listed on the packaged version troubles you, you're in luck! These handy snacks are super easy to make at home.
That's right: Big brands aren't the only one who can make a tasty cheese cracker. This recipe, from Momables, is a great way to provide nutritious snacks that aren't suspiciously orange. This recipe serves 3-4 cups, depending on size, and is super kid-friendly!
Ingredients
2 cups grated extra-sharp Cheddar cheese
¼ cup butter, softened and cut into pieces
1 cup flour, plus more for dusting
½ teaspoon salt
2-3 tablespoons milk
Directions
Preheat the oven to 375˚F, and line a baking sheet with parchment paper.
Place the cheese, butter, flour, and salt into a food processor. Pulse, for 5 seconds at a time, about five or six times, until the dough becomes coarse crumbs.
Slowly add the milk, 1 tablespoon at a time, with the food processor on, until the dough becomes a ball.
Divide the dough into two balls, and refrigerate for 15 minutes. Remove one dough ball from the refrigerator, and roll it on a floured board with a floured rolling pin until it is about ⅛ inch thick.
Cut the dough into 1-inch squares with a sharp knife or pizza cutter. You can put a bit of flour on the blade of the knife to keep it from sticking. Use a toothpick or skewer to poke a hole in the center of each cracker.
Place the crackers at least ¼ inch apart on the baking sheet. Repeat the process with a second ball of dough.
Bake for 12 to 15 minutes, with the rack placed in the middle of your oven, until the edges are just starting to brown. They might puff up too. If you are baking two pans at the same time, swap/rotate the pans halfway through.
Place the baking sheet on a rack, and let the crackers cool completely. Eat or store in a covered container for up to 3 days.
Article continues below advertisement
Vegetable dips
I've never met a kid who didn't go bananas over dip. Any dip. If there is something you can stick food into and then eat it, it's a winner. These super tasty dips from The Lean Green Bean go one step beyond everyone's favorite store bought hummus. Why not mix it up a bit and try something new?

Pumpkin Black Bean Dip 
Combine 1/2 cup pumpkin + 1/2 cup black beans + 1/4 cup peanut butter in a food processor.
Squash Yogurt Dip
Combine 2/3 cup roasted squash + 1/3 cup plain or vanilla yogurt + 1/4 tsp cinnamon.
Optional: Add some hemp seeds. Use plain yogurt and add a dash of maple syrup.
Avocado Pea Dip
Combine 2/3 cup avocado + 2/3 cup cooked green peas + 1 cup canned pears/pineapples.
Raspberry Cottage Cheese Dip
Combine 1/2 cup white beans + 2/3 cup cottage cheese + 2/3 cup raspberries.
Article continues below advertisement
Gummy candies
There is no snack my children ask for more than gummies. They're close enough to candy that kids think they're getting one over on their parents, and close enough to healthy that parents don't have the guilt that comes along with most other sweets. These gummies from Creative and Fun Healthy Food are the best of both worlds, and definitely kid-approved.
  Ingredients
1 1/2 cups fruit and/or vegetable juice
4 tablespoons gelatin - A tablespoons is usually one gelatin packet, but just to be sure, empty the packets into a bowl and use a measure spoon.
2-4 tablespoons honey, depending on your preference and how sweet your juice is. You can also use maple syrup or stevia. If your juice has lots of veggies you will need more but it is up to your personal taste.
1/2 teaspoon vanilla extract
Directions
Pour juice into a small-medium saucepan. Sprinkle the gelatin over the top and let sit for just a few minutes until it starts to "bloom" (it will get wrinkly looking on the surface and all of the white powder from the gelatin will absorb into the liquid). When all the gelatin is absorbed, mix it well.
Then place the saucepan over medium heat on the stove. Let the liquid warm, but don't let it boil. You want all of the gelatin to dissolve and turn thin and runny (it will be grainy at the beginning but after a couple of minutes in the heat it should dissolve completely).
Add the honey, vanilla extract,and any other ingredients you will be using.
Put the liquid in a little jar (I use my measuring cup) into a pan or gummy molds and refrigerate for about 2-3 hours.
Remove from molds. They pop right out. If you used the loaf pan, cut your gelatin into small squares.
Keep your homemade healthy gummies in an airtight container in the refrigerator for about 2 weeks. If you leave them outside they will last but I recommend storing them in the refrigerator.
Granola bars
There are certain snacks that will always bring childhood memories rushing back. Granola bars are at the top of the list of nostalgia foods for most of us. You know the ones: super sticky, with those tiny chocolate chips. In hindsight, not the healthiest snack, but luckily, they're a cinch to make at home with healthier ingredients and all the same sticky goodness we grew up with. This recipe from Daily Mom brings all the flavor with none of the questionable ingredients! Win-win.
Ingredients
2 1/2 cups of rolled oats
1/3 cup of honey
1/4 cup coconut oil (you can use butter if you don't have coconut oil on hand)
1/3 cup brown sugar
1/2 teaspoon vanilla extract
1/2 cup dried cranberries**
1/3 cup mini chocolate chips + extra for sprinkling on top**
Directions
1. Preheat the oven to 350. While the oven is preheating, line an 8×8 baking pan with tin foil. Lightly spray the foil with non-stick cooking spray.
2. Spread the oats on a cookie sheet and bake for 8-10 minutes (until they are lightly toasted). Then transfer them to a bowl.
3. While the oats are baking, combine the honey, coconut oil, brown sugar and vanilla in a small saucepan. Heat the mixture until it's liquid and the sugar has melted completely.
4. Pour the heated mixture into the bowl with the toasted oats and stir to combine.
5. Let the mixture cool for 3-4 minutes and then add the cranberries and 1/3 cup of mini chocolate chips. (The chocolate chips will melt a little and that's ok. It will help bind the mixture together.)
6. Pour the mixture into the lined baking pan. Lightly grease a spatula and use it to firmly press the mixture down. Press hard so the bars stay together!
7. Once bars are firmly pressed down, sprinkle the top with more mini chocolate chips. Gently press them into the top.
8. Cover and refrigerate the mixture for at least 2 hours.
9. Remove granola from the pan and peel away aluminum foil. Cut the big block in half, and then cut into bars or squares.
10. Store bars in an airtight container for up to a week. We bet they'll be eaten before the week is up!