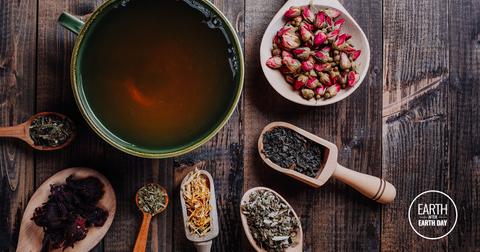 Is There Plastic Hiding in Your Tea Bags? Plus, Zero-Waste Tea Options
By Stephanie Osmanski

Updated
Which Tea Bags Contain Plastic?
Pressed tea bags with crimped edges contain anywhere from 20 percent to 30 percent polypropylene woven through the paper. Silken tea bags (the triangle-shaped ones) may sound as if they're made from silk, but the term is actually a false cognate, as silkens are made from a fossil-fuel based plastic like nylon or plant-based plastic like cornstarch. String-and-tag tea bags most likely contain polypropylene fibers to fortify the bag's strength. While some string-and-tag teas do not contain polypropylene, they'll often contain a staple or non-biodegradable stitching that renders the bag non-compostable.
Which brands contain plastic in their tea bags? Tetley bags contain plastic, though the company announced they started trialing non-plastic alternatives in April 2018. PG Tips also contains polypropylene though the company is making conscious strides to switch to plant-based. Twinings has two kinds of tea bags — heat-sealed and string-and-tag — that include plastic and Yorkshire Tea also includes polypropylene, though they have announced that biodegradable tea bags are in the works.
Which Tea Bags Do Not Contain Plastic?
Loose leaf tea is always the best option. There is very, very little chance of microplastics existing in fair-trade, loose leaf tea. However, if you're not into steeping your own loose leaf, some brands that do not incorporate plastic into their manufacturing include Twinings' Loose Leaf pyramid tea bags, Clipper's string-and-tag teas, Pukka Herbs (though their envelopes are plastic), Aldi's Specially Selected range, Waitrose's Duchy range, and Tea Tonic's string-and-tag teas.
What About Organic Teas?
Drinking organic and thinking you're exempt? Sorry, but no. Many organic teas are also guilty of siphoning microplastics into their tea bag manufacturing process. As previously stated, loose leaf tea (whether it's organic or not) is the best option for sustainable tea. If that's not an option for you, check out the plastic-free brands and ranges listed above.