Is There Plastic Hiding in Your Tea Bags? Plus, Zero-Waste Tea Options
Going zero-waste doesn't mean giving up the things you love, like tea.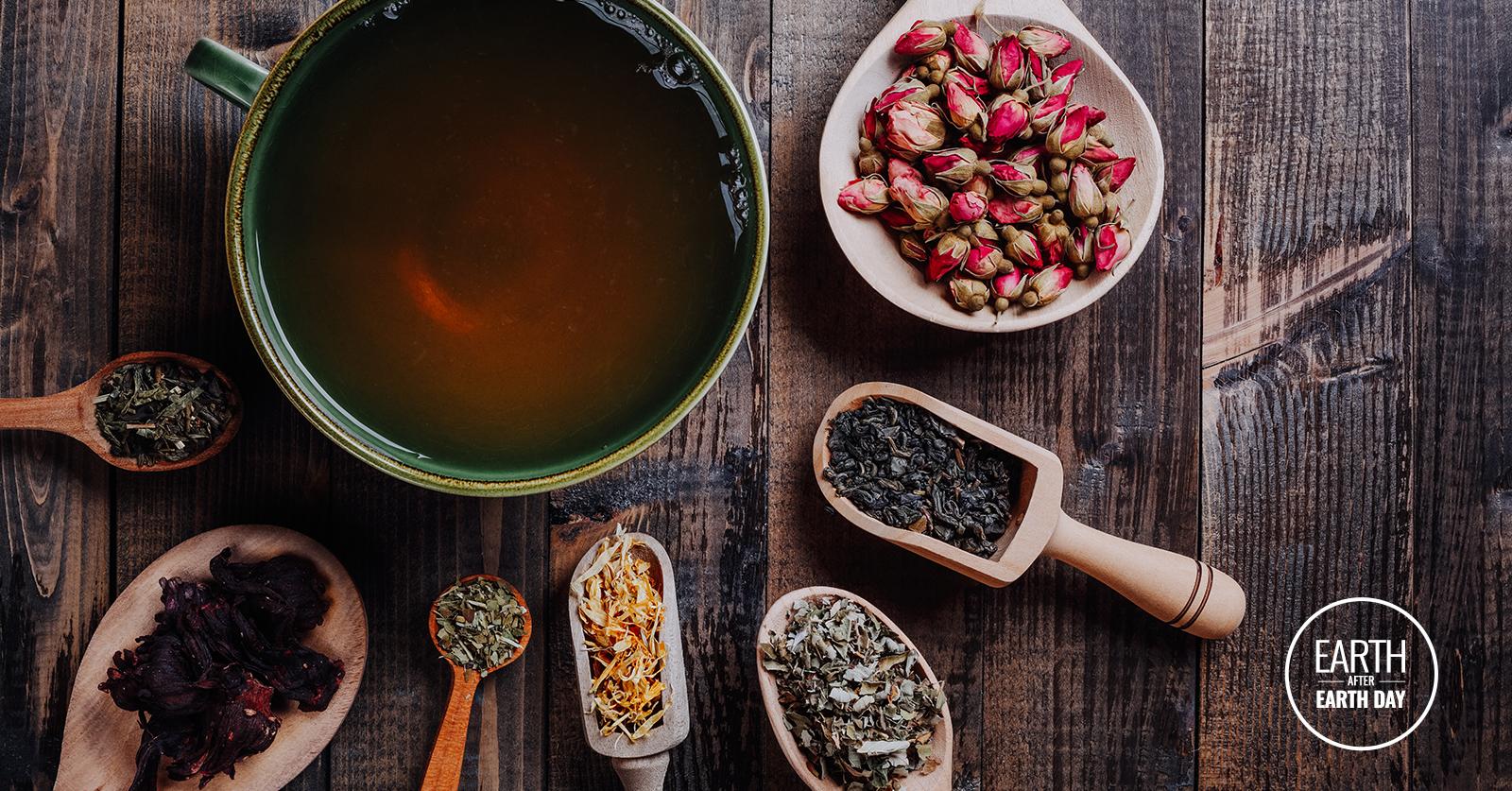 Before you steep that lavender and chamomile nightcap before bed, there's something you should know. There may be plastic hiding in your tea bags…
Article continues below advertisement
In 2017, Americans consumed 84 billion servings of tea, according to the Tea Association of the USA Inc. That's a lot of tea! And the most common modicum of tea for tea drinkers is tea bags, the dunkable little bags that encapsulate tea and keep it from exploding in hot water. But what if those bags are affecting our health and environment?
Some tea companies use polypropylene to keep tea bags from falling apart. It's a sealing plastic the Environmental Working Group has classified as "expected to be toxic or harmful" for organ system toxicity and "limited or incomplete evidence of cancer" due to data gaps. If tea bags were 100 percent made from paper, the paper would break down after a long steeping, releasing loose tea leaves into the water. Companies "corrected" this design flaw by adding in elements of microplastic to more efficiently seal the bags and prevent them from bursting open.
Article continues below advertisement
But the unfortunate reality is that plastic isn't good for our health. Nor is it good for our environment. Plastic has accumulated a rap sheet of noted toxicity, having been linked to the development of cancers, reproductive health issues, and other health concerns because of plastic's ability to mimic human reproductive hormones. And its effect on our environment isn't any better; it takes plastic hundreds, if not thousands of years to decompose and often, it can only be recycled once. Additionally, since many tea bags contain plastic, it can be detrimental to the environment if you add these tea bags into your compost. The plastic in the bags won't break down, causing pollution to the environment.
Which Tea Bags Contain Plastic?
Pressed tea bags with crimped edges contain anywhere from 20 percent to 30 percent polypropylene woven through the paper. Silken tea bags (the triangle-shaped ones) may sound as if they're made from silk, but the term is actually a false cognate, as silkens are made from a fossil-fuel based plastic like nylon or plant-based plastic like cornstarch. String-and-tag tea bags most likely contain polypropylene fibers to fortify the bag's strength. While some string-and-tag teas do not contain polypropylene, they'll often contain a staple or non-biodegradable stitching that renders the bag non-compostable.
Article continues below advertisement
Which brands contain plastic in their tea bags? Tetley bags contain plastic, though the company announced they started trialing non-plastic alternatives in April 2018. PG Tips also contains polypropylene though the company is making conscious strides to switch to plant-based. Twinings has two kinds of tea bags — heat-sealed and string-and-tag — that include plastic and Yorkshire Tea also includes polypropylene, though they have announced that biodegradable tea bags are in the works.
Which Tea Bags Do Not Contain Plastic?
Loose leaf tea is always the best option. There is very, very little chance of microplastics existing in fair-trade, loose leaf tea. However, if you're not into steeping your own loose leaf, some brands that do not incorporate plastic into their manufacturing include Twinings' Loose Leaf pyramid tea bags, Clipper's string-and-tag teas, Pukka Herbs (though their envelopes are plastic), Aldi's Specially Selected range, Waitrose's Duchy range, and Tea Tonic's string-and-tag teas.
What About Organic Teas?
Drinking organic and thinking you're exempt? Sorry, but no. Many organic teas are also guilty of siphoning microplastics into their tea bag manufacturing process. As previously stated, loose leaf tea (whether it's organic or not) is the best option for sustainable tea. If that's not an option for you, check out the plastic-free brands and ranges listed above.