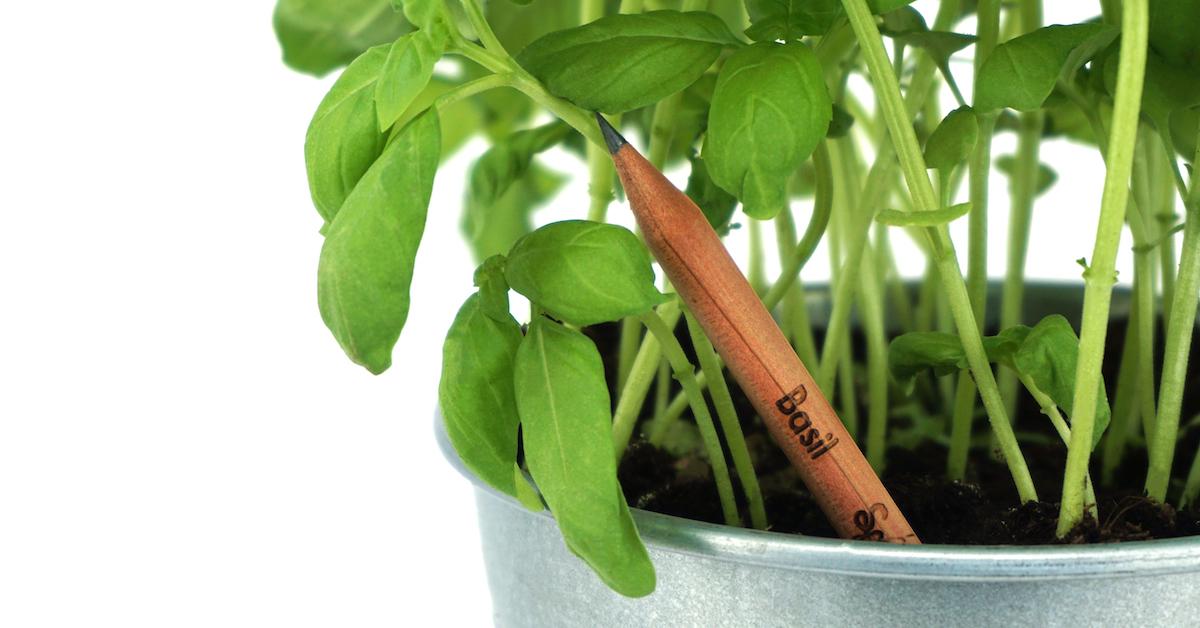 9 Zero-Waste Products That Turn Into Plants
These products can all be turned into plants at the end of their life.
Use these products now and plant them later. It's an idea that's becoming increasingly more popular as a nationwide passion for sustainability grows amongst us. Not only is it totally eco-friendly to buy zero-waste products that turn into plants at the end of their "normal" life as a product, but it's also really cool.
Article continues below advertisement
After all, with these nine products-turned-plants, consumers quite literally get to see the fruits of their labor in action. What was once a pencil, bar of soap, or haircare product will become a flower, veggie, or herb right before your eyes with just a small layer of soil, sunlight, and some water. Keep reading to check out nine zero-waste products that turn into plants!
1. Plantable Pencils
Article continues below advertisement
In 2012, three MIT students developed plantable pencils. They aptly named their company Sprout World. Sprout World pencils are sustainable, nontoxic, made with a biodegradable seed capsule, a 100 percent natural clay and graphite core, and PEFC/FSC-certified cedar wood. The plantable pencils contain absolutely no lead and the seeds are non-GMO. Sprout pencils grow into vegetables, herbs, or flowering plants of all kinds—cherry tomatoes, Forget Me Nots, red flax, basil, sunflower, thyme, and more. For full instructions, check the website here.
Sprout also recently unveiled Sprout Spoon, a small box that unfolds to reveal a fully compostable spoon and tea bag.
Article continues below advertisement
2. Shampoo and Conditioner
Article continues below advertisement
Now available at both Whole Foods and Sephora, Seed Phytonutrients contains natural fragrances, is vegan, paraben-free, sulfate-free, gluten-free, never tested on animals, and made with 100 percent compostable paper. As if that's not enough of an incentive to make the switch to sustainable, non-toxic hair care products, each Seed Phytonutrients product contains a packet of seeds to be planted after use.
3. Lollipop Sticks
Article continues below advertisement
This isn't just any old lollipop. Seed-bearing lollipops by Amborella Organics have edible herbs and flowers weaved throughout the organic candy. Then, once finished, the biodegradable lollipop stick can be planted in soil horizontally, covered with a top layer, and watered daily until it grows into either a herb or flower. The seeds in the lollipop stick directly correlate to the flavor of the pop; for example, a Sage & Marshmallow lollipop grows a sage plant, Peach & Marigold flavor makes for a marigold plant, and Lavender & Lemongrass grows lavender.
Article continues below advertisement
4. Candles
Article continues below advertisement
Kobo's Seed Collection features environmentally-friendly soy candles, yes, but also, plantable packaging. The packaging — which is fully recycled, biodegradable, and FSC-certified — is infused with seeds that grow the matching plant to the scent of the candle. Scents include Catalan calendula, fresh cut grass, Siam poppy, Somerset thyme, sweet sunflower, wild tomato vine, crushed mint, and heath lavender.
5. Perfume
Article continues below advertisement
A Perfume Organic is never tested on animals, vegan, certified by PETA, and free of petrochemicals, solvents, dyes, pesticides, and synthetic chemicals. Not to mention, the paper packaging is embedded with flower seeds that can be planted. Each perfume is 100 percent organic and is never made with any of the nasty perfume additives or ingredients linked with side effects like asthma, migraines, and air pollution. It's made from plants and at the end of its packaging's life, turns into plants.
Article continues below advertisement
6. Soap
Article continues below advertisement
b.a.r.e. soaps are sustainably sourced, never tested on animals, and the company calls it "soap with a cause." In fact, b.a.r.e. stands for Bringing Antiseptic Resources to Everyone. The socially conscious soap brand funds economic development initiatives and other non-profit causes, as well as focusing on sustainability. The soap itself is pretty zero-waste, but the plantable magic resides in its sustainable packaging. The eco-friendly b.a.r.e. packaging can be planted and grows into wildflowers.
7. Children's Books
Article continues below advertisement
My Dad Was in the Jungle is a children's book that can actually be planted after it has been read. Once in the soil, this book — known as the Tree Book Project — grows into a jacaranda tree. The cover is made from handmade paper embedded with jacaranda seeds. The Tree Book Project is gaining steam worldwide, having already been planted in Chile, Argentina, Uganda, Turkey, and Portugal.
Article continues below advertisement
8. Greeting Cards
Article continues below advertisement
The Bower Studio makes plantable greeting cards that feature original pen and watercolor images of bees and appropriately, 100 percent of the profits go toward the Pollinator Partnership's Honey Bee Health Improvement Project. The cards are printed with archival inks and come in a compostable clear sleeve; and the cards themselves are made of plantable post-consumer paper that grows into one of the following plant types: Bird's Eye, Clarkia, Black Eyed Susan, Sweet Alyssum, English Daisy, Catchfly, or Snapdragon.
9. Wrapping Paper
Article continues below advertisement
Single-use wrapping paper contributes to the 25 million tons of waste that Americans accumulate annually from Thanksgiving to New Year's, but with sustainable wrapping paper that can be planted after it's unwrapped, you'll significantly decrease that statistic. Eden's Paper is 100 percent plantable wrapping paper that grows into various vegetables like broccoli, onion, chillies, carrots, and tomatoes. These seeds are embedded between layers of fine tissue paper and no glues are used. An embossed zip holds each layer of paper together. When planted, the remaining paper biodegrades while the seeds begin to grow.