Why Did SpaceX's Starship Explode? Elon Musk Called It the "Gateway to Mars"
This week, Elon Musk's SpaceX set off an experimental rocket called Starship serial number 8 (SN8) as part of the company's journey to its ultimate goal: visiting Mars. And while SpaceX may have called the launch a success, the landing was another story. In case you missed it, the SpaceX rocket exploded into a spectacular burst of flames upon landing.
Keep reading to learn all about why the SpaceX rocket exploded, and for answers to any other lingering questions about the Starship.
Article continues below advertisement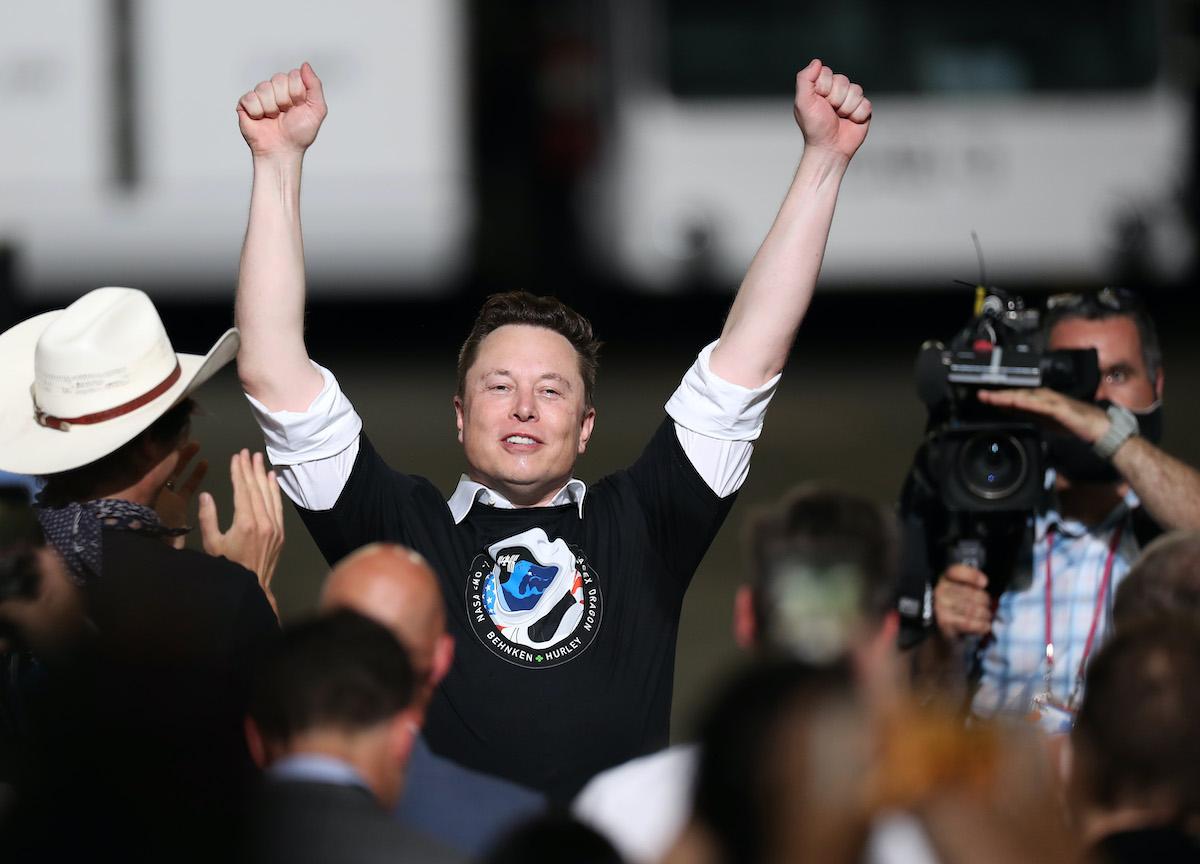 SpaceX launched the Starship rocket "successfully."
On Wednesday, Dec. 9, SpaceX launched Starship serial number 8 (SN8) in Cameron County, Tex. According to SpaceX, SN8 "successfully ascended, transitioned propellant, and performed its landing flip maneuver with precise flap control to reach its landing point."
Article continues below advertisement
SpaceX's mission is to eventually colonize Mars, a planet where no human has ever set foot. The SN8 was a prototype of the rocket the company eventually plans to send to the mysterious planet, as per The New York Times.
Why did SpaceX's Starship explode?
According to SpaceX, "Low pressure in the fuel header tank during the landing burn led to high touchdown velocity resulting in a hard (and exciting!) landing."
In simpler terms, SN8's fuel header tank experienced low pressure as the rocket descended, which caused the rocket to land too quickly and therefore too hard, which caused the explosion.
Article continues below advertisement
Musk elaborated on this on Twitter, writing that despite the shocking crash, "we got all the data we needed! Congrats SpaceX team hell yeah!!" He also added that "This is the gateway to Mars," and SpaceX's website declared that," Serial number 9 (SN9) is up next – Mars, here we come!"
As CNN explained, SpaceX has continually made the unique point of "[embracing] mishaps" when a space project is in its testing stages, often using mistakes to inform the next test and get another rocket back on the launch pad as soon as possible. While this approach is not one that most major space agencies (such as NASA) have taken over the years, it certainly helps keep SpaceX on people's minds.
That being said, it wouldn't be a surprise if SN9 comes sooner than expected.
Article continues below advertisement
The SpaceX rocket crash video is astounding.
After nearly seven glorious airborne minutes, the SN8 crashed to the ground. We highly recommend watching footage of the launch and the crash. Even though I knew the crash was coming, my jaw still dropped. In SpaceX's official footage of the launch (above), the rocket takes off at about 1:48:10, and the rocket crashes down just after 1:54:40.
Following the actual crash moment, you'll see the flames turn to smoke, the smoke slowly subside, and then the ruins of the rocket — alongside a chyron reading "Awesome test. Congrats Starship team!"
Article continues below advertisement
Fortunately, no one was on board the exploding SpaceX Starship.
The Starship was launched without any passengers, so thankfully, no one was hurt. Eventually, Musk intends to put people on a Starship so they can begin colonizing Mars, so it's safe to say SpaceX will be conducting many more tests before then to ensure no crashes occur with astronauts on board.