Why Do Dogs Like Squeaky Toys?
Ever wonder why your dog is drawn to the noisiest toys? We asked an expert!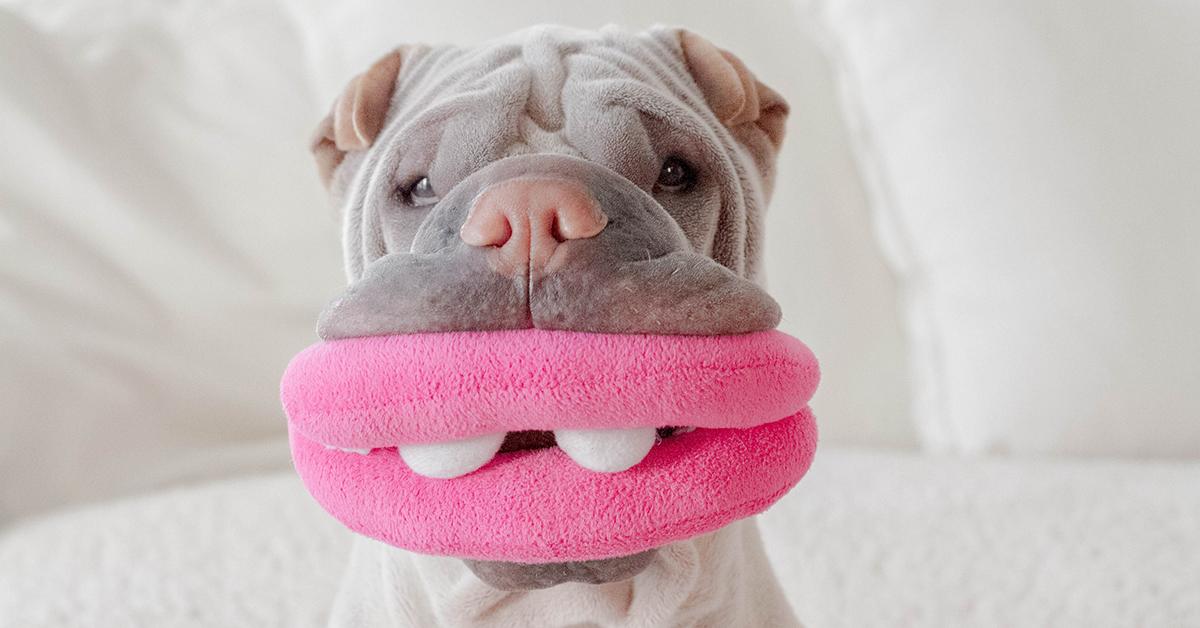 Isn't it so endearing when you bring home a squeaky toy for your dog and within minutes, he rips it to shreds? Some pet owners think it's hysterical, others find it rather annoying (after all, it's not cost-effective or sustainable to keep ripping apart plush toys), but there's actually a real, scientific reason dogs like squeaky toys. Whether your dog's ears perk up at the sound of a plush being squeaked or if your pup won't stop tearing at squeaky toys until she removes the squeaker, all dogs love squeaky toys because it's in their nature.
Article continues below advertisement
Why do dogs love squeaky toys?
If your dog loves squeaky toys more so than even bones or tennis balls, it's likely because these toys activate your dog's hunting instinct.
"Some dogs think this reminds them of an animal that they would have caught," explains Dr. Sara Ochoa, a veterinary consultant for DogLab.com. "These squeaky toys sound like an injured rat or rabbit that they may have caught. When a small animal is caught, they make a loud squeaky sound to alert any other animals that there is danger around."
Even the smallest of dogs have a hunting instinct to some degree. You don't have to have a big dog or a certain kind of breed. Sure, your pupper may not be an actual killer — not even when left to his or her own devices in the backyard — but if your dog is intrigued by the sound of a squeaky toy, then even she has that innate instinct.
Article continues below advertisement
How so? Well, it is believed that the high-pitched noise a squeaky toy emits triggers most dog's prey drive. When hunting or in pursuit of game, such a high-pitched noise indicates an injured or frightened animal — aka prey. This sound sends a hunting dog into overdrive and most won't stop until they have captured their prey.
"Tearing up a toy is your dog's way of re-enacting them, killing their prey," Dr. Ochoa says. "This is one reason that a dog will also rip the stuffing to shreds. This is what they would do in the wild."
So, yes, when your dog is chomping on a squeaky toy, your dog might think he or she is hunting. Of course, he/she knows the toy isn't alive, but because the squeaker triggers dogs' prey drive, your dog likely won't leave the squeaky toy alone until the squeaker stops making that noise. That's why some dogs actually rip apart toys and remove and dismantle the squeaker. In theory, this indicates to your dog that he/she has successfully "killed" the prey. Now, he/she can stop chewing — or attacking — the toy.
Article continues below advertisement
There are some other reasons why dogs love squeaky toys.
While it's true that toys with squeakers simulate a chase and capture scenario for dogs, others theorize that dogs' obsessions with squeaky toys has to do with immediate gratification. That means that once a toy has squeaked, dogs become kind of obsessed with getting some kind of instant gratification from the sound. Because of this, a dog might feel unable to leave the squeaky toy alone and therefore, might feel compelled to dismantle the squeaker as quickly as possible.
"[Other] dogs just hate the squeaky sound so much that they will destroy the toy to get the squeaky part out," Dr. Ochoa says.
Think of it this way: Every time your dog bites down on a toy with a squeaker, it squeaks. Right? There's a cause and effect. This may send some kind of positive message to your dog that has to do with immediate gratification. It's similar in a way to dog training: When a dog does a correct behavior, she gets a treat as a reward. Immediate gratification. This tells the dog they have done something right. Similarly, when your dog bites down on the squeaker, your dog gets a "treat" of sorts: The sound! This may tell the dog that they are doing the right thing; keep biting the squeaky toy and you will get rewarded with the high-pitched squeaky sound. Interesting, right?
Article continues below advertisement
Are squeaky toys good for dogs?
Playing with a squeaky toy is definitely good for dogs in that it promotes exercise, strengthens bonds between pets and owners, and allows a dog to go with their instincts. So many other doglike instincts are considered "bad behavior" in the home: howling, barking, digging, chasing prey, biting, etc. So, letting your dog's natural prey instinct out with the help of a squeaky toy is definitely beneficial.
"These toys help with their ancestry behavior, where they would have to hunt for their food," Dr. Ochoa adds.
Article continues below advertisement
That being said, the plastic pieces involved in squeaky toys are not good for dogs and they should be discarded once removed from a toy.
"Squeaky toys are perfectly fine for dogs as long as they do not eat the stuffing," Dr. Ochoa says. "If your dog does try to eat the stuffing, this can get stuck in their intestines and cause a major problem. I always recommend stuff-less toys for dogs who are heavy chewers or easily destroy their toys. Kong also makes a really good tough toy line for aggressive chewers."
Whenever possible, try to supervise your dog when playing with squeaky toys to ensure he doesn't eat or swallow the squeaker or other destroyed parts of the toy. If you have reason to believe your dog has eaten a squeaker or swallowed a part of a toy, consult your veterinarian immediately.