Mourning the Death of TikTok Star and Animal Enthusiast, Caitlyn Loane
What happened to Caitlyn Loane? The TikTok star and animal lover sadly lost her life to suicide this week, leaving family, friends, and fans in mourning.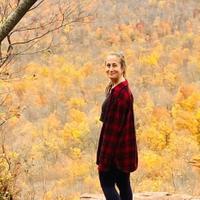 Animal enthusiasts and avid TikTok users are truly heartbroken after Caitlyn Loane of northern Tasmania, Australia sadly lost her life to suicide. She was a fourth-generation farmer, a lover of animals, and an incredibly driven 19-year-old woman. She boasted over 50,000 followers on TikTok, as she gave her followers a sneak peak into her fascinating and inspirational life.
Article continues below advertisement
"I'm still lost for words. It's been a very tough day and the days are not getting any easier," her mother told Daily Mail Australia. "The are no answers for us, there's no reasons, no whys. She had a crop in the ground. Her future was extremely bright."
Keep reading for more on her devastating passing, and the lasting effects Loane had on her community.
Article continues below advertisement
What happened to Caitlyn Loane?
Loane was a fourth generation farmer, according to The New York Post, who gained TikTok fame for documenting her captivating outdoorsy lifestyle and her inspirational achievements as a woman in agriculture. She dropped out of school in 2018 to work at a cattle station nearby, before she was brought on to manage her parents' 1,400-acre cattle farm in Tasmania, which she dreamed to eventually takeover.
Ultimately, Loane amassed a significant TikTok following for posting videos that documented her daily life. Whether she was treating sick cows, or showing off her farm girl fashion, she had a big personality and was always up to something new and unique. Her bubbly personality and positive outlook was infectious, which is why nobody — including her family — realized she must have been fighting inner demons.
Article continues below advertisement
The last video she posted is a montage of photos from her life, with a song playing over it that asks, "How far would you drive for the girl of your dreams?" She responded to the lyric in the caption, saying, "How about to Tasmania?" Many found this cryptic, as shortly after, she took her own life. Her family was absolutely devastated, as was her community, and her followers on TikTok.
Article continues below advertisement
Fans' tributes to Loane are truly heartfelt.
Those who watched Loane's videos are mourning her loss on TikTok. @aniahm took to Twitter, saying: "It's pretty bad when a beautiful teenager who doesn't know how she lights up the world commits suicide. Oh my heart goes out to the family of Caitlyn Loane... rest in peace you beautiful soul. People, if you feel down, call someone you love. Please! Get help."
Article continues below advertisement
Devonport Football Club, which Loane had belonged to, also wrote the below message to Loane on its Facebook page:
"It is with deep sadness and regret that the Devonport Football Club acknowledges the sudden passing of one of our female players, Caitlyn Loane.The Board, the members, players, volunteers, sponsors, and supporters of the Devonport Football Club convey our sincere condolences and warmest thoughts to Caitlyn's family and friends, which, of course, includes her teammates in the DFC Senior Women's team."
Article continues below advertisement
Read more tributes to Loane, below:
Article continues below advertisement
Loane's family is in our thoughts — she will be missed dearly.
If you or someone you know are experiencing suicidal thoughts, call the National Suicide Prevention Hotline at 1-800-273-8255 or text HOME to the Crisis Text Line at 741741.