Disney-Loving Vegans, Rejoice! The Happiest Place on Earth Has Several Plant-Based Options
Do Disney Parks offer vegan options? The California and Florida-based parks actually offer quite a few plant-based options for meatless park goers.
Although some of the more popular Disney Parks menu items include giant medieval turkey legs, Mickey Mouse-shaped ice cream bars, and chocolate-covered churros, there are — in fact — a wide range of plant-based options at both Disneyland and Disney World. Regardless of your dietary preferences, the "happiest place on earth" basically has you covered.
Article continues below advertisement
That being said, Green Matters has compiled an extensive guide to eating vegan at the U.S. Disney Parks. If you're planning to embark on a magical journey to Disneyland or Disney World anytime soon, we strongly suggest taking a look at our suggestions beforehand.
Disney World
Article continues below advertisement
Disney World boasts a wide range of vegan options at the Magic Kingdom. Per Disney.com, Aloha Isle sells the park's iconic dairy-free dessert, Dole Whip, while Be Our Guest offers various pastries and plant-based meals all day long. Casey's Corner also sells a vegan Slaw Dog, Cinderella's Royal Table offers avocado toast for breakfast and vegan options all day, while the Crystal Palace, the Diamond Horseshoe, the Friar's Nook, and Tony's Town also offer various plant-based eats.
Epcot boasts a number of delectable international-inspired vegan eats. Akershus Royal Banquet Hall, for example, offers plant-based options all day, from bagels to non-dairy frozen desserts, while Biergarten Restaurant sells fishless filets, beefless tips, and potato pancakes. Coral Reef offers various ocean-inspired vegan dishes, while Garden Grill sells anything from waffles to veggie loafs. For healthier options, try Sunshine Tree Terrace for overnight oats, or plant-based chicken Korma.
Article continues below advertisement
While eating in a galaxy far, far away, Disney's Hollywood Studios offers plant-based lunches and dinners at the 50's Prime Time Café, including as Cousin Harold's Vegetable Garden and Warm Apple Crisp. ABC Commissary offers a California Burger for those craving a sammie, while Hollywood & Vine offers a variety of meal options from plant-based eggs to three bean quinoa cake.
Disney recommends checking menus ahead to see if they have a green leaf, which indicates they are vegan-friendly.
Disneyland
Article continues below advertisement
As you probably would have imagined, Disneyland offers a variety of vegan options to please its large Los Angeles crowd. According to PETA, you can find a number of plant-based options across the park, including most of the items at Alien Planet Pizza, which offers Daiya cheese as a sub. Bengal Barbecue and Tiki Juice Bar in Adventureland also offers a few plant-based snacks, and the Mickey Pretzels throughout the park are totally vegan.
Those perusing Main Street U.S.A. can find a variety of vegan options at the restaurants and cafés lining the block. Jolly Holiday Bakery Café offers a variety of plant-based soups and salads, there are several vegan-friendly snacks at the Main Street Fruit Cart, and those craving pancakes, waffles, and veggie burgers should stop at the Plaza Inn or at Carnation Café.
Article continues below advertisement
For those hitting up New Orleans Square, Blue Bayou offers Portobello Mushroom and Louisiana Popcorn Rice (yum), while Café Orleans sells a Vegetable Bolognese that honestly sounds out of this world. French Market also sells a salad and Vegetable Jambalaya, and Royal Street Veranda offers vegan gumbo. Additionally, those hitting up Frontierland should stop at Rancho del Zocalo Restaurante — from cauliflower tacos to Crispy Chips and Veggie Taco salad, there are many plant-based menu items.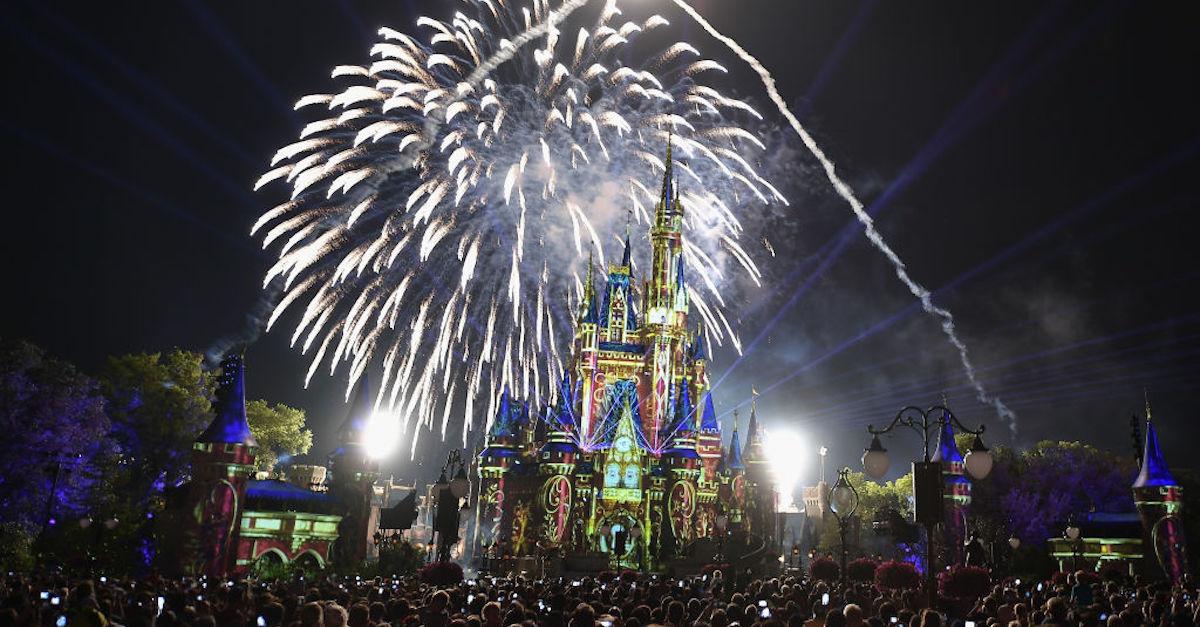 Disney's U.S. parks are surprisingly vegan-friendly, so once we're able to travel again — or enter amusement parks — care-free, we will definitely be considering embarking to the happiest place on earth.