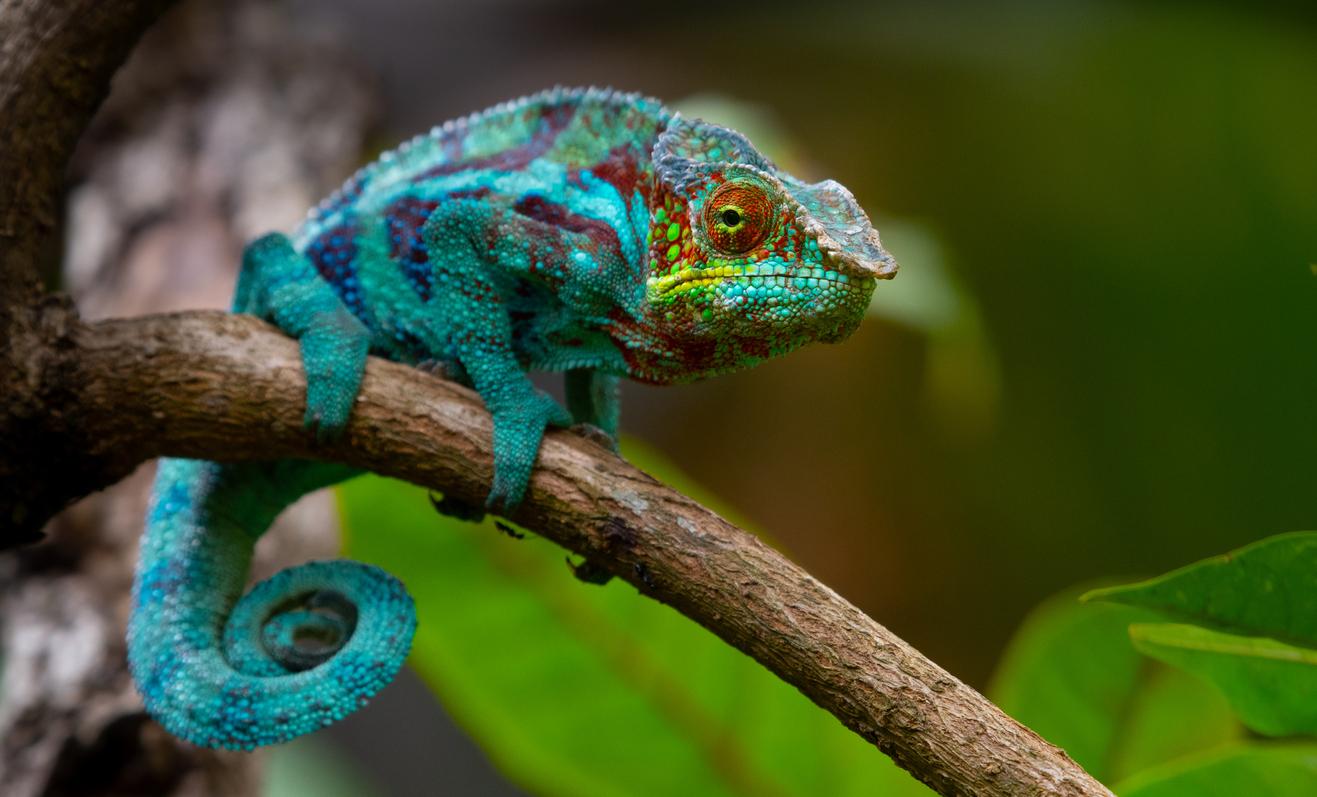 Scientists Rediscover Madagascar Chameleon Last Seen 100 Years Ago
Scientists have found several living specimens of Voeltzkow's chameleon, an elusive chameleon species last spotted in Madagascar 100 years ago. During a 2018 expedition by researchers from Germany's Bavarian Natural History Collections ZSM and Madagascar, researchers found that the species is closely related to Labord's chameleon. The discovery was shared on Friday.
Article continues below advertisement
Researchers believe that both reptiles live incredibly short lives during the rainy season. The chameleons hatch from their egg, grow rapidly, spar with their rivals, mate, and then die within a few months. The researchers determined that Voeltzkow's chameleon can only be found in an area around 1,000 km² along the coast between Katsepy and Soalala. They determined that the species may qualify for endangered species status.
"The life colouration of males is largely green, whereas that of females is highly variable and can be extremely colourful," the researchers wrote will describing the examples they had found.
Researchers also posted a video of the creatures on YouTube, which can be viewed below.
Article continues below advertisement
Global Wildlife Conservation explains why the rediscovery is so important, writing, "The Voeltzkow's chameleon is the sixth of Global Wildlife Conservation's top 25 'most wanted' lost species to be rediscovered, and its rediscovery will help unlock the many secrets surrounding the cryptic species first described in 1893 and last seen in 1913 in Madagascar."
Article continues below advertisement
"I thought we might have a good chance of rediscovering Voeltzkow's chameleon, but I was surprised that it took so long and that it was so difficult," Frank Glaw, head of the Department of Vertebrates at the Zoologische Staatssammlung München, who led the expedition, explained. "Our efforts were entirely unsuccessful during most of the trip to find it where we thought it would most likely be. That was really frustrating, but the rediscovery during the last few days of the trip immediately changed everything and brought us an incredibly happy ending."
"The Voeltzkow's chameleon adds color and beauty to the planet, and reminds us that even when all seems lost, a great adventure can rekindle hope even for species we haven't seen since Woodrow Wilson was president," Don Church, GWC president and a Search for Lost Species program lead, added. "Now we have so much to learn about this extraordinary reptile, including how we can best save it from extinction."
Article continues below advertisement
"The Voeltzkow's chameleon is a powerful flagship species for conservation in the region," Carlos Zanotelli added. "It is imperative that we protect nature and treat natural habitats as if we would like to live there. Only in this way can we ensure the future of the incredible species, like the Voeltzkow's chameleon, we share this planet with."
"Our planet is probably facing the beginning of an enormous extinction of species, often referred to as the 'sixth mass extinction', the 'Holocene extinction' or the 'Anthropocene extinction'," the researchers wrote in the German Journal of Herpetology.
"Rediscoveries of 'lost' species are very important as they provide crucial data for conservation measures and also bring some hope amidst the biodiversity crisis."
The species was originally described by German zoologist Oskar Boettger in 1893 and was named after German biologist Alfred Voeltzkow.