Pit Bull and Stray Kitten Form an Unlikely Bond in Pixar's Newest Short Film 'Kitbull'
Pixar recently released 'Kitbull,' a short film telling the story of an abused pit bull and a stray kitten.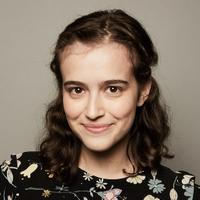 If you're a fan of those viral videos showing a friendship between two unlikely animals, you'll probably love (and cry while watching) Disney-Pixar's latest 2D animated short film, Kitbull. In the eight-minute film, a stray kitten and an abused pit bull form a beautiful relationship despite their unlucky circumstances. Not only is the movie a beautiful story about animals, but it also spreads awareness about the mistreatment of pets — something that good-hearted people have the power to prevent.
Article continues below advertisement
Kitbull, which Pixar recently released on YouTube, was written and directed by Rosana Sullivan and produced by Kathryn Hendrickson. The story, which is told without any dialogue, takes place in the Mission District of San Francisco. It begins with a stray kitten searching for somewhere to sleep. The adorable kitty finds a discarded cardboard box in a messy cement backyard, and decides to spend the night cuddled up with a pink elephant stuffed animal inside the box. Shortly after, a few men deliver a pit bull to the backyard. Over the course of the next few days, the pit bull and the kitten stand off against each other a few times, building up the trust to eventually play with each other (in the form of rolling a discarded plastic bottle cap back and forth across the yard).
Article continues below advertisement
As the days go on, it becomes clear that the pit bull's owner is not treating his dog with care. When the owner hears the dog bark, he comes outside and ties the dog to a cement block via a heavy chain leash. He even trains the pit to be aggressive by giving him a stuffed teddy bear to chomp on. One rainy night, the man opens his back door and physically kicks the pit bull — who has become covered with scratches — outside into the downpour. The dog notices that the kitten is stuck in a plastic six-pack ring during the rainstorm, and tries to help free the kitten — but out of fear, the kitten scratches back.
The morning after the scary, rainy night, the cat tentatively enters the dog's crate, and the two wind up cuddling and playing together. When the pets hear the pit bull's owner coming outside, they work together to make a quick escape. Without completely ruining the ending, you can rest assured that the only tears you'll be crying when the short film comes to a close are happy tears, as the kitten and pit bull find a new forever home — together.
Article continues below advertisement
Director Rosana Sullivan opened up about the touching short film in a video interview for Pixar's YouTube channel. "To be fully honest, it started from a cat video," Sullivan said with a laugh in the video, explaining that her love of watching cat videos was the main inspiration for Kitbull. "I realized that growing up I was always very sensitive and very shy. And had actually a lot trouble making connections, making friendships. So I related to this kitten because it never really stepped out of its comfort zone to be vulnerable and make a connection. And so that's eventually what the story became."
Article continues below advertisement
If watching a kitten without a home and a pit bull being mistreated made you sad, know that there are plenty of things you can do to help ease the suffering of animals. For one thing, you can foster or adopt a kitten from a shelter, which makes room for the shelter to rescue more stray cats. If you are not in a position to adopt, you can volunteer at or donate to an animal shelter instead. And if you witness someone abusing an animal, recommends documenting the abuse, and then calling 911 or your local animal control department. You can also show your love of animals by not buying products made from them, such as meat, dairy, fur, and leather.
It's exciting to see an entity as powerful as Disney-Pixar shining a light on animal neglect, and based on YouTube comments, fans are absolutely loving Kitbull. Hopefully the short film will continue to grow in popularity, spreading the message that all animals deserve love.