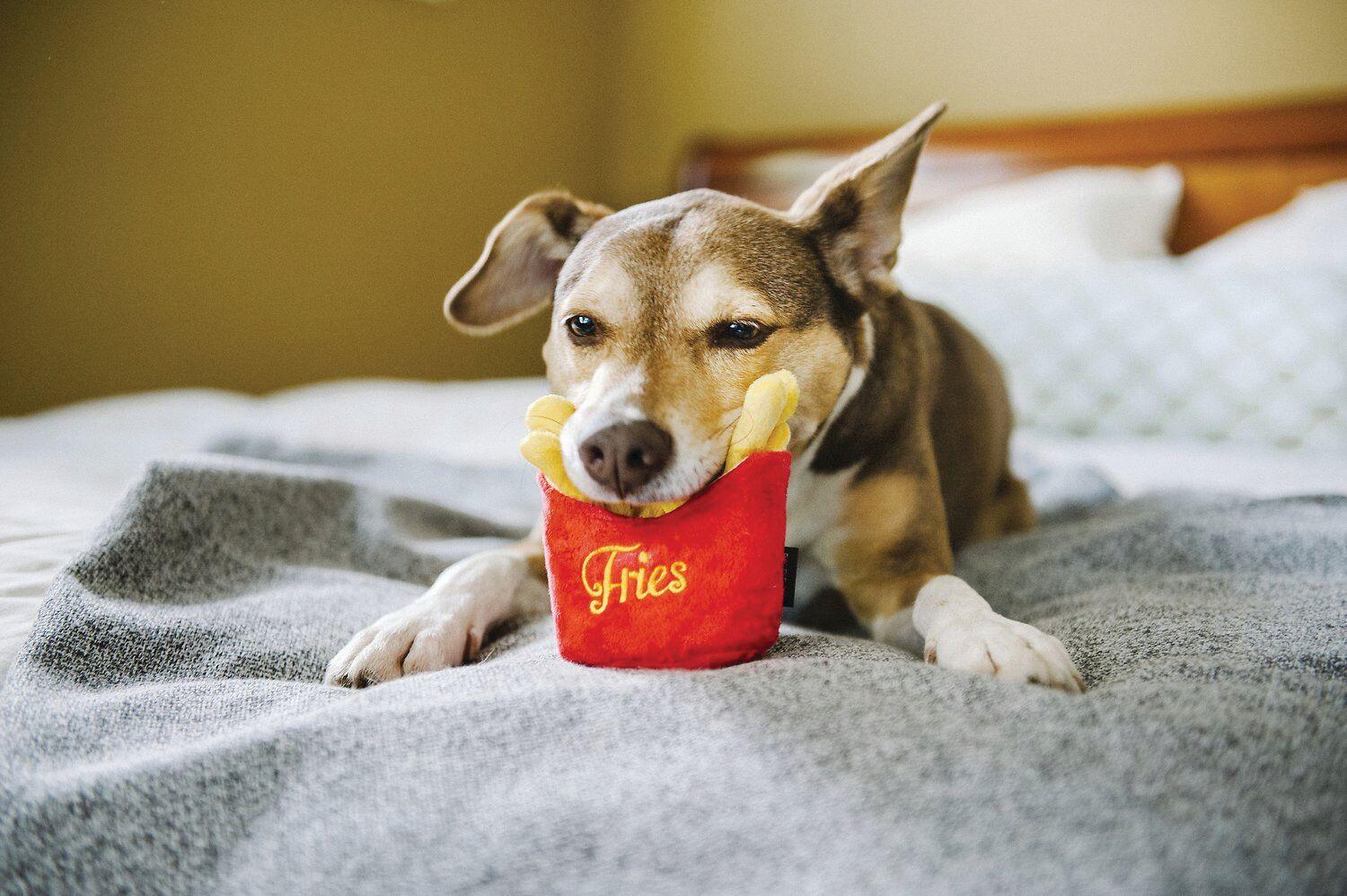 7 Eco-Friendly Products Perfect For Your Family Pet
By Desirée Kaplan
It is estimated that this year alone pet owners in the United States will spend about 72 billion dollars on their beloved critters. Whether they're furry, slimy, or feathered, it's clear that people are more connected with their little companions than ever and want the best for them. Still, some toys and supplies are not always ideal for a healthy pet or environment. Below we've rounded up seven green products for almost every type of animal enthusiast and their pets.
1. Fish Lovers
For aquatic pet owners, stone caves are a nice nook for their fish to feel at home. Underwater Galleries makes special ceramic stones that look natural and give fish a little hideout so they can feel stress free. These little dwellings are safe for fish and plants since they aren't made with any resins, lead paint, or petroleum materials. Perfect for fish like cichlids or guppies, you can pick one up here.
2. Bunny Enthusiasts
For furrier friends who prefer to burrow and make their own hideaways, Eco-Straw Pelleted Wheat Straw is a green alternative to traditional bedding or litter. This material is significantly more absorbent than newspaper and reduces waste since it will last longer than wood shavings.
To dispose of the Eco-Straw, pet owners can either add it to the compost bin or flush it down the toilet. This sustainable fiber, which is ideal for chinchillas, gerbils, hamsters, guinea pigs, and rabbits, can be purchased here.
3. Man's Best Friend
Dogs might be ready to give kisses at all times, but their dental hygiene can always use some regular attention too. The Woobamboo toothbrush offers a deep clean with its organic biodegradable handle which is coated with nontoxic wax. Even the packaging is eco-friendly since its made with recycled and recyclable materials and has vegetable based ink.
Woobamboo encourages owners to let their dogs use the handle as a chew stick once the products canine brushing days are over. Pup owners can buy this multipurpose brush here from Chewy.
If you prefer a different green toy for your dog, the P.L.A.Y. Pet Burger or Fries might be just the thing for your dog to sink his teeth into. These hand-made chew toys are made with AZO-free dyes and with 100 percent post-consumer recycled plastic bottles. The soft toys are then outfitted with squeakers and double stitched. You can find them here and here.
4. Reptile Owners
For slippery, slimy and scaly friends looking for a natural terrain, Zoo Med creates just the thing to make reptiles feel at home. Their Eco Earth Substrate is made from coconut husks, a renewable resource, which can be either composted or recycled.
The material helps terrariums retain moisture and humidity so pets can feel right at home in a faux tropical environment. Perfect for all kinds of reptiles or amphibians, you can snatch this up here.
5. Bird Watchers
For more feathery talkative friends, Prevue Pet offers a natural rope ladder to play on. These handmade toys are made from 100 percent natural materials like sisal rope and Hevea wood branches. Designed to challenge birds and offer foot exercise with different textures and irregular shapes, these ladders can be plucked off the shelves here.
6. Cat Ladies
For cat ladies (and gents) everywhere, playful toys are a must. To keep your kitten on its toes, Catit created a natural fish-shaped toy. Built with layers of corrugated cardboard wrapped in sisal, this toy was designed to give your cat hours of play time. You can buy one for your furball here through Chewy.
If your cat is already spoiled with lots of toys, Petmate's Eco-Friendly cat collar is another green option for your feline. This collar was designed with a safety breakaway feature in case your cat tends to get tangled up in it's latest adventures.
Woven entirely from recycled plastic bottles, these cat collars are ideal for indoor or outdoor use. They also come in many color options and the packaging is made from 100 percent recycled cardboard. Pick one up for your furry sidekick here.
7. Equestrians
Horse aficionados everywhere can groom their ponies (or even cats and dogs) with the SleekEZ comb. The handle is made of wood and the metal tooth patterns help effectively remove hair during shedding phases. This comb is made in the USA and can be found here.