Biologists E.O. Wilson and Thomas Lovejoy Pass Away, Leaving Behind Incredible Legacies
The world lost two legendary biologists this Christmas weekend. E.O. Wilson and Thomas Lovejoy both left behind incredible scientific legacies — Wilson was awarded two Pulitzer Prizes during his lifetime, while Lovejoy is known for supposedly inventing the phrase "biological diversity."
Keep reading to learn more about these two scientists and their contributions to biology, climate science, and more.
Article continues below advertisement
E.O. Wilson, entomologist and biologist, passed away at 92.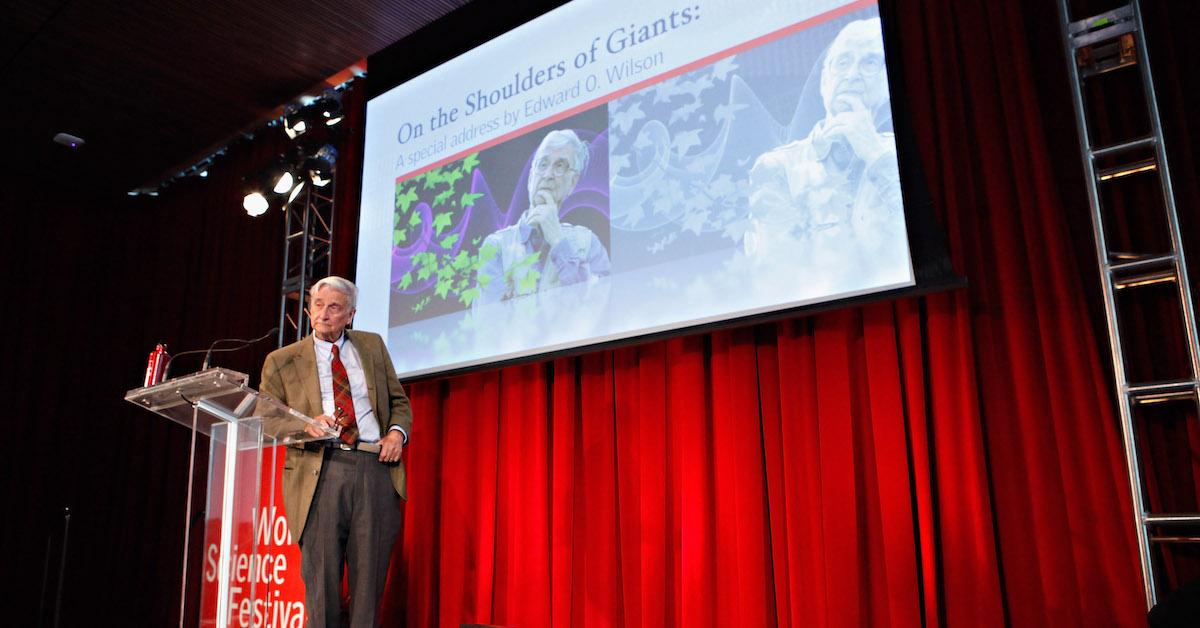 Edward O. Wilson was born in Birmingham, Ala., and grew up in both Alabama's Mobile-Tensaw delta and Washington, D.C. He went on to get his undergraduate degree at the University of Alabama and then his Ph.D. in entomology at Harvard University.
Article continues below advertisement
Throughout his decades-long career, Wilson won more than 100 scientific awards, including two Pulitzer Prizes and the U.S. National Medal of Science; he established two new scientific disciplines (island biogeography and sociobiology); and he wrote more than 30 books and 430 scientific papers.
Article continues below advertisement
Wilson also racked up a few of nicknames over his lifetime, including "Darwin's natural heir," named after Charles Darwin, thanks to his contributions to biology, as well as "the ant man," for all of his work studying ants as an entomologist.
After retiring in 1996, he remained active in the biology community. He co-founded the Society of Conservation Biology and the E.O. Wilson Biodiversity Foundation, and he became a board member for organizations including the American Museum of Natural History, Conservation International, and The Nature Conservancy.
Article continues below advertisement
"His greatest hope was that students everywhere share his passion for discovery as the ultimate scientific foundation for future stewardship of our planet," Paula J. Ehrlich, CEO & President of the E.O. Wilson Biodiversity Foundation, said in a statement.
"It is a rare combination of good when an intellectual giant like Ed Wilson can leave a legacy of enormous scientific contributions with a memory trail of a kind, humble, generous man who had great exuberance for life," added musician Paul Simon, who serves on foundation's board and was a friend of Wilson's.
Thomas Lovejoy, biodiversity expert, passed away at age 80.
On Dec. 25, 2021, conservation biologist Thomas Lovejoy passed away at the age of 80. In an obituary published by George Mason University — where Lovejoy worked as a professor for the Department of Environmental Science and Policy, and as the scientific director of the Institute for a Sustainable Earth — Lovejoy was referred to as "godfather of biodiversity" for all of his work in the field.
Article continues below advertisement
In fact, according to many reports, Lovejoy actually coined the term "biological diversity," though National Geographic (which Lovejoy was a part of from 1971 up until his death), claims that he simply "popularized" the phrase. The magazine added that Lovejoy also did a ton of work studying the connections between the climate crisis and biodiversity, namely by studying the Amazon rainforest.
And as Mongabay noted, Lovejoy was one of the first experts to alert the world about the severity of global species loss, as well as one of the first to sound the alarm about how big of a problem climate change would become.
Article continues below advertisement
Lovejoy was the director of the World Wildlife Fund's (WWF) U.S. program, from 1973 to 1987, according to the United Nations Foundation.
Lovejoy also founded the Amazon Biodiversity Center and the Biological Dynamics of Forest Fragments Project. Plus, he advised five U.S. presidents throughout his career — he was Reagan, Bush, and Clinton's science and environmental councils, and he served as the Science Envoy for Obama and Biden, according to GMU.
Article continues below advertisement
Lovejoy won a number of prizes throughout his lifetime: This year, he was inducted into the National Academy of Sciences; in 2019, he was dubbed one of Virginia's Outstanding Scientists; and in 2018, he won Mason's Beck Presidential Medal for Excellence in Research and Scholarship.
"Dr. Lovejoy was a giant among leaders in environmental stewardship. His loss is devastating to George Mason University, humanity, and the planet itself," Gregory Washington, president of the university, said in a statement.
"An internationally respected climate scientist, Professor Lovejoy focused on the critical importance of sustainability, including many consequential contributions to our understanding of climate change, and employed a cross-disciplinary approach to finding solutions to the greatest and grandest challenges of this era," GMU'S Executive Vice President and Provost Mark R. Ginsberg added.
Both E.O. Wilson and Thomas Lovejoy made such incredible contributions to our understanding of conservation, biological diversity, and climate change, and there's no doubt that they inspired many others to follow in their footsteps to study science.