How a Seattle-Based Startup Is Reforesting Areas Affected by Wildfires
A Seattle-based startup called DroneSeed is helping reforest areas in the Pacific Northwest affected by wildfires, by spreading seeds with drones.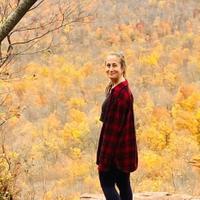 Wildfires take a massive toll on human health, as well as the environment. Not only do they destroy entire communities and create exorbitant amounts of air pollution, but they also decimate forests worldwide, degrading one of our planet's largest natural carbon sinks.
But that's why a Seattle-based company called DroneSeed is working to combat wildfire damage, by reseeding forests.
Article continues below advertisement
"We're a one-stop shop for reforestation," Grant Canary, CEO of DroneSeed, told CNBC.
"If you're a land manager, and this could be tribal nations, this could be family forests, this can be public lands, this can be timber companies, and you're affected by a wildfire, we're one of your phone calls."
"The aircraft themselves, they are not what you can get at Best Buy. They're eight feet in diameter," Canary continued, going into detail about the company's technology.
"They carry a 57-pound payload. We operate them in groups of three to five, and they're going out there and they're dropping seed vessels onto the landscape in pre-surveyed areas."
Article continues below advertisement
What is DroneSeed?
With longer and increasingly stronger fire seasons, 3.3 million acres of U.S. land has already been scorched this year alone, according to TechCrunch. And unfortunately, replenishing the tree population is a tedious and oftentimes thankless job, so finding humans to do it is incredibly difficult.
That's where DroneSeed comes in — the startup company, which is based in Seattle, just received $36 million in funding to revitalize PNW forests affected by wildfires.
Article continues below advertisement
The company dispatches heavy-lift drones that spread thousands of seeds, seedlings, and young plants across affected land in one go. The seeds are dropped and eventually root, and while not all of them mature into trees — this depends on the water and soil quality, terrain, temperature, and plant species — it still makes replenishing vegetation possible.
Supply chain issues made securing seeds difficult but the company recently acquired Silvaseed, which grows millions of seedlings per year.
Most of DroneSeed's funding is derived from carbon offsets, which are purchased by other companies, such as Shopify. According to CNBC, the brand purchased enough offsets to remove 50,000 metrics of carbon from the atmosphere — or enough to replant 300 acres of trees in Oregon.
The company is also backed by 776, DBL Partners, Social Capital, Spero Ventures and Techstars — needless to say, we can't wait to see what they plant during these difficult times.
Article continues below advertisement
Why is reseeding forests important?
Reseeding forests is beyond important, not only to give native animals back their habitat, but also because forests are carbon sinks. Because trees expend oxygen and take in carbon dioxide, forests and having natural lands with large amounts of vegetation, in general, are key to slowing climate change.
And since wildfires kill so many trees annually, regenerating forests is crucial.
The most important part of reforestation, to ensure the process is actually effective, is to make sure the trees and vegetation being planted is native.
If it isn't, the trees may not survive, or it may cause problems down the line. So as long as DroneSeed is doing its research (which we're sure it is!) these drones are definitely going to be helpful in curbing the climate crisis.