Bringing Fido on a Winter Walk? Keep These Tips in Mind
Wintertime dog walking requires different gear than in the summertime — these dog walking winter tips will ensure you're adequately prepared.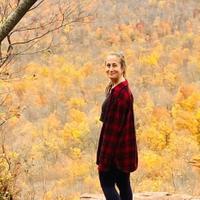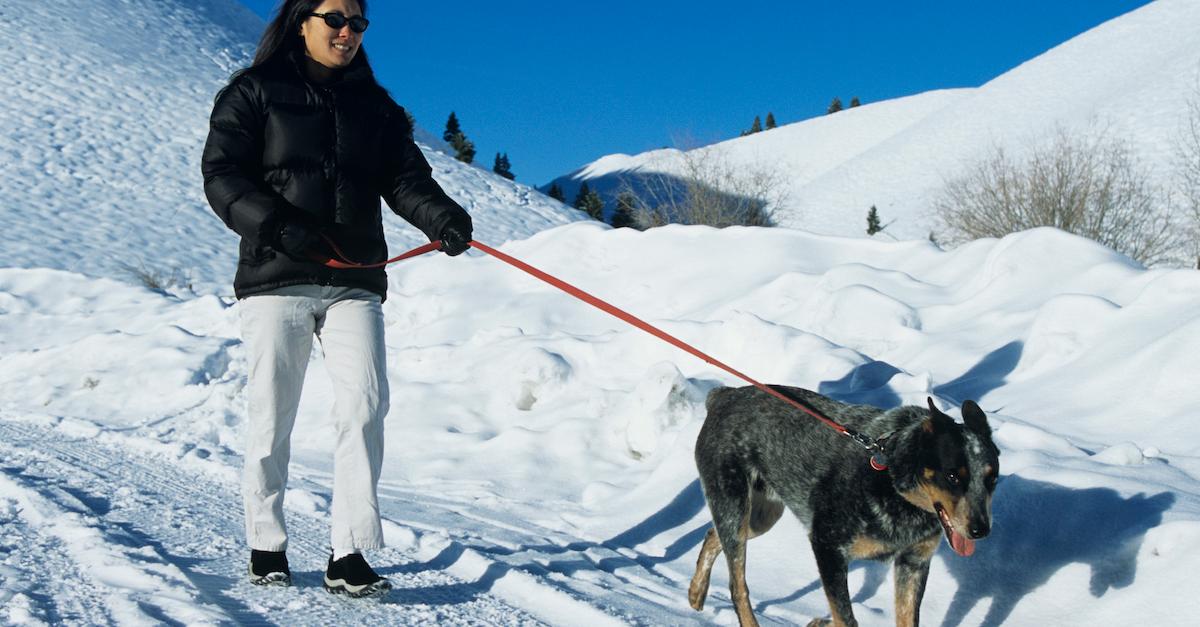 As a dog parent, one of the best ways to bond with your pup is by walking them. And although winter walks aren't quite as pleasant as summertime strolls, doing so is absolutely necessary — especially if you don't have a fenced-in backyard. And while dogs may be resilient animals, they have certain needs when the temperatures drop. That being said, make sure to follow our winter dog walking tips to ensure your fur baby is comfortable and content.
Article continues below advertisement
Invest in booties
If you live in a cold, snowy climate, dog booties are crucial for winter walks, according to Rover. Similar to humans, dogs need protection from the snow, ice, sidewalk salt, and chemical deicers that flood the roads and sidewalks. Although your pup will likely need some time to get used to having little shoes on their feet, they should get acclimated in no time. Plus, there's really nothing cuter than little dog boots — Only Natural Pet sells these biodegradable ones made of natural rubber.
Find a dog jacket that fits well for extra cold temps
Likewise, even with all that fur, dogs can get cold in chilly weather — especially smaller dogs and short-haired breeds — and therefore an insulated jacket is crucial, according to Homes Alive Pets. Cycle Dog is an eco-friendly pet brand that sells insulated, waterproof jackets for dogs of all shapes and sizes, and they come in super cute colors. Honestly, we're kind of obsessed.
Article continues below advertisement
Bring moisturizer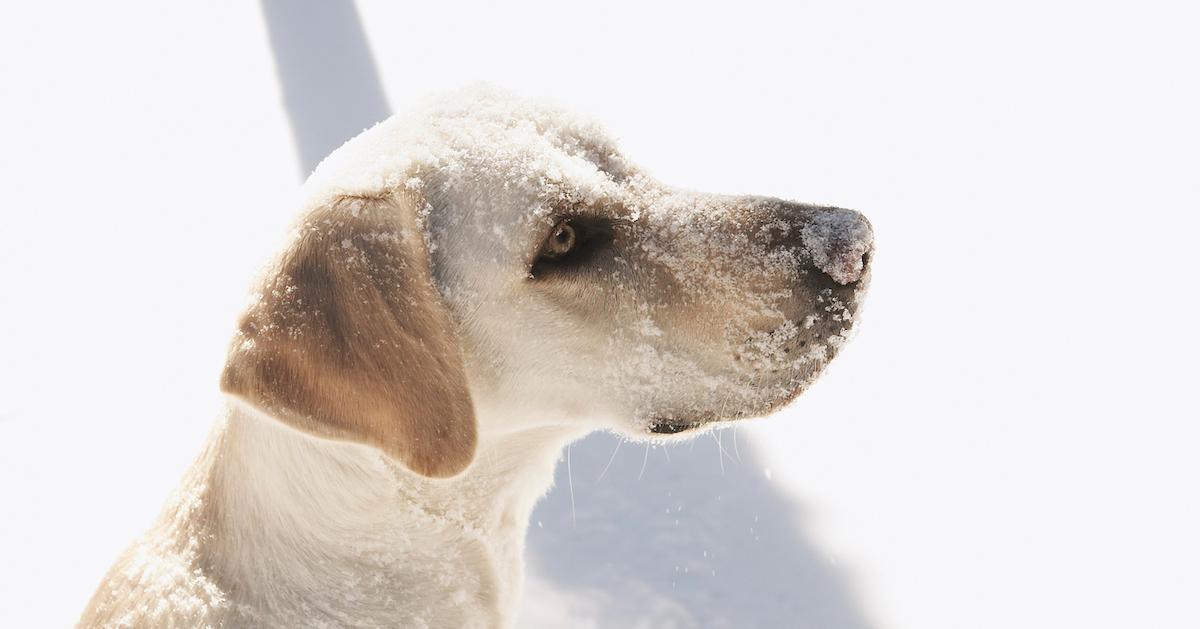 A pup needs a reliable winter moisturizer just like humans do. On blustery winter days, dogs run the risk of getting dry skin — and sometimes even frostbite — on their paws and noses, but a natural moisturizer, such as Burt's Bees Paw and Nose Lotion should suffice before after, or during your walk (if you'll be out for an extended period of time).
Article continues below advertisement
Find an efficient leash
Securing a safe and sturdy dog leash will not only make your dog more comfortable while you're walking, but it will also prevent your pup from taking you down on a slippery, icy walk... especially when they spot a squirrel across the street. There are so many reliable leashes to choose from, but we really love Mighty Paws' selection of leashes, which are perfect for the active pet-owner-pup duo.
Article continues below advertisement
Pay attention to your pup
If your dog is too cold, you'll know. According to Green Cross Vets, they will show signs of being chilly if they're shivering, trembling, or trying to cuddle you while they're walking. Bottom line: they will be noticeably uncomfortable, and will be more than happy to cut the walk short.
Article continues below advertisement
Keep your walks short, especially at night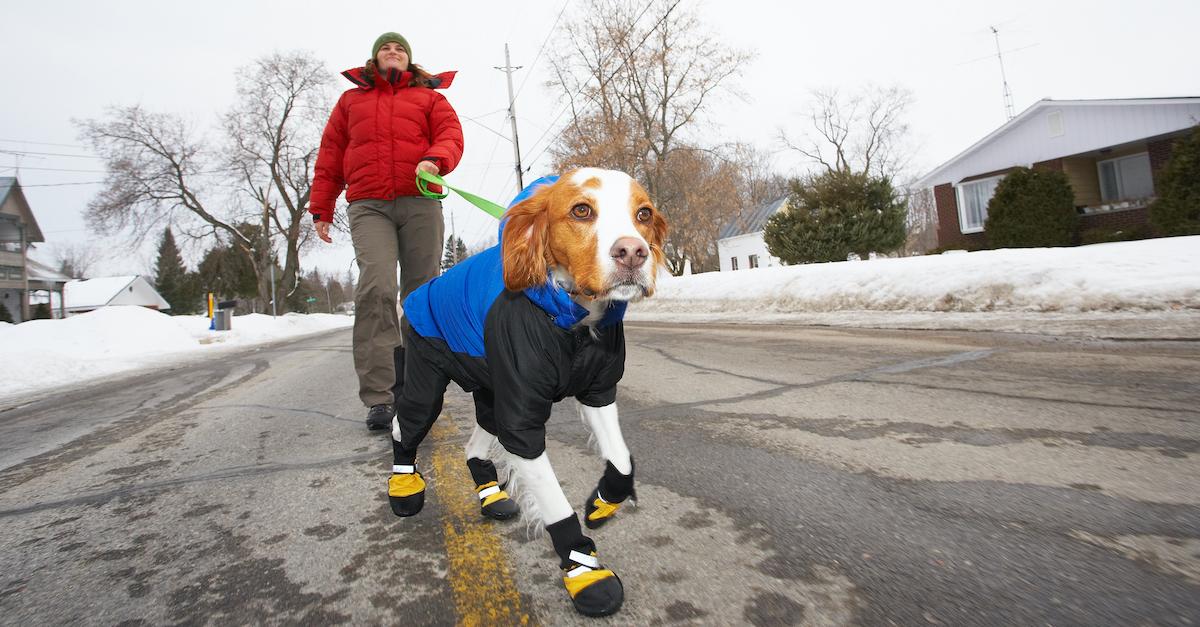 It's a common misconception that dogs love chilly weather because they have fur, but alas, they get cold, just like people do. Make sure your walks are shorter than usual, especially at night, after the sun has gone down. Cooper would most likely rather be snuggled up by the fire than embark on a long nighttime adventure.
Happy tails!