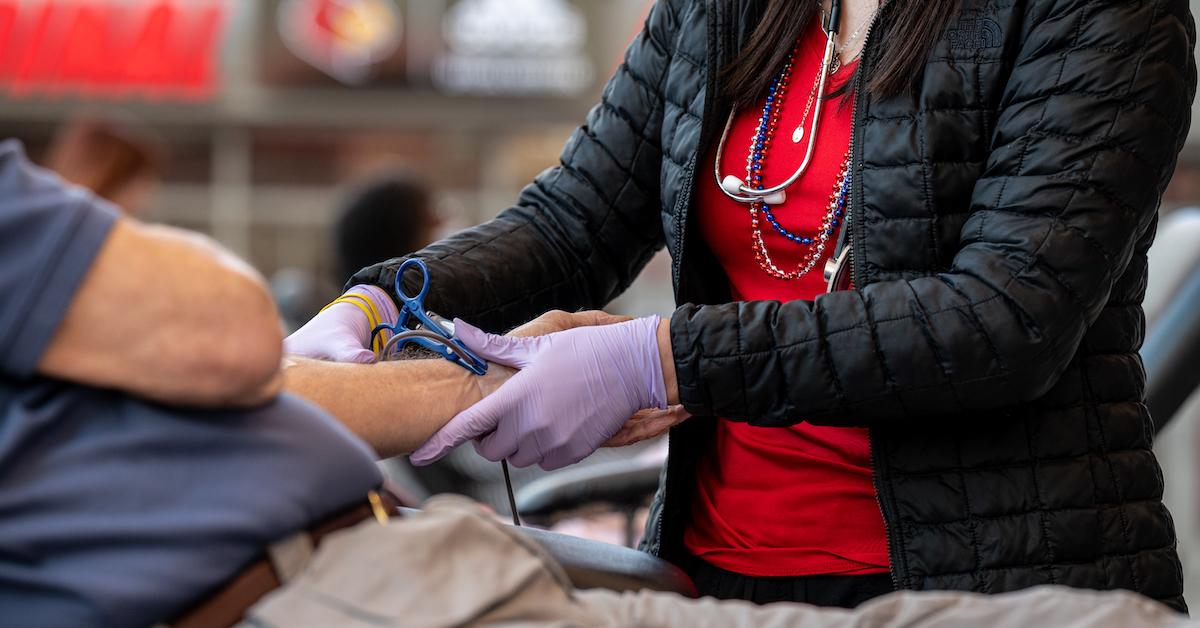 America's First National Blood Crisis Means Blood Donations Are Needed More Than Ever
Since the onset of the coronavirus pandemic, the world has faced a number of supply chain issues and shortages. And now, two years in, there is officially a blood shortage in the U.S. In fact, the American Red Cross recently declared a national blood crisis for the first time in history, meaning blood donors are needed more than ever.
Keep reading to learn more about how this blood crisis came to be, and how to easily donate blood near you.
Article continues below advertisement
The blood shortage has led the American Red Cross to declare a national blood crisis.
The Red Cross coordinates 40 percent of donated blood in the U.S., and the organization reports that the pandemic is the chief cause of the current blood crisis. Since the pandemic began, there has been an increase in blood drive cancellations — just like how there's been an increase in just about everything being canceled over the past two years.
Article continues below advertisement
Additionally, the Red Cross' blood donors have decreased by around 10 percent since the beginning of the pandemic, which has only decreased even more since the delta variant emerged in August and omicron broke out in December.
Article continues below advertisement
There are many people who cannot live without blood transfusions, and according to the Red Cross, doctors have "been forced to make difficult decisions about who receives blood transfusions and who will need to wait," since there simply isn't enough to go around.
"While some types of medical care can wait, others can't," Dr. Pampee Young, the Red Cross's chief medical officer, said in a statement. "Hospitals are still seeing accident victims, cancer patients, those with blood disorders like sickle cell disease, and individuals who are seriously ill who all need blood transfusions to live even as Omicron cases surge across the country."
Article continues below advertisement
Now, Dr. Young and the rest of the Red Cross are encouraging eligible people across the country to donate blood and platelets.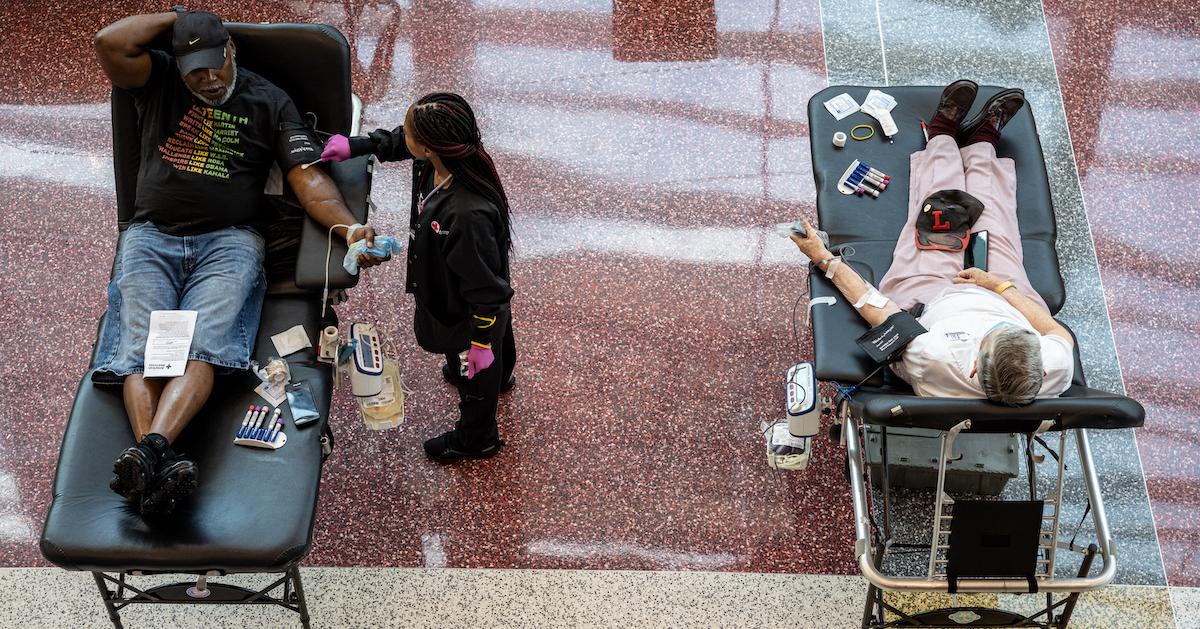 Article continues below advertisement
Who is eligible to donate blood?
To be eligible to donate blood, you must be at least 17 (or 16 with a guardian's consent in some states), weigh 110 pounds or more, and have "generally good health," as per the Red Cross.
Since the HIV/AIDS epidemic began in the early 1980s, it has been illegal in the U.S. (and many other countries) for gay men to donate blood. In April 2020, in response to the pandemic causing a blood shortage, the FDA slightly eased restrictions, permitting LGBTQ+ men to donate blood if they have not been sexually active for three months. Now, CBS News reports that lawmakers are urging the FDA to entirely roll back these antiquated and homophobic policies that are further enabling the blood crisis.
Article continues below advertisement
How to find blood drives to donate blood near you:
To donate blood or platelets through the Red Cross, you can make an appointment to do so by searching your zip code either on RedCrossBlood.org or the Red Cross Blood Donor App, which will result in a list of nearby blood drives; or, you can call 1-800-RED CROSS (1-800-733-2767).
Article continues below advertisement
You can also simply google "where to donate blood" along with your town, county, or state's name, as there are many state- and city-run blood drives. For example, New York Blood Center is a statewide organization that constantly coordinates blood drives across NY; and then there's OneBlood in Florida, which coordinates blood drives, and also has resources to help companies, religious groups, and communities host their own blood drives.