8 Zero-Waste Ways to Use Baking Soda
Baking soda could be the secret ingredient when it comes to cleaning your house zero-waste.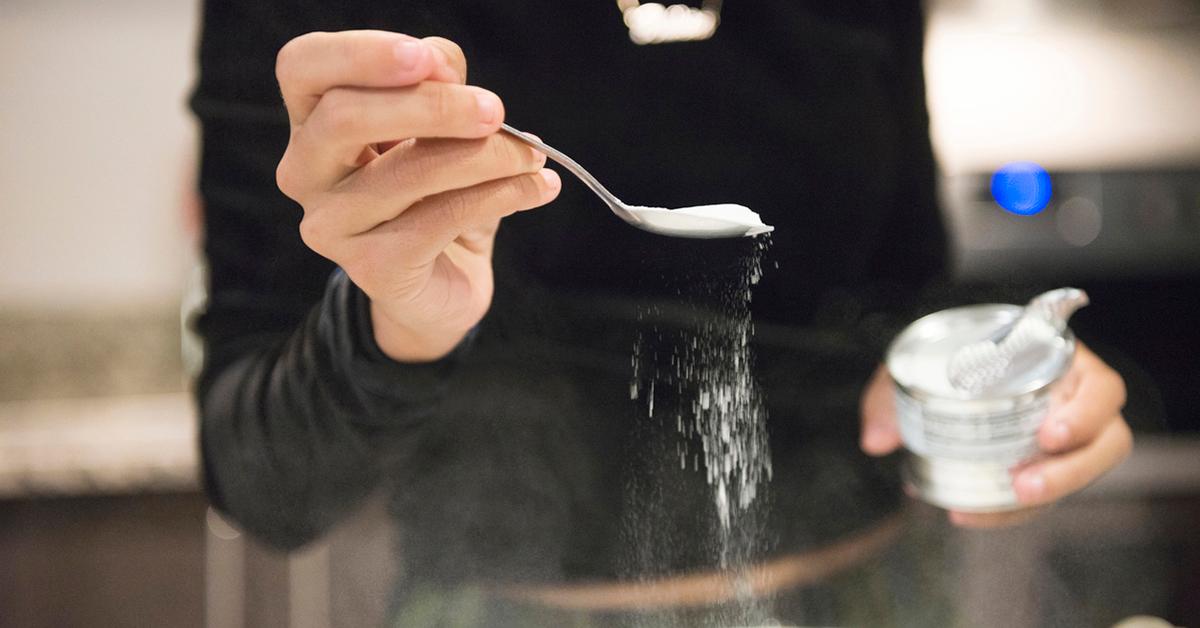 Baking soda is one of the best-kept secrets of going zero-waste because while, yes, there is a lot of information out there about how to use baking soda — you know, to deodorize the refrigerator or in a baking recipe — there's still so much more that isn't widely known.
Article continues below advertisement
First of all, baking soda is inexpensive. It's also usually available in bulk, which not only means you get more bang for your buck, but also that buying baking soda means cutting down on single-use packaging. And even if you don't opt to buy baking soda in bulk, there are packaging options for baking soda that aren't plastic. It typically comes in cardboard boxes, which are biodegradable and/or recyclable.
Packaging aside, baking soda is also non-toxic. There are no harsh additives, chemicals, toxins, or contaminants added into baking soda. There are no known connections of baking soda to health issues like so many other non-natural care products and cleaning products.
Article continues below advertisement
Last but not least, achieving the zero-waste creed trifecta, baking soda is extremely versatile. It can be used for so many different uses — not just deodorizing the fridge!
Curious about how you can use baking soda at home? Keep reading to find out!
Cleaning
One of the most well-known and common uses for baking soda around the house is cleaning. But first, you need to know that baking soda cannot be mixed with vinegar. Baking soda actually equalizes vinegar, a chemical reaction that will strip vinegar of its antibacterial, cleaning abilities. Sure, a mixture of these two will make a whole lot of bubbles, but it won't actually disinfect anything. So, make note of that before cleaning with either solvent.
Article continues below advertisement
Baking soda is abrasive but won't scratch your surfaces. This makes it an effective method for cleaning dishes, kitchen surfaces like counters or burned pots and pans. Baking soda can also be used for cleaning the interior of refrigerators as well as deodorizing them from any funky smells that happen when foods go bad.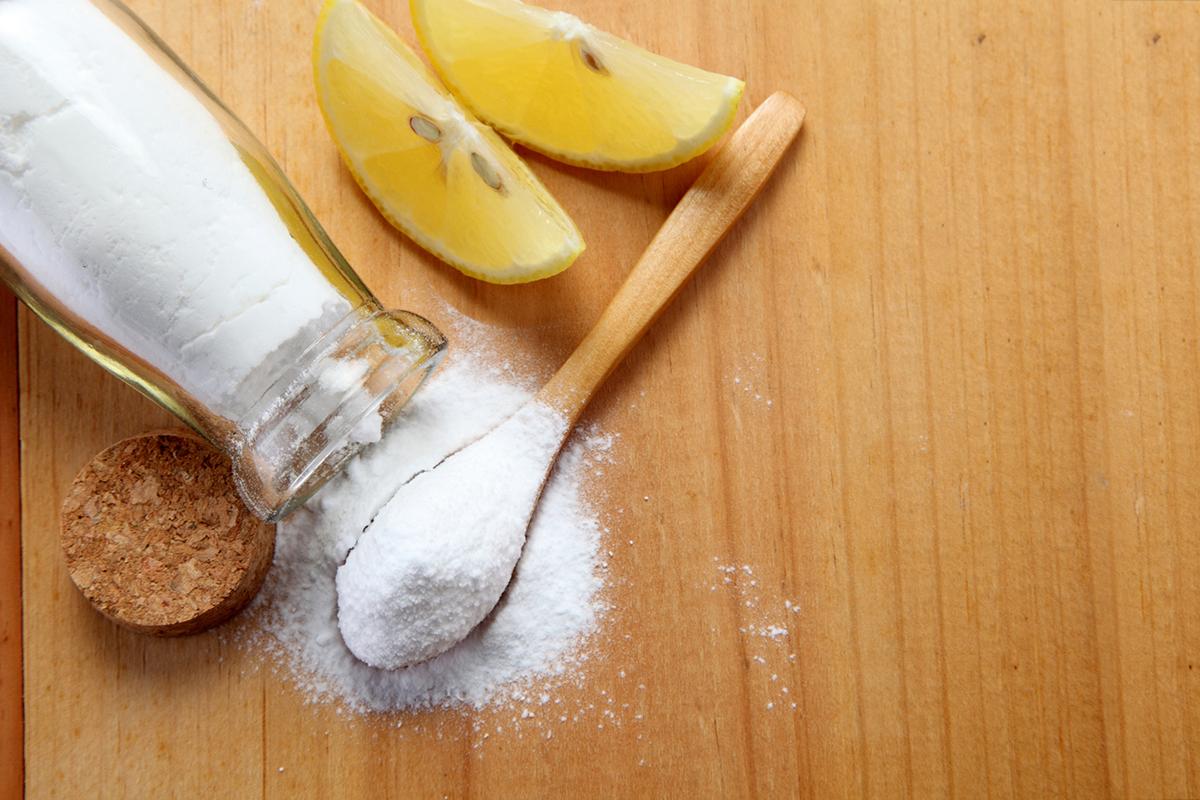 Article continues below advertisement
For kitchen surfaces that have dried up, wet the area, sprinkle with a bit of baking soda, and let it sit for several minutes. Run over the area with a reusable cloth.
To use baking soda to scrub off hard-to-rinse foods off of plates and utensils, add baking soda, then scrub with a copper brush.
Article continues below advertisement
For burnt pots and pans, boil a mixture of water and baking soda in the affected container for 10 minutes.
Other ways to integrate baking soda into your cleaning routine include using baking soda to clean toilet bowls and seats, bathroom surfaces, tea kettle grease stains, cups stained with coffee or tea, and even clogged drains. (For clogged drains, you'll want to send baking soda, followed by boiling water, followed by — only instance ever! — vinegar. The bubbling inside the pipe loosens up whatever's causing the clog.)
Article continues below advertisement
Deodorizing Carpets and Cat Litter
The deodorizing properties of baking soda make it great for treating rugs and cat litter boxes. Both can become stinky at times, so baking soda works to combat those odors caused by pets, feet, and whatever else. All you have to do is sprinkle a little bit of baking soda in each scenario; a little bit goes a long way.
Shampoo
A mixture of baking soda and water acts as a toxin-free shampoo. To make the mixture, use one tablespoon of baking soda per one cup of water. Apply to the scalp, then scrub your scalp for a few minutes, massaging the mixture in. Once a week, substitute this mixture for one tablespoon of apple cider vinegar mixed with one cup of water; this combats oil and rinses the hair of any build-up or impurities.
Article continues below advertisement
Mouth Wash
Forget the toxic Listerine. Baking soda, combined with water, leaves your mouth refreshed and your breath smelling good. All in a non-toxic way. Baking soda neutralizes the acidity of the mouth, knocking out the bacteria that causes gum disease, bad breath, and even cavities.
Whitening Toothpaste
Baking soda is an effective teeth-whitener, sans the fluoride and other toxic stuff typically found in those kinds of products. You can combine baking soda with your normal fluoride-free toothpaste by dipping your brush in baking soda first, or you can use baking soda as your paste.
Article continues below advertisement
Baking soda isn't historically known for its deliciousness, so you can mix with stevia (for some natural sweetness) and wintergreen essential oil.
(Editor's Note: Since baking soda is naturally abrasive, many dentists caution that continued use could wear down the enamel.)
Cleanser
Whether you need a facial cleanser or milder body soap, baking soda can get it done. To make the mixture, you'll want it to be equal parts baking soda mixed with equal parts water. Because you're using it on your skin, make sure the baking soda is pure.
Article continues below advertisement
Dog Urine Spots in Grass
Dog urine burns a hole in your grass, causing it to die and turn brown. This is thanks to the high levels of nitrogen and ammonia that dog urine contains. Good news is baking soda neutralizes those concentrated amounts and can actually repair brown spots in the grass caused by a dog's pee.
Shoe Soles
Are the foot beds of your shoes stained and gross-looking? There's no need to throw out your shoes, believe it or not. Breathe second life in your pair of soles by scrubbing baking soda into the foot beds with a toothbrush.