Australian Bushfires: What Caused Them, Death Toll, and More
Over the past few weeks, tragic bushfires have been tearing through eastern Australia.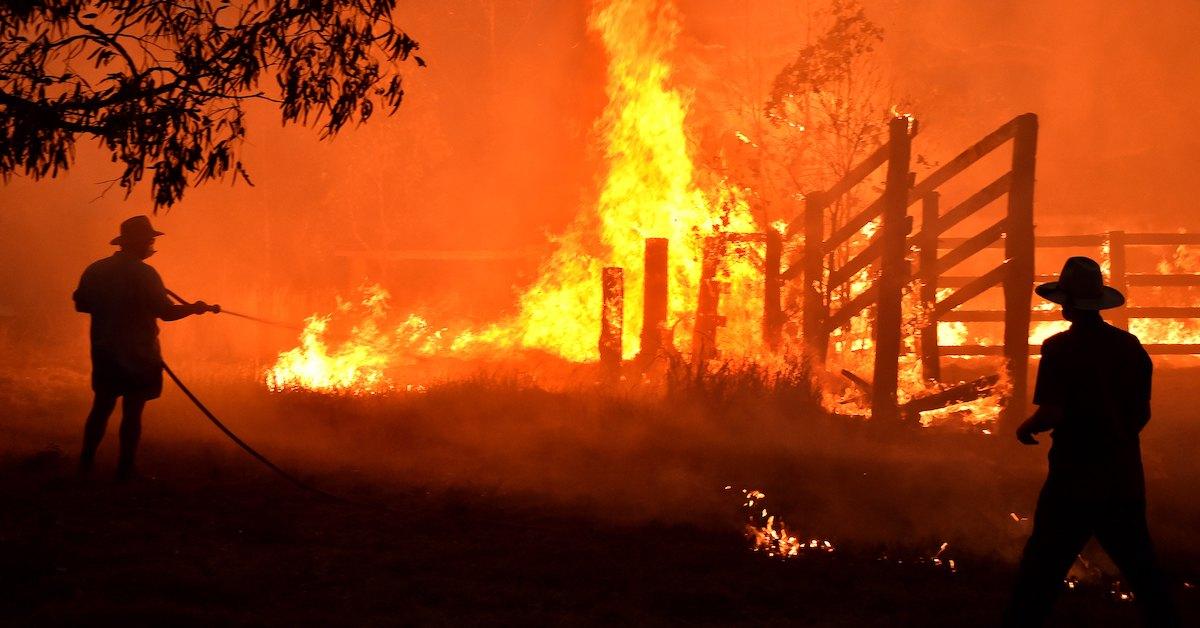 Recently, extreme weather events around the world have been on the rise — and so has media coverage of these events, due to the link many of them have with the mounting climate crisis. Over the past few weeks, tragic bushfires have been tearing through eastern Australia, specifically across the states Queensland and New South Wales. This week, the bushfires reached new heights, destroying homes and even killing several people. As of Thursday morning Nov. 14, more than 70 fires were still raging, and crews were still trying to quell the fires.
Article continues below advertisement
Right now, police are alleging that a 16-year-old boy actually started a recent and particularly destructive string of bushfires near the small town of Yeppoon, Queensland, The Guardian reported. The fires, being called the Cobraball fire, have burned an estimated 1 million hectares of farmland and bush, according to Al Jazeera. The fires are also responsible for destroying various cars and sheds, as well as causing four deaths: Julie Fletcher of Johns River died on Saturday; Vivian Chaplain and George Nole both died in Wytaliba; and on Wednesday night, Barry Parsons, 58, was found dead in Willawarrin, according to The Guardian.
Article continues below advertisement
In addition to the teenager allegedly setting land on fire, Al Jazeera notes that droughts in Australia have caused extremely dry conditions and high winds, which have helped fuel and spread the fires. As explained by C2ES, climate change — specifically, rising temperatures, aka global warming — can worsen droughts. So whether or not these Australian bushfires really were started by the 16-year-old in question, our changing climate has certainly played a role in keeping the fires ablaze all week.
In the southern hemisphere, it's currently spring. As Al Jazeera pointed out, it's typical for Australia to experience bushfires during the summer — but since it's spring in Australia for another two weeks, it's alarming that the country is already experiencing summer-like bushfires. This is another symptom of rising global temperatures, which are primarily caused by increasing greenhouse gases in the atmosphere.
Article continues below advertisement
Unfortunately, Australian leaders have been a bit dismissive of how the fires tie into the climate crisis. According to the BBC, Deputy Prime Minister Michael McCormack incited some outrage when he said the only people who cared about climate change were "raving inner-city lefties" who were ignoring rural Australians. "We've had fires in Australia since time began," McCormack said, as reported by the BBC.
Article continues below advertisement
On top of the tragic human losses, koalas are the unseen victims of these bushfires. As reported by The New York Times, the Koala Hospital in Port Macquarie, New South Wales has been caring for dozens of wild koalas who were rescued from the bushfires. Koalas were found covered in burns, dehydrated, and terrified, and Koala Hospital caretakers have been nursing the koalas back to health.
The Australia Koala Foundation estimates that there are only between 43,000 and 100,000 koalas left in the wild — and even though koalas are not technically endangered, some environmentalists believe they should be classified as such in New South Wales and Queensland (where the fires happen to be), so that they can get protection. And as The New York Times noted, Aussie officials fear that hundreds of koalas might have already burned to death in the fires.