Adidas' Sustainable Fashion Pop-up in SoHo Encouraged Thrifting in a Designer Neighborhood
To encourage New York shoppers to donate old clothes and shop secondhand, Adidas' sustainable fashion pop-up in SoHo was a one-of-a-kind event.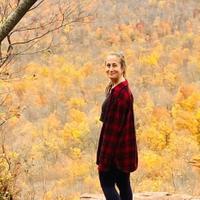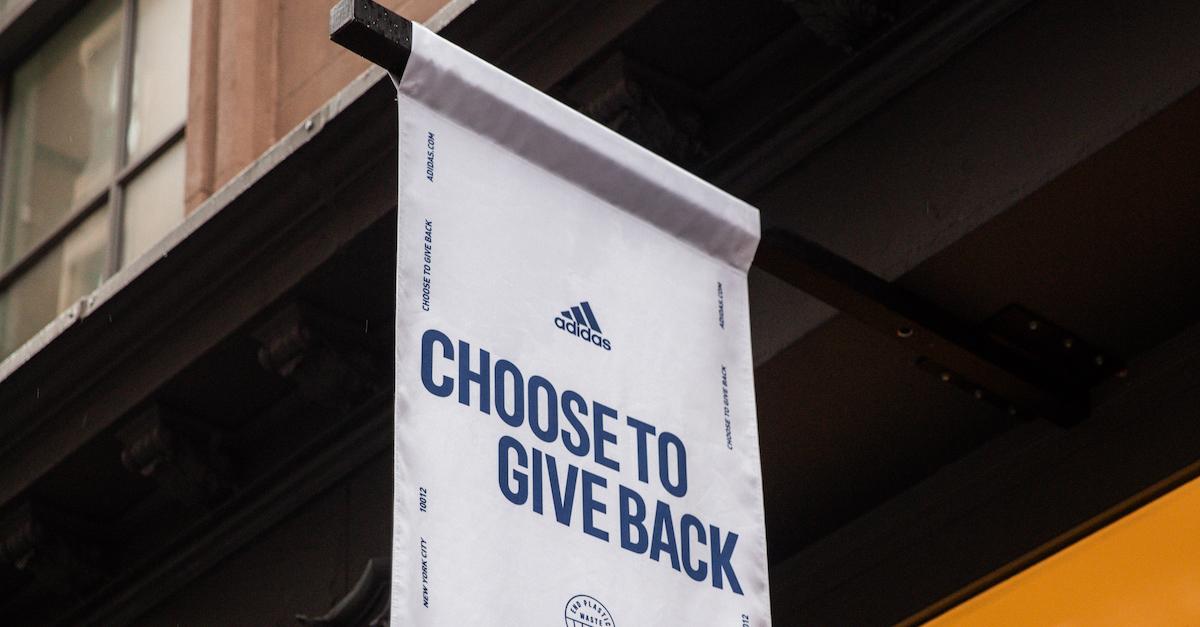 Usually, when New York City tourists venture to SoHo, they're surrounded by glamorous single designer brands and fast fashion storefronts — though that wasn't the case this past weekend.
On Saturday, Dec. 11, Adidas brought together vendors selling vintage and upcycled Adidas clothing to encourage consumers to donate old pieces of clothing to thredUP. If you didn't make it to Adidas' sustainable fashion pop-up, it was a one-of-a-kind experience.
Article continues below advertisement
"The great thing about today is seeing designers having the power to redefine what 'new' means," David Steel, the Design Director of Innovation Apparel at Adidas, tells me during the media-exclusive portion of the event. "This is something that we're taking as part of our philosophy, as a brand."
"This is a new chapter for [Adidas] — this kind of take-back program," Steel continues. "We're working with an established partner, thredUP, which has a number of different ways in which they redistribute the material. So if it's a second life is a third life. And that's the thing that's really important."
Article continues below advertisement
Here's how Adidas' sustainable fashion pop-up worked:
Article continues below advertisement
But as previously mentioned, no money was involved in the consumer shopping experience — customers had to bring clothes to donate to thredUP in order to shop.
Clothing donations gave consumers "points" they could spend. Each piece in the shop was given a "point value" determined by the type and availability of the item, ranging from 2 to 15 points. Anything not redeemed in the shop could be exchanged for credit via the Creator's Club app, to redeem at Adidas' 5th Avenue flagship location.
Swapping clothing for vintage and upcycled pieces creates less waste, conserves water and energy, and curbs pollution from the wasteful fashion industry.
"By the time we get to 2030, we're looking to achieve climate neutrality," Steel says. "It's something that we're held accountable for as designers, and I think that's really important... We need to make sure that we're coming from an innovation point of view, from a sustainability point of view. That we're leading the [fashion] industry."
Article continues below advertisement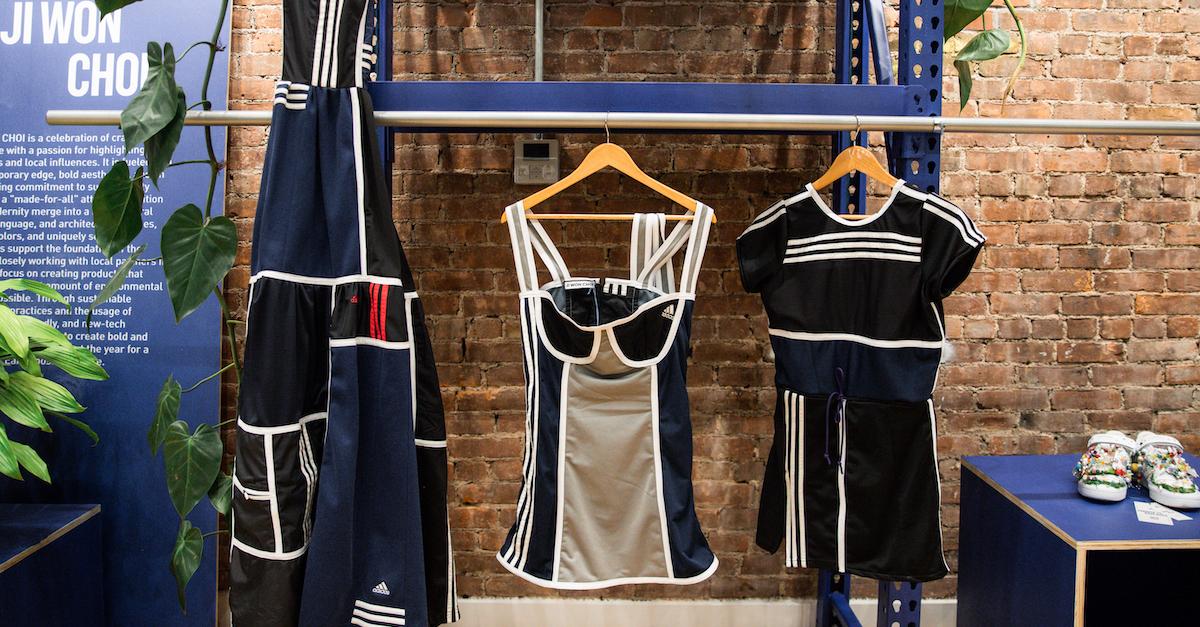 Walking through the pop-up, I was surrounded by talented vintage fashion curators and sustainable designers.
There is nothing better than getting to shop from top-of-the-line vintage and upcycling fashion designers — and getting the chance to talk to them. The passion they had for this partnership, and for the sustainability element of it all, was truly remarkable. Needless to say, they're worth following on social media and looking to for eco-friendly fashion tips for the future, if that is something you're interested in.
Article continues below advertisement
"One of the cool things was they just kind of gave me a blank slate, they didn't give me any specifications, which allowed me to just do what I do: really functional pieces with a lot of character," Rick Moe of Tyranny & Mutation tells me in front of his stand, a rack that's filled with all kinds of vintage Adidas tees. "All of this stuff that I curated is everyday functional pieces, all seasons, different eras — '80s, '90s, and 2000s, which is exactly what I do — just Adidas."
As I keep walking through, Sara Gourlay, the creator behind Frankie Collective, boasts a variety of handbags that are upcycled from damaged puffy Adidas winter jackets — perfect for a chic aprés ski ~lewk~.
"We made these pieces exclusively for the pop-up, for winter, obviously. So we went with a puff theme, but these are all upcycled from damaged jackets," she says.
Eva Joan Repair's patchwork was another highlight — and observing them mend ripped jackets and reimagine blank tote bags was truly a sight to see.
Although it's unclear if, and when, Adidas will organize this type of event again, it's great to see a major company taking steps to promote sustainable shopping.