Kamala Harris Introduces Over 2,000 Electric School Buses to Public Schools Nationwide
Kamala Harris announced on Oct. 26 that the Biden administration is allocating money for more than 2,000 electric school buses nationwide.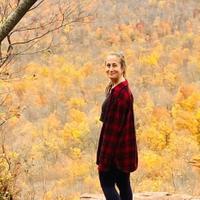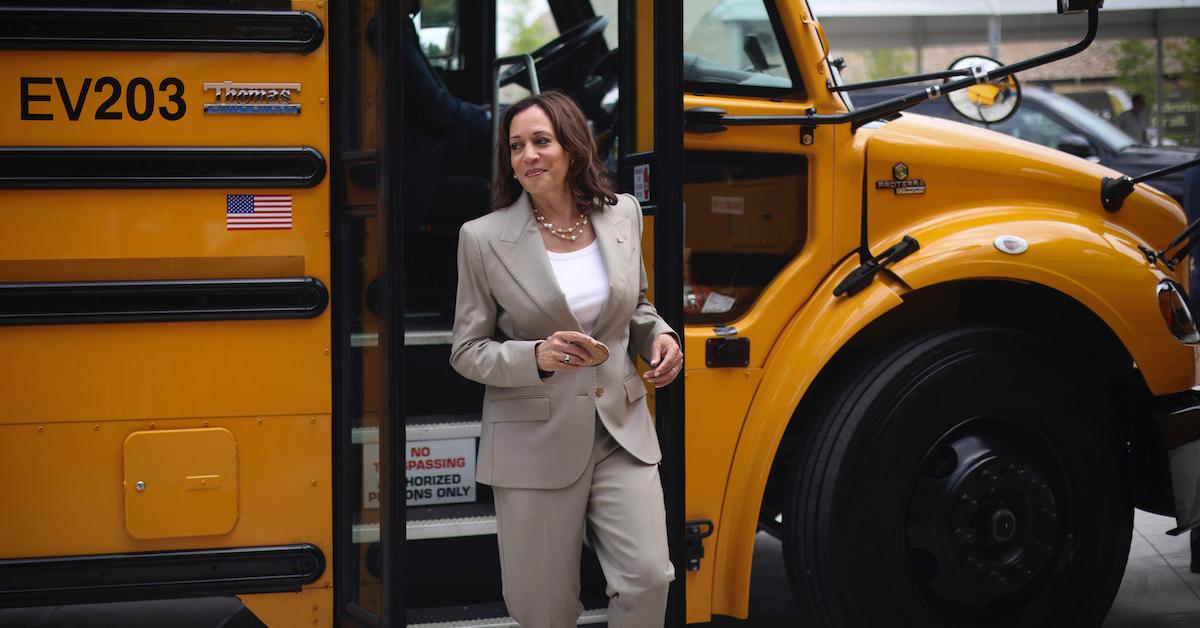 Something very exciting is coming to public schools nationwide — hint: it'll have you wheeling with excitement.
On Wednesday, Oct. 26, Vice President Kamala Harris stood next to an electric school bus, in celebration of the Biden administration's efforts to fund electric buses around nationwide. The VP was accompanied by EPA Administrator, Michael Regan, who helped allocate $1 billion in funding for public school districts nationwide to purchase e-buses of their own.
Article continues below advertisement
"Who doesn't love a yellow school bus?" Harris asked, per E&E News.
"Many of us went to school on the yellow school bus, right? And it's part of our experience growing up," she continued. "And today, 95 percent of our school buses are fueled with diesel fuel, which contributes to very serious conditions that are about health and about the ability to learn."
She hopes this first group of e-buses to hit the streets will be the first of many, in ongoing efforts to curb air pollution and climate change.
"The clock is ticking — loudly," she continued, per E&E News. "We are witnessing around our country and around the world the effects of extreme climate. There is a direct correlation that, thankfully, as we progress as a nation, is not being debated, which is the correlation between all of that and human behaviors."
Article continues below advertisement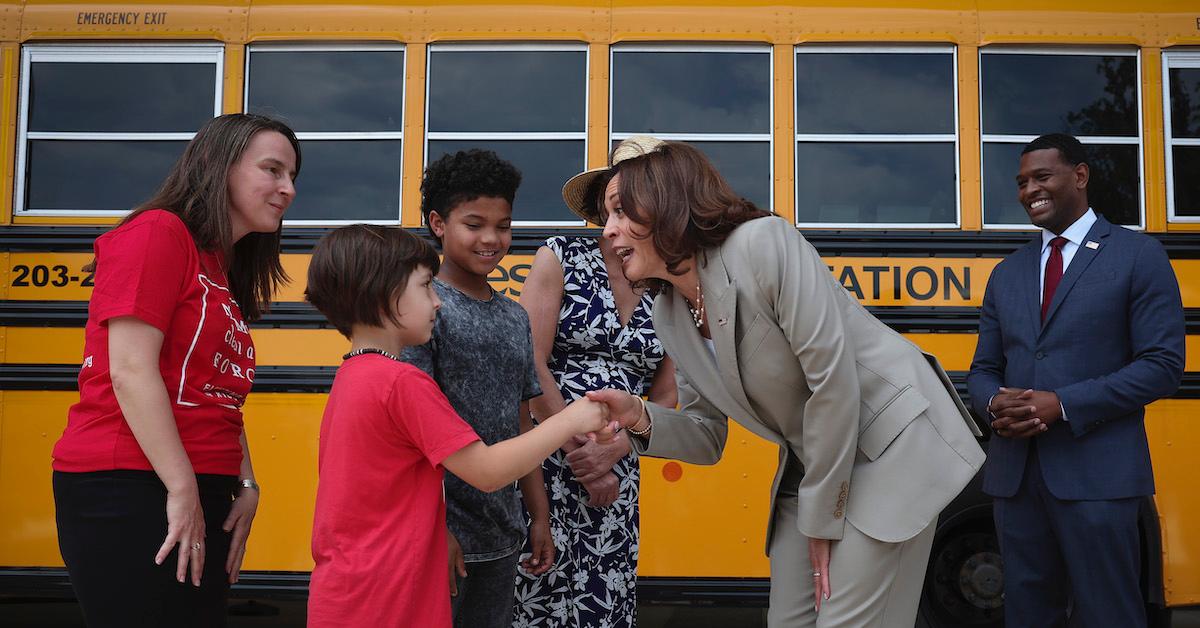 400 school districts nationwide to receive "clean energy" school buses.
Across all 50 states and Washington D.C., including various U.S. tribes and territories, e-buses will be making their way into 400 school districts. According to King5, the EPA has allocated $1 billion in grants to purchase more than 2,500 electric school buses, as part of the administration's the federal Clean School Bus Program. This is part of a long-term effort to transition to zero-emission vehicles, and to lower air pollution in communities across the country.
Article continues below advertisement
"We are witnessing around our country and around the world the effects of extreme climate," Kamala stated alongside Regan in Seattle, Wash. on Wednesday, according to King5.
"What we're announcing today is a step forward in our nation's commitment to reduce greenhouse gases, to invest in our economy... to invest in building the skills of America's workforce. All with the goal of not only saving our children, but for them, saving our planet.''
The EPA has, in total, received 2,000 applications for e-buses across the country, equaling about $4 billion for upwards of 12,000 buses. So needless to say, the interest from school districts is there.
However, school districts in "priority" areas are rightfully receiving the e-buses before anyone else, as air pollution is a greater issue in vulnerable areas.
Article continues below advertisement
By 2030, 84 percent of all city buses should be electric, too.
Research from 2018, from Bloomberg New Energy Finance, indicated that 84 percent of new global vehicle sales will be electric buses. At the time, it was predicted that China would be leading this statistic, with the Eastern Asian country making up about 50 percent of EV sales worldwide.
While that will still hopefully remain true four years after the fact, it's exciting to see that public schools are finally starting to implement means of clean transportation.