Tesla's South Australia Battery Just Made $1 Million In Two Days
The Tesla battery facility that backs up the Hornsdale Wind Farm in South Australia made an estimated $1 million in two days according to reports.
Tesla's battery facility that backs up the Hornsdale Wind Farm in South Australia continues to receive tremendous press. It was able to stabilize the power grid when a coal-fired power plant suffered some technical issues in record time. Now it's expected to be very profitable with its potential to help the grid out during high peak times.
Article continues below advertisement
Renewable energy company Neoen owns and operates both the Hornsdale Wind Farm and the battery facility hooked up to it with a capacity of 100 megawatts and 129 megawatt-hours. According to Electrek, Neoen is able to use 30 MW / 90 MWh of the system while the rest of it is reserved to the Australian government.
Using that capacity, Neoen has been able to quickly switch Tesla's battery facility to charge or discharge from the grid. This happens when energy prices go up and down due to high demand, especially with warm temperatures. In complete contrast to most of the United States, Australia's summer months take place from December to February.
Article continues below advertisement
When there's a period of negative pricing, or too much energy on the grid where they pay people to use it, Tesla's battery was set to charge itself up. When the price starts to skyrocket, the battery is then set to release that energy into the grid. It essentially sells the power it generated, and it was paid to take that electricity in the first place.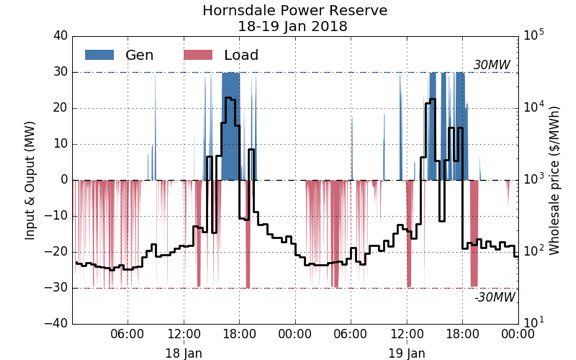 Article continues below advertisement
During this process over two days late last week, Renew Economy estimates that the battery could "have made around $1 million [AUD]" over the 48-hour period. We don't have the exact figures because switching from generating (selling) to loading (charging) happens frequently. However, the ability to generate this kind of revenue is outstanding.
"The advantage of the Tesla big battery over other sorts of storage, and particularly over fossil fuel generation, is its ability to switch on and off in an instant, meaning it is capable of responding immediately to change in demands and pricing," Giles Perkinson writes for Renew Economy.
Article continues below advertisement
Tesla's battery facility in South Australia is not only a money maker, but it provides one of the best ways to stabilize the power grid. When the Loy Yang coal power plant failed a month ago, the battery responded in 0.14 seconds and left traditional backup power options without much to do. These issues continue to crop up in recent weeks, and the battery has been there every time.
Australia's unstable power grid has certainly been a perfect testing area for showcasing the benefits of Tesla's battery system. While it may not be necessary to have such a gigantic system everywhere, it's pretty clear that we could adapt this technology to many areas that have problems stabilizing their grid. Especially California, which can produce too much renewable energy to actually use at once.