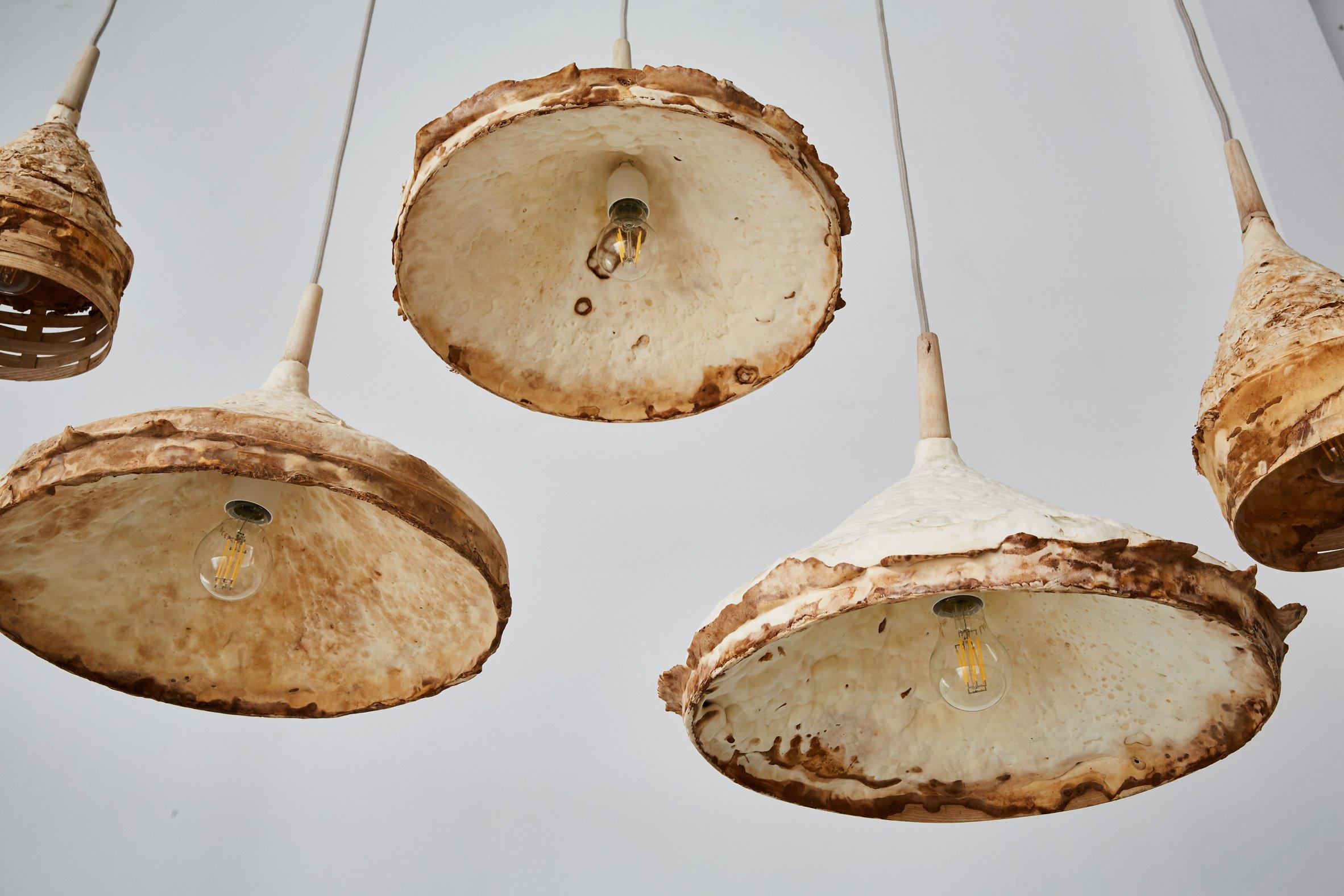 Why Designers Are Using Mushrooms To Create Eco-Friendly Furniture
By Tessa Love
Get green news right to your inbox!
Thanks for signing up!
Mushrooms may just be the miracle organism. With the power to clean up the environment, grow rapidly in limited space, and feed millions of people, there are many innovators working with mushrooms to create a sustainable future. And the latest trend is using the fungi to build furniture.
Mycelium + Timber is a project from designers Sebastian Cox and Ninela Ivanova, who are known for creating innovative, design-centric objects out of sustainable materials. This time around, they're creating a series of stools and lights, made from freshly cut wood waste that has been naturally bound by the mushroom species Fomes fomentarius.
The pieces are created by collecting discarded hazel and goat willow, two species of wood generally considered useless and without economic value. The wood is sliced into thin strips, then woven together to create individual molds. Within these molds, the designers add the mushrooms – which were grown using this very wood as food. The mushroom then grows around the mold and binds the wood together, resulting in a substance that resembles and acts like leather (without all the waste that goes into the production of cattle) and lightweight, durable and completely compostable furniture.
"This remarkable material relationship between wood and fungus is a naturally occurring one which spans the ages," the team wrote on its website. "Together we have taken this perfect material pairing and intelligently applied the symbiotic relationship to contemporary furniture."
The process of using biological organisms to create new materials is known as biofacture. In the recent past, it's been used to turn things like bacteria, algae, cellulose, bamboo and protein fibers into alternatives to traditional materials like cotton and plastics. Mushrooms, too, have entered this space in experimental ways, including being turned into a building material strong enough to support a two-story building, a dress, and even some other furniture.
But the designers of Mycelium + Timber believe its potential has barely been tapped yet.
"Mycelium offers us the opportunity to create products that not only continue but advance our ethos of sustainability and test our ability as a studio to design for new methods of manufacture," Cox told Deezen.
The two designers plan to continue the collaboration, with the hopes of launching a full collection of mycelium and wood products in the near future.
More From Green Matters
.

Technology

The green fuel is safer, more eco-friendly, energy efficient, and affordable.

.

Food

Lab-grown meat and plant-based meat are on the rise.

.

Community

The summit will take place in mid-July.